4+ IT Consulting Contract Samples
In achieving the best of your business conditions, Information Technology Consultations are very essential. This is a field in the wide IT world that deals with advising organizations and individuals on how to effectively use technology and other software materials to align the goals and objectives of the company, organization and individual towards success. IT Consultations help nurture the project of the company from the start until the very end. IT Consultants does not only deliver the project from its scopes, time and cost but also with complete customer satisfaction. Those mentioned should be the top priority for each IT Consulting agency who provides IT Consultation services and products. With the importance of having consultations to strengthen the success of a company, an IT Consulting Contract must be readily available at hand.
This article will not only give you valuable and necessary information that could help you in making your IT Consulting Contract accurately and competitively done, but also provide you with templates that could assist you in making one. Availing the templates in this article is a wise choice that you can make. We do not only offer IT Consulting Contracts but also IT Market Planning, IT Service Maintenance, IT Company Budget, IT Start Up Business Plan, It Sales Proposal and any other IT related templates that you might need as you go along your contract making.
Without many words, let us now explore and read the rest of the article now!
1. IT Consulting Contract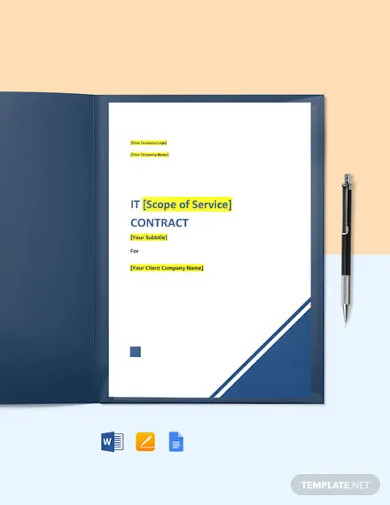 2. Sample IT Consulting Contract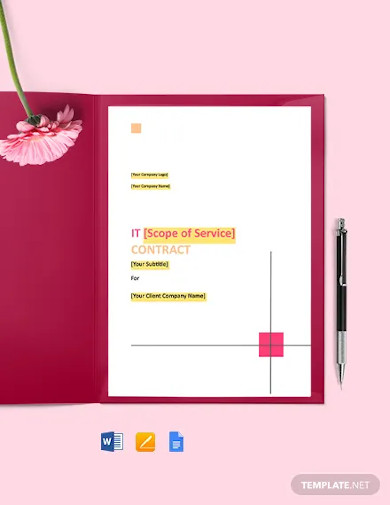 3. International IT Consulting Contract
4. Simple IT Consulting Contract
5. IT Consulting Contract Example
What Is A Consulting Contract?
A Consulting Contract is a written contract that states the services that a contractor or  consultant should provide to the company, organization, institution or individual availing the said service. This should be a two-way contract because it needs to ensure that the consultant gets paid and the company could get the services that it is paying for. It Consultants must be expert in the field so that they would be able to provide the necessary services that they need to tender to their clients. In this contract or agreement, the consultant is working as an independent contractor and any work that is provided falls under the ownership of the client unless otherwise agreed upon. Here are some of the key elements that should be included in a consulting agreement or contract:
Scope Of The Work
A consulting contract should offer a detailed description of the duties you will perform and the deliverables you promise the client. The agreement may also explain how much work you will perform at the client's office and how often you will work remotely. If you believe that you will need special equipment or other resources to do your job, make that clear in the agreement.
Invoicing Rates And Exact Pays
A consulting agreement should specify your hourly rate or how much you will charge to complete a project. Regardless of the fee structure, make it clear how often you plan to invoice the client – monthly, quarterly, or upon the completion of a job. If you expect that the consulting project will involve travel, hotel stays, or other incidentals, the contract might specify that the client will reimburse you for these expenses.
Deadlines
If you are advising a client on a specific project, include a timeline for the completion of your work. If a client retains your consulting services on an ongoing basis, detail your minimum or maximum billable hours each week, month, or quarter.
Termination Clause
It's advisable to have an exit strategy in place if a project or client relationship doesn't go according to plan. For instance, your business's consulting agreement might state that you will suspend work if you are not paid on time. If a client is dissatisfied with your services, you could stipulate that they give you two weeks' notice before terminating your contract. Or you might state that either party can end the relationship at any time for any reason.
FAQs
What does an IT consulting do?
An IT consultant handles anything from computer repairs to management and maintenance of large networks. IT consultants can generally be categorized into three specialties: Project management. Maintenance and repair.
What are the common activities of an IT consultant?
Includes designing, installing and trialing new systems and software, and fixing any issues that arise, compiling and presenting information, writing reports and documentation. repairing computer problems and removing viruses.
Surely, making this document is a pain in the head for you especially if you are  new to making this one. But as stated above, availing the important information stated in this article, as well as the templates suggested, this could make your job easier and could get things done in no time. With this, we encourage you to get the best out of these templates now!