Finding the time to do a lot of different things is hardly ever possible. Personal tasks + family responsibilities + busy day at work + overtime + deadlines = goodbye precious time. Think of it as the formula of your everyday life. It's just amazing how you can end up using all of your time without getting anything done. Time management problems can be taken cared of with the use of daily worksheet templates.
What are daily worksheet templates? It is where you would write a list of tasks or goals that you want to achieve or get done on a daily basis. You can take it literally as the things you need to work on, just like the worksheets that your teacher asked you to do in school all the time. Worksheet templates have evolved throughout the years and are now being used in many different ways that are mostly unique to every individual. Learn more about daily worksheets in this article together with some templates that you can download for your personal use.
Daily Worksheet Template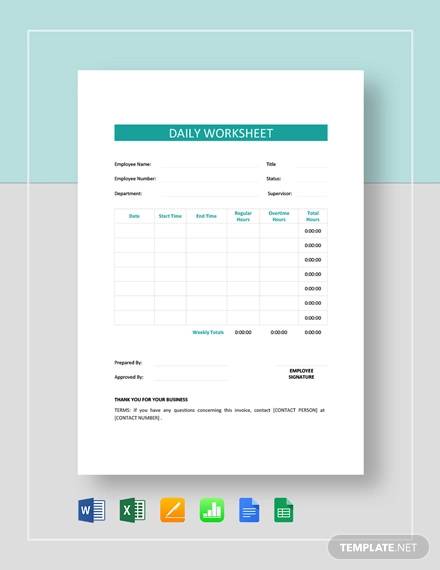 Accounts Receivable Officer Daily Worksheet Template
Daily Goals Worksheet Template
Fluid Restriction Daily Worksheet
Uses of Daily Worksheets
Every person has different needs and goals that they want to achieve. The use of daily worksheets makes those things possible. We have here a list of the many different uses of a daily worksheet.
1. Daily worksheets are used to help you keep up with your daily activities and goals. If you have a number of things to do on a daily basis and you are having problems remembering them all at some point, then a worksheet will be glad to help you with your struggles. You can use it just like how you would use a task list template.You surely never miss any of your daily activities or goals ever again.
2. It helps you manage your time effectively. By listing your tasks and stating your goals in a daily worksheet, you will surely be able to have all of them done in a timely manner provided that you follow the schedule you have created on your worksheet.
3. It helps you keep up with a busy schedule. If you are always busy, the more reason you have to use a worksheet. You can prioritize different tasks and activities all in one sheet, just like how you would with daily planner templates and daily schedule templates.
4. Allows you to find yourself some time to rest or relax even with a very busy schedule. Rest is a very important part of a busy day to keep you sane while working. Even a couple of minutes rest is already a luxury to a lot of busy people. On your daily worksheet you can determine which part of the day or in between which tasks you will be able to take a couple of minutes rest.
5. Helps you organize your daily tasks. The best way to get all your tasks done is by organizing them starting from the most important and easiest tasks to do down to the least important and most time-consuming tasks. Prioritization is the key to get yourself out of the time shortage you are experiencing. You may also see math worksheet templates.
6. Makes it possible for you to achieve your daily goals. Since you know what you should do for the day, you are sure to achieve your daily goals without being desperate.
7. Helps you become productive and successful. Sticking to the list on your worksheet allows you to do more things, more than you can ever imagine.
8. It turns you into an effective person or an effective employee. How do you define an effective person or an effective employee? That's simple. They are those people who can get things done and they do them correctly. How can a person become effective? That is with the use of a daily worksheet. You may also like patterning worksheet samples.
9. It does not only help you with activities, but it also serves as your guide in keeping yourself healthy and fit. Aside from listing your tasks, a daily worksheet can be used as your meal planning worksheet or as your workout training sheets. Need to monitor your fluid intake due to some health conditions? Then use a worksheet.
10. Daily budget worksheets can also be used for your budgeting needs. You can use it to record your expenses and savings, as well as help you balance your daily budget.
11. The worksheet is also good for keeping track of children's meals or food intake, such as their milk consumption or the set meal that they ate during lunch.
You can use worksheet templates for just about anything. There are no right and wrong worksheets as long as you are the owner. It is because only you can determine what worksheet is the best for yourself!
How to Edit a Daily Worksheet Template
Since the start of the evolution of worksheets, more and more downloadable worksheets in different formats for different purposes have been made available to millions of people all over the world. For those who have depended on worksheets for their daily organization needs, finding the perfect template is very exciting. But the problem is, how can you possibly edit these templates to become the perfect match for your needs? The answer lies with the following steps. You may also check out sample multiplication and division worksheets
1. Search for the daily worksheet template of your choice online and have it downloaded. Save it to your desired location and change its file name as you please.
2. Make sure that the daily worksheet template that you have downloaded is compatible with any of the editing applications you have on your computer or laptop. If it is not supported, then you will need to look for another file that is supported. You might be interested in sample vertical multiplication facts worksheets
3. Most downloaded files are saved automatically in your Downloads folder, especially if you did not select a download location for it. Look for the file in either the Download folder or the folder where you have saved it.
4. When you have found your download, open it by either double-clicking the file or right-clicking the file and selecting the Open option. You may also see time worksheet samples
5. The daily worksheet template will automatically be opened by the application that it is compatible with.
6. You can delete, add, or fill out a daily worksheet template to have it edited. To delete something from the worksheet, highlight the part that you want to delete and then press the Backspace button your keyboard. Once it is deleted you can type in the word or sentence you want to replace it with.
7. To fill out empty spaces, just click on any empty space you want to add something on and start typing. You will know that you are in the right space as your cursor will be blinking. You may also like printable worksheet samples
8. Repeat the editing steps mentioned above until you are done and until you can finally say that this is the perfect daily worksheet template that you want.
9. Make the final check before you save the changes that you have made.
10. Finally, print a copy of your daily worksheet template and have it inserted in your personal planner or journal so that you can bring it wherever you go.
Need more worksheet templates to edit? No worries because we've got you covered. You can find a variety of worksheet templates on our website that you can download and edit just like the steps we have provided above. To name a few are accounting worksheet templates, expense worksheet templates, and long division worksheet templates.
Personal Daily Food Plan Worksheet
Daily Productivity Worksheet
School Lunch Daily Worksheet
Steward's Daily Worksheet
Kindergarten Milk Program Daily Worksheet
Daily Record Worksheet
Daily Expenses Worksheet
Daily Wellness Chart Worksheet
Tips on Using Daily Worksheets Effectively
Using a daily worksheet can only become effective with patience and effort. Although it is given so much importance by the people who are using them, it is still a fact that not everybody has successfully used them. A daily worksheet will just be another set of prints on paper if nothing is done to make it useful and meaningful. Here are some tips that you should know to be able to use a daily worksheet effectively. You may also see free sample worksheets
1. Stick to what you have planned. This goes to all of the tasks and schedules that you have planned for yourself, and not just with the use of a daily worksheet. The key to getting things done on time is by strictly adhering to the schedule or the plan that you have made. The only exception is if you have a life-and-death emergency. You may also like sample word problem worksheets
2. Always consult your daily worksheet. By checking your worksheet regularly for your tasks, schedules, and goals, you are establishing a routine that helps you get a hang of doing things according to your plans. Well, what is the point of using a daily worksheet if you won't even consider to look at it. In addition, checking your worksheet allows you to know what things you need to have done on that day. You may also check out sample percents worksheets
3. Update your daily goals regularly. If you need to make last minute changes or any additions to your daily worksheet, do them regularly. Not only does it help you become comfortable with using it, it also prevents you from overlooking any new tasks or goals that have just been added.
4. Have patience and put a lot of effort in what you do. We can easily decide for ourselves that something is not working and then we give up on it just like that. Nothing can be accomplished if you give up and there is no joy in that. Although a daily worksheet is a fairly easy tool to use, it does not mean that it should be taken lightly. Just like how you put all your efforts and patience on doing something, you also need to do the same to be able to effectively use a daily worksheet. You may also see scientific method worksheets
5. Plan the activities on your daily worksheet a day before you use it. The reason behind this tip is so that you can have more time or enough time to plan and plot your activities for the following day. Listing your worksheet contents may just end up being a waste as it is likely that you would miss or overlook something. And worse comes to worst if you happen to forget something really important. Talk about bad luck. You may also like sample statistics worksheets
6. Make things happen. If you don't find a way to do it, then it will never happen. Only you can decide what you should and must do that is why only you can make things happen in your life. The same principle applies to using a daily worksheet. If you work on it, you will surely have your goals realized.
7. Avoid skipping tasks. It is a big no-no to skip any tasks or goals and have them done later during the day or the following day. It is because it will ruin your plan not only for today or the next day, but also your plans for the coming days. It is like an endless ripple. It never stops until you decide to work on it earnestly. You may also check out sample atomic structure worksheets
8. Prioritize according to what is important to you. What is important to you might not be important to other people and vice versa. So stop comparing yourself with them and start thinking about what is important to you. If preparing breakfast for your family in the morning is more important than doing the laundry, then prepare breakfast first and the laundry next. You may also see sample phonics worksheets
9. Get yourself motivated. Being motivated to work plays a big role in you being able to use a daily worksheet effectively. Being able to accomplish something is a big motivation. Motivation is just different for every individual. If you find yourself tired of all this routine, then look for something that will motivate you to get back on track.
A selection of different organization tools, just like a worksheet, can be found on our website. There are unique samples and templates that you can choose from to download and edit. Some examples are checklist templates, printable day planner samples, and printable schedule templates.