What is a sample biography? It is a nonfiction work that is written in detail to tell an in-depth story of a person's life, works, experiences, and death. Biographies are often about famous personalities that have made a difference or that has made an impact to a lot of people. These biographies are often written after a person's death, but there are no rules saying they can't be done while the person or individual, whom the biography is about, is till alive.
Everything that is written in a biography template should be true. It is written in a sequential and very detailed manner, that is why it is necessary that the writer is keen on details and in doing research. All of the details and research done to write a biography is first recorded in a biography worksheet. There are different varieties of a biography worksheet that exists today and you can find a couple of those samples below. You may download and use them however you want.
Biography Worksheet Template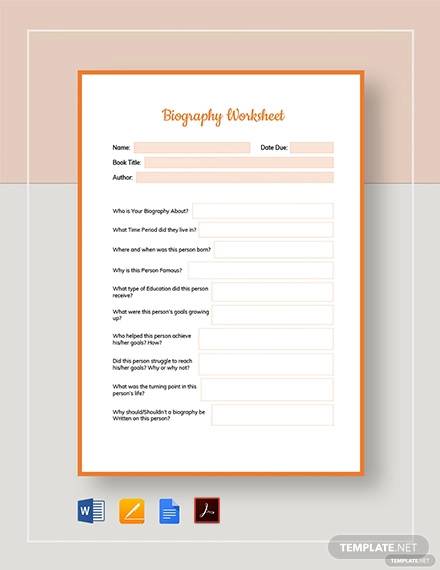 Free Biography Outline Worksheet Template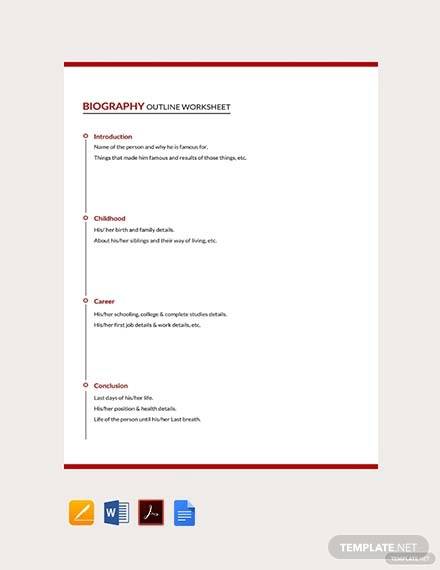 Author Biography Worksheet
Biography Interview Questions Worksheet
Mini-Biography Assignment Worksheet
What Is a Biography Worksheet?
A biography worksheet is a creative worksheet that is used specifically to gather information and record the details about the person or individual who is the subject of the story. Not all biography worksheets look the same. This is because worksheets are used for a lot of different things and they are as follows:
1. A biography worksheet is used as a guide in writing a biography because it provides important questions that are necessary to build up the story being created. you may also see Asset Worksheet Templates.
2. A biography worksheet is used as a tool or material to check what an individual has learned or understood about the biography of a certain person, or about the their biography lesson template. It is used just like a test paper or activity sheet template to help in evaluation.
3. A biography worksheet is used in preparation for writing a story about a person or individual.
4. A biography worksheet provides guide questions about the life of the subject that the writer needs to know in order to write a detailed and factual biography. you may also see Inventory Worksheet Templates.
5. A biography worksheet is also used in different fields or industries in order to gather general information sheet about an individual, whether they are employees for a certain company, a student, or a citizen of a particular state. These information are used as baseline data and kept as part of the files for that individual for future references.
6. A biography worksheet is used in schools to teach children and let them experience writing a biography. This is done as part of a school self evaluation and self assessment.
Different biography worksheets have different uses, so you need to determine first what kind of biography worksheet you need. If you are still undecided about what particular worksheet you want, then you might want to check out some of the worksheet templates we offer on our website. To name a few titles are Grading Worksheet Templates, Asset Worksheet Templates, and Inventory Worksheet Templates.
Biography Research Worksheet Template
Data Worksheet for Biography
Sample Biography Worksheet Template
What Are the Different Types of Biography?
There are three main types of biography that are being used and created today: autobiography, biography, and a memoir. Each of these three types are discussed below.
1. Autobiography
An sample autobiography is a type of biography that is written by the person or the subject himself. In other words, it is a story that tells about one's own life and experiences. Why would these people want to write something about themselves? Do they want that kind of attention so badly. You may write whatever you want in an autobiography. Some people may just be too proud or in love about themselves, or they may just want to share something important that can help other people and share their personal statements regarding life.
There are no exemptions or strict rules as to who can write an autobiography. Everyone can write an autobiography anytime they want and regardless of how many they want to write about themselves. It's just that not all written biographies get published. One of the autobiographies that made it to the the bookshelves and even became one of the top selling autobiographies of all time is the book titled The Child Called It by Dave Pelzer. you may also see Sheet Templates.
2. Biography
As defined above, a sample autobiography is a story of a person's or individuals life, experiences, and death. They could be about a living person or a person who has already passed away. The main difference between an autobiography and a biography is with their writers. While autobiographies are written by the subject themselves, biographies are written by another person. Now, why would these people want to write a story about another person? Most people think that they probably got paid for doing so. you may also see Time Worksheet Samples.
That may be true, but not entirely. Writers who write autobiographies of another person need to be passionate about the work they do because writing a biography takes a lot of time, research, perseverance, discipline, and creativity. A biography should be based on facts and everything written in it should all be factual. Often, writers work together with the subject and get the details directly from them. The task becomes harder when the subject is already dead. The writer would need to do all the work on their own. you may also see Patterning Worksheet Samples.
A biography is further divided into five categories:
Popular biography
Fictional biography
Reference biography
Literary biography
Historical biography
3. Memoir
A memoir is a story that is made up of all the memories and experiences that a person or individual has encountered during a certain period in their life that they want to reminisce. Just like autobiographies and biographies, memoirs are written in chronological order so that readers can better understand the story and appreciate it more. Memoirs of a Geisha by Arthur Golden is a famous example of a memoir. It has been made into a film that made it even more famous and well-known. you may also see Overtime Worksheet Templates.
Writing all three types of biography individually is such a tedious thing to do, but if you have the appropriate worksheet to use, your task can be made a bit easier and lighter. This is what a biography worksheet can do. Other worksheet articles you might be interested in are Interview Worksheet Templates, Inspection Worksheet Templates, and Overtime Worksheet Templates.
New Employee Website Bio Worksheet
Worksheet for Pre-Writing a Biography
Printable Biography Worksheet Template
Advantages of a Biography Worksheet Template
What is there to gain from using a biography worksheet template? There is a lot. Check out the list below to be able to tell what they are.
1. If you use a biography worksheet template, it will be easier and more convenient for you to write a outline story or biography about someone because it already has guide questions that you can use and base your research on.
2. A biography worksheet template is also used in school to serve as a test or activity that students need to answer completely. This is then graded and used to assess or evaluate the performance of the students. you may also see Simple Student Evaluation Forms.
3. There are a lot of printable biography worksheet templates that you can find and download online for free. So looking for it is definitely not a problem. you may also see Word Problem Worksheet.
4. They can be easily edited or changed according to one's needs making them a very flexible and useful tool. you may also see Strengths and Weaknesses Worksheets..
5. A biography worksheet template comes in different file formats that are not only familiar to use, but they also come in file formats that are easy to understand. you may also see Inspection Worksheet.
6. There are different varieties of a biography worksheet template that you can choose from based on your needs so you won't have any trouble finding or looking for the right one. you may also see Daily Worksheet Templates.
Biography worksheet templates provide the user with a complete set of information sheet for the task that they are about to make and allows them to produce an output that is reliable and useful.
Colorful Biography Worksheet
Composer Biography Worksheet
Who Am I Biography Worksheet
What other things can you take advantage of when using a worksheet template? Templates help make our tasks easier which makes our lives better. Those who tried using templates before know that this is a fact. For more worksheet-related topics, you can check them out on our website. The titles that you will find there are Hourly Worksheet Samples and Templates, Daily Worksheet Templates, and Strengths and Weaknesses Worksheets.