Let's face it; job security just isn't what it used to be. And sadly, most employees start their new job with an eye on the door, with a backup plan in case things go wrong. In the event of job termination, a severance agreement is handy for both parties: it documents the rights and obligations of both the employer and the employee. You may also see Trailer Rental Agreement Template.
Severance Agreement Template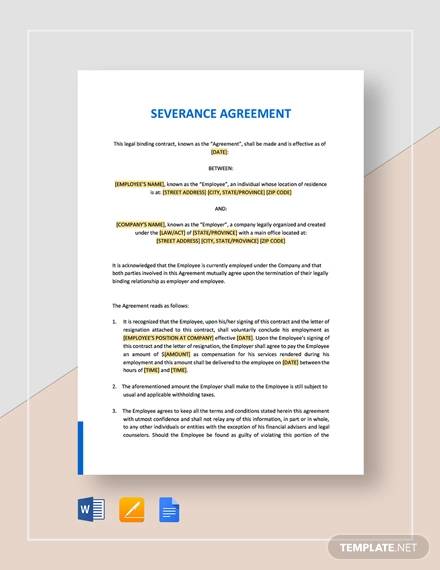 Severance Agreement Template in Word
Sample Severance Agreement
The sample severance agreement template features a well-framed agreement. It comes in PDF file format which is very easy to download and can also be converted into word doc format so as to edit the content, if desired.
Severance  Lease Agreement Template
The severance lease agreement template provides you with a sample severance lease agreement. This severance agreement is specially designed for lease and helps you in knowing what all information should be included in such type of an agreement. You can use this sample as help while drafting your own agreement.
Basic Severance Agreement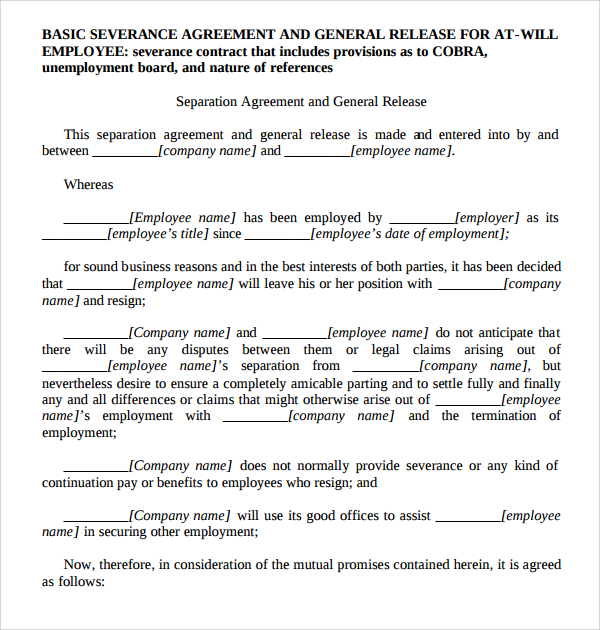 The basic severance agreement template provides you with a separation agreement and general release. It depicts you the proper format of the agreement. This layout can easily be used by you for drafting it. It also has designated spaces in it for filling up the information asked which makes it even easier to draft it.
Printable Severance Agreement Template
The printable severance agreement template features settlement and severance agreement and release in which all the information is showcased in a very neat and organised manner. This template is ready to print template and you can straight away use it after downloading or after making some required changes in it.
General Severance Agreement Template
 Simple Severance Agreement Template
Example Severance Agreement Template
Why is the Severance Agreement Template Needed?
The severance agreement template is needed to prepare the agreement in between two parties i.e. employer and employee featuring all the rights as well as the responsibilities concerned with job termination. These templates are well formatted and provide you with all the required information for drafting the agreements which make it really easy to draft the agreements on your own.
You can simply use the available content after making alterations in it or also, you can take help from the provided samples and examples. These templates are very much needed to make the employees feel secure about their future when they are planning to join your company or organisation.
When is the Severance Agreement Template Needed?
The Severance Agreement Templates are needed when you need to frame the severance agreement as the provided information and samples in it helps you a lot in drafting the effective agreements. These templates also are needed to save your time because the content is already presented in the templates and you can simply download, print and use it.
These agreements are usually needed at the time of job termination describing all responsibilities of both, employee and employer. Also, they are needed at the time of preparing the job contract. They are needed to clear all the doubts concerned with termination of the employee's job.
Benefits of the Severance Agreement Template
There are many benefits that come with the severance agreement template. They help you in saving your time along while saving your efforts as they already include the information required being present in the agreement. Also, these templates provide the information in an organised manner which makes it understandable and looks presentable.
They also help in making all the conditions, rights, responsibilities and terms clear beforehand and avoid any future confusions or conflicts. They aim at making the employee feel secure as well by providing him all the information about the job termination. Along with all this, these templates are also printable and you can easily print them straight away for downloading and making editions, if any.
The severance agreement template is easily available on the internet for you in various designs to choose from. You can go through all the provided templates and download the best suitable one for you with just a single click. They also have user-friendly interface which makes them incredibly easy to use.
Severance Agreements and Severance Packages
Yes, one of the most important provisions of the severance agreement is the severance package. Not only does it mention any severance pay and other benefits, but also the conditions under which it will be withheld.
Severance pay in the absence of a contracted notice period.
Extended benefits (like insurance or healthcare, for instance) and the period over which they will be provided.
 An agreement not to file a lawsuit for wrongful dismissal.
 A non-compete clause: the employee cannot work for a competitor of the employer for the specified period of time.
When Severance Agreements are provided?
There are two major instances where a severance agreement may be provided to the employee.
Sometimes, they are offered as a part of the job  itself. However, this is not always very common.
 Far more frequently, the severance agreement is offered to the employee during the termination of Sample Employment Agreement Templates, often during layoffs.
For an employer, a severance agreement provides assurance that the employee will not sue for wrongful termination, and that they aren't going to work for a competing organization (at least not right away). Meanwhile, for the employee, provisions are made so they receive some severance pay, and, hopefully, some benefits. Look through these samples (you can print them or download them if you need to) to get a better idea of what to expect.You can also see Sample Rental Lease Agreements.
If you have any DMCA issues on this post, please contact us!