Do you remember how excited you were when you were given appointment letter for that position that you were eagerly waiting for? What about your very first day in the office? That is the beginning of it all, working and retiring in after achieving your objectives is something to be proud about.
What about if something happens and you are forced to quit the job? You must separate with the employer or employee in good faith. Below are Employment Separation Agreement templates that will help you to write a good employment separation agreement. You can also see Business Separation Agreements.
Employment Separation Agreement Sample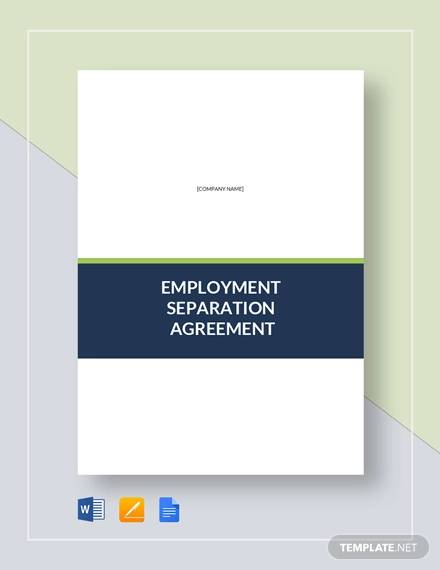 Voluntary Employment Separation Agreement
This agreement terminates the agreements that were there between the employer and the employee. It is voluntary and therefore one of the most important things to put down is the citation. All the payments that are in arrears should be given to the employee and it should be clearly stated in the agreement. The employee is required to hand over anything that belongs to the company which is under his care. After all parties should read and understand the agreement before signing it. How did you separate with your employer or employee? You know how to do it now.
Sample Employment Separation Agreement
This agreement is about resignation and release from an existing duty. This is the best agreement that you need to follow when you're resigning from that organization that you have worked for many years. It includes the citation, intentions of parties, agreements of employee, agreement of employer and lastly the agreement of both parties. It has a nice ending whereby both parties sign in presence of a witness.
Standard Employment Separation Agreement
This agreement can serve in a situation where the employee feels that his or her rights were violated during the dismissal process. When you plan to sue an employer then you must have a proper knowledge of what this agreement entails. It is on the other hand very formal and official if all procedures are clearly followed. It has different types of forms for termination of different category of employees. It needs that you properly understand it before using it though it is very simple to understand.
Individual Employment Separation Agreement
In this agreement, the employee voluntarily resigns from his position and does all the clearance with the employer. The agreement also gives a proper report of the resignation but without disclosing all the financial details of the employee. The employee and employer must sign at the bottom of the agreement. This agreement takes into consideration the interest of employee and employer.
Employment Separation Form Agreement
Negotiating Employment Separation Agreement
Employment Separation Agreement and Release
Basic Employment Separation Agreement
Employment Separation Agreement & Release of all Claims
Draft Employment Separation Agreement
What is the Importance of These Agreements?
Employment separation agreements are very important to any employee and employer. It helps both parties to be very contented and mutually agree to part ways. It's also a legal document that needs to be signed by all parties. You can also see Severance Agreement Templates.
Are These Agreements Effective?
Yes they are, an employee can only receive all his pay after submitting the agreement. An employer needs to file the agreement for any future reference or when doing the accounts.
Employment Separation Agreements are legal documents that any employer and employee need to sign and keep in a safe and secure place. If you terminate an employment contract without a proper procedure then you may find yourself being accused in the court of law and getting a severe punishment if you can't properly defend yourself. All these agreements are very much available with us, you can talk to us to get the one that really suits your needs, do not continue buying time, talk to us.
If you have any DMCA issues on this post, please contact us!