Simply said, SEO strategy is all about providing searchers with the most relevant and valuable information possible. However, there is another element to SEO that is frequently overlooked: brand protection. A comprehensive strategy to enterprise search engine optimization guarantees that searches for your brand, executives, or products are good. A great SEO plan displays your brand to searchers at every point of the buyer journey, which is one of the main advantages. As a result, your business becomes a trusted and familiar resource for customers, regardless of where they are in the buying process.
10+ SEO Strategy Plan Samples
It's crucial to have an SEO plan in place since it keeps you on target when developing content. Rather than developing content based on your assumptions about what people want, your approach will ensure that you create content that people are seeking. An SEO plan is a crucial component of content marketing since it determines how your material will be discovered in the first place, particularly in search engine result pages (SERPs). Search engine bots will have a tougher time indexing your site, identifying your area of authority, and ranking your site pages if your material is disorganized and unorganized.
1. SEO Strategy Plan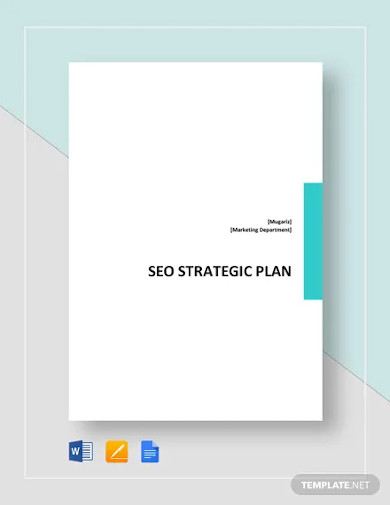 2. Sample SEO Strategy Plan
3. SEO Audit Strategic Plan
4. SEO Business Strategy Plan
5. SEO Launch Strategy Plan
6. SEO Email Marketing Strategy Plan
7. Simple SEO Strategy Plan
8. SEO Strategy Plan Example
9. Formal SEO Strategy Plan
10. SEO Content Strategy Plan
11. Printable SEO Strategy Plan
How to Create an SEO Strategy Plan?
Set SEO goals – Before you embark on a large search engine optimization (SEO) campaign, you must first outline your objectives. After all, your SEO actions won't have a verifiable ROI if you don't have defined targets. It's also crucial to link SEO results to top-level indicators like revenue. Begin by determining your desired marketing outcomes, and then move back to defining your process objectives. Do you want to boost your online sales? Which business units, products, and services are you looking for? Are you attempting to increase market share within specific demographics? Which demographics will you target, and how will you track your success? Do you want to increase the number of visitors to your website? What is the volume of traffic?
Consider the SEO scalability – Scalability is one of the most difficult issues that bigger firms confront when building an SEO website strategy. Perhaps your site has hundreds of pages, or you lack the bandwidth to achieve your SEO content development targets. Perhaps you're having trouble establishing links. Plugins and third-party software subscriptions are only the beginning of a really scalable SEO strategy. Scaling your SEO business approach requires integration and standards. Lead cross-departmental coordination with web development, brand management, product management, and sales to achieve this goal. Remove silos and implement established processes and systems, as well as dependable, scalable technologies and platforms.
Execute a competitive analysis – The process of studying your competitors in order to improve your own SEO approach is known as competitive analysis. Examine the organic search ranks, online reviews, blog strategies, and backlink profiles of your competition. Then investigate their user experience, social media, target audience segmentation, unique selling propositions, and differentiators. You may expand on your research by conducting a technical SEO audit. Examine the health of their website, as well as technical SEO execution, page load speed, and mobile compatibility.
Do keyword research and topic analysis – Keyword research is the cornerstone of any successful SEO campaign. It may seem self-evident, but it's critical to generate content and web pages that your target audience seeks out. Large brands frequently overproduce material that doesn't target certain keyword phrases or constantly targets the same term.
Align the content to your search intent – Because it supports Google's search purpose, search intent is one of the most important components of keyword research. To put it another way, Google wants to give the most relevant material to users as rapidly as possible. A keyword could have a lot of searches. It could, however, be caused by user intent that is out of sync with your content, business, products, or services. Ranking would be nearly impossible in that circumstances, and any traffic would almost certainly bounce without converting.
FAQs
What is a mobile SEO strategy?
When developing your overall strategy, mobile SEO is a crucial consideration. Mobile optimization is making sure that your site and its content are available and accessible to users on mobile devices so that they can have the same experience and benefit as desktop browsers.
What is the work of an SEO?
Search engine optimizers (SEOs) are people who optimize websites to help them rank higher on SERPs and gain more organic traffic. In essence, an SEO is a highly specialized content strategist that helps a business discover opportunities to answer questions people have about their respective industries.
It can be challenging to get a high ranking on search results pages. While it may appear appealing to develop content around high-traffic keywords, this method may not help you achieve your company objectives. Instead, for higher marketing success, develop an SEO plan that helps you solve your specific business needs, such as increasing customer acquisition.