A procurement plan is utilized to pay close attention to a business's operational performance in an increasingly competitive market. Establishing one enables businesses to identify cost-cutting opportunities that are frequently neglected. Cost-cutting, risk mitigation, and organic growth are all common components of procurement strategy. According to a recent poll, cost reduction is the top procurement strategy for 78 percent of CPOs around the world. Depending on their business needs, organizations might choose to focus on a single priority or multiple priorities.
10+ Procurement Strategic Plan Samples
What is a procurement strategic plan? The act of acquiring or purchasing services or items on a wide scale is referred to as procurement in business. A procurement strategy outlines how a company should handle its purchasing process. This document gives an overview of all the procedures involved in procurement and can be used as a guide for how a company conducts its procurement activities. It refers to a long-term strategy for obtaining necessary supplies at a low cost from a list of reliable suppliers who will deliver high-quality items on time and in accordance with the contract terms. A procurement strategy is influenced by a variety of aspects, including the acquisition timeframe, available money, total cost of ownership, risks, and more.
1. Procurement Strategic Plan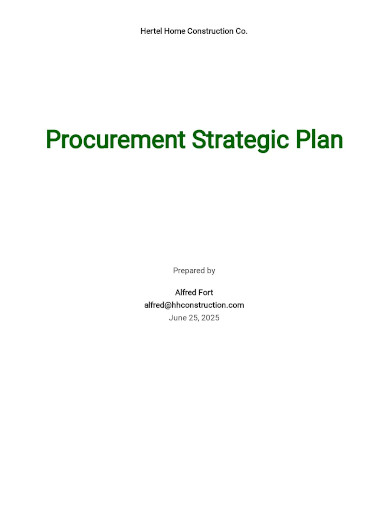 2. Sample Strategic Procurement Plan
3. Procurement Strategy and Action Plan
4. Sample Procurement Strategy and Action Plan
5. Corporate Procurement Strategic Plan
6. IT Procurement Strategic Plan
7.  Procurement Office Strategic Plan
8. Procurement Services Strategic Plan
9. Simple Procurement Strategic Plan
10. Procurement Council Strategic Plan
11. Printable Procurement Strategic Plan
Creating an Effective Procurement Strategic Plan
Implement procurement software – Due to human errors, delays, and late payments, organizations that conduct the procurement process manually are more likely to spend more. By eliminating manual data entry and associated inefficiencies, procurement software improves staff productivity and lowers errors. It aids in the end-to-end streamlining of the procure-to-pay process. Packed with best-in-class capabilities, it automates the process of identifying and fixing process gaps and enforcing policy compliance.
Analyze the organizational spend – The first step in designing a procurement strategy is to assess your company's current spend culture. You'll need data from internal stakeholders, suppliers, and all other parties involved in the procurement process to accomplish this. The information gathered in this step will act as a knowledge basis for your company as well as the foundation for a procurement plan. Total cost of ownership (TCO) tools can be used to detect and analyze the frequently disregarded or unexpected costs that an item or service incurs after the initial purchase price. We've put together a simple spend under management guide to assist you in lowering expenses and increasing process efficiency.
Determine the needs of the business – It is critical to have a comprehensive understanding of your organization's demands in order to build a solid procurement strategy that delivers the greatest results. This data-driven study will assist you in aligning and prioritizing your procurement strategy with other company operations and objectives. A simple 'what if' dialogue that questions the apparent and challenges the status quo will discover a lot more cost-cutting opportunities. A category positioning matrix, for example, can assist businesses in identifying the essential business requirements that will be used to design their procurement strategy.
Make an assessment of the market conditions – After completing the internal analysis of determining business needs, the next logical step is to investigate the external side of things: supply markets and their conditions. The essential data must be gathered from suppliers and potential suppliers in this case. To maintain relevance, businesses must guarantee that the data they acquire is kept up to date throughout time.
Set clear objectives – It's time to create a clear vision of what needs to be accomplished once the business needs have been established. The information gathered in the preceding steps can be utilized to pinpoint the flaws in your purchase process. After you've figured out what they are, rank them in descending order of how much of an influence they have on your company's bottom line. A SWOT analysis, for example, can be used to determine the current state of your procurement functions. If you want to cut maverick spending, for example, you should use procurement software that makes the process visible.
Define procurement policies – Now that you've identified the issues that need to be solved, make a list of procurement best practices that will reduce the inefficiencies. Modifying your procurement policy to address risks identified during the SWOT analysis is a good place to start. It's better to avoid starting from scratch when creating a procurement policy for your company. Instead, you can customize current procurement policy templates to meet your company's needs. Procurement policies should, in theory, provide guidelines on ethical behavior for all parties participating in the process, as well as remedies for any infractions.
Outline a procurement strategy – Create a procurement strategy using the facts and information you've gathered. This should include a list of the expected outcomes as well as the strategies that will be used to accomplish them. The objectives must be measurable, time-bound, and reasonable. The tactical plan will detail the strategies that will be employed to attain the predetermined objectives. A procurement plan can also include a "big idea" that will push the limits of what is possible.
Develop a digital procurement strategy – You must design a digital procurement plan using the data and information gathered in the preceding processes. Organizations must overhaul their procurement technology, strategy, process, personnel, skillset, and supporting systems at this level. Implementing a digital procurement strategy should be prioritized since it allows companies to spend more time with suppliers and on the strategic side of procurement rather than on administrative activities and transactions. Businesses can use a digital procurement strategy to deploy the resources they need to achieve outsized gains and make their procurement process more nimble.
Execute, manage, and refine the strategy – The next step is to put your digital plan into action. Other business functions will be required to participate when the approach is implemented. You'll need to track and measure the progress and performance of the digital procurement strategy when it's implemented.
FAQs
What are the types of procurement strategies?
It includes risk management, supplier optimization, green purchasing, vendor development, and global sourcing.
Why do you have to identify the needs?
This criterion must be assessed and compared to the procurement process's requirements. This is a critical issue to consider while selecting suppliers in order to ensure cost savings.
Why is there a need to set objectives?
The information gathered in the preceding processes will allow you to determine the procurement strategy's demands, which can then be prioritized based on their priority.
If you want to see more samples and formats, check out some procurement strategic plan samples and templates provided in the article for your reference.