As we slowly grow and mature, the lifestyle choices we make can lead to a longer and healthier life. Aside from getting the right amount number of sleep, the right diet and exercise regimen is the key. Eating a healthy diet and taking the right exercise can help control and delay several health issues. But how do you start? By devising a proper diet and exercise plan that fits your liking and you are comfortable with. Read more about this in our article below and if you want to start preparing your plan check out our free diet and exercise plan samples for your perusal.
10+ Diet and Exercise Plan Samples
1. Diet and Exercise Plan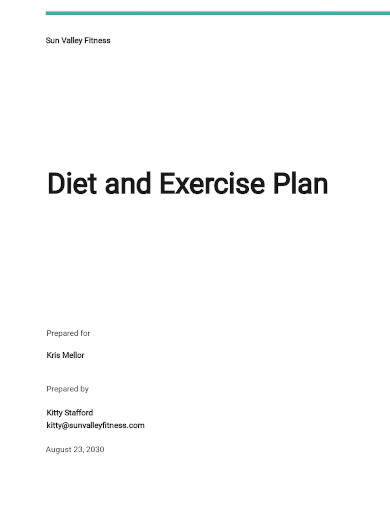 2. Simple Diet and Exercise Plan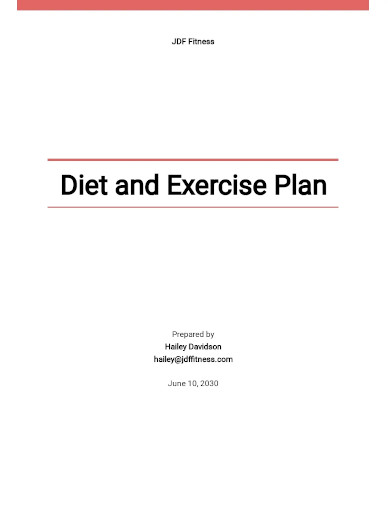 3. Diet and Exercise Plan for Muscle Gain
4. Diet and Exercise Plan for Weight Loss
5. Sample Diet and Exercise Plan
6. Anti-aging Diet and Exercise Plan
7. Simple Diet and Exercise Plan
8. Diet and Exercise Plan Example
9. Basic Diet and Exercise Plan
10. Diet and Exercise Plan for Pregnancy
11. Sample Diet and Exercise Plan for Weight Loss
What Is a Diet and Exercise Plan?
It is common knowledge that everyone does not like to get sick, although we cannot fully avoid any sort of illness as we age. So the best way to do it is by living properly and healthily. A diet and exercise plan is a great way to begin where you create a program that can control and choose the right food you intake and develop an exercise routine. The great thing about planning your nutrition and exercise regime is that you can adjust this to your needs, if it looks difficult or is hard to do you may always opt to change it.
How To Develop a Diet and Exercise Plan?
Choosing the suitable diet and exercise program may be quite a challenge as there may be a lot of samples around the internet that can be quite overwhelming sometimes. In the end, you wouldn't know where to begin with your plans. There is no single type of exercise routine that can help you nor just eating fruits can solve everything. You need a mixture of other things, as different healthy food and exercise have their benefits to share. Now, to start with your diet and exercise plan here are the following steps to guide you:
1. Wellness Goals
When we plan, we intend to have certain goals and aspirations in mind. The same thing goes for developing your diet and exercise program. You need to identify what it is you need to achieve by eating healthy and obtaining the proper exercise. This may be because you want to lose weight, or you intend to join any physical-related sport or maybe trying to reduce blood pressure and cholesterol, or simply you just want to live healthily. Just make sure the wellness goals you set for yourself are attainable and realistic.
2. Create a Schedule
To set things in motion, and to make sure that you stick to your regimen you need to create a schedule for your diet and exercise plan. With a proper schedule in place, you may be able to organize your time to fit your exercise program. Also following a schedule can shift your mentality by establishing a positive habit. So begin by writing down exactly which exercises you'll do with set days and times. You can add this to your daily work plan. This would also work well with your diet plan.
3. Plan Your Workouts and Exercise Program
There are various exercise techniques to choose from, you can research around the internet which works best for you. You also need to consider your age and physical structure. Do not quickly attempt on something too strenuous that instead of helping yourself, as this may compromise your health instead. Slowly build up your exercise plan, perhaps you want to start by taking daily walks or running around the neighborhood, or moderate aerobic exercise per week. Start building a balanced exercise program with a mix of activities and exercise to get you going.
4. Develop a Diet Plan
Healthy eating starts with effectively planning your proper diet plan. By doing so, you can control and select the right food and snacks to eat. Start once again by researching for the fitting meal plan that would align with your wellness goals. You may opt to revise your diet plan every once in a while to create an assortment.
5. Monitor Your Progress
Monitor your progress on weekly if not monthly to check if there are any physical changes in your body and health. This will help you determine if the diet and exercise plan is effective. If you find it too strenuous or has been taking a different effect on your body, then quickly try another approach. This is why planning is important to make sure your plans work well and best for you. Keep in mind that you can always change foods or workouts that eventually grow boring. It is always good to mix things so you may continuously feel inspired to work on your wellness goals.
FAQs
How Much Exercise Should You Do?
It is recommended that accumulate a weekly total of at least two-and-a-half hours of moderate aerobic activity, or one hour and 15 minutes of vigorous aerobic activity.
What Is the Best Diet While Exercising?
It is advisable to eat healthy carbohydrates such as whole-grain cereals, whole-wheat toast, low-fat or fat-free yogurt, whole grain pasta, brown rice, fruits, and vegetables.
Is Taking a Shower After Exercising Advisable?
There is nothing wrong with taking a shower after exercising. Post-workout shower alone isn't a quick fix for workout recovery. Your post-workout recovery routine should include a less-strenuous cool-down period before you take a shower or bath.
Begin prepping your diet and exercise plan now, so you may start working your way towards a more healthier and longer life.