It actually marks a feedback or a Self Review Templates from a concerned person towards his job, managerial skills, and higher authority. The questions to be posed in the review form should be unbiased, and a clear, and descriptive language must be used. Reviewer should also be asked in brief to explain the reason for his choice of options.
The options should vary from exceptional and highly effective to unsatisfactory and inconsistent. A provision for not applicable should also be included. You can now download Performance Review Templates that are highly customizable and choose the points that meet your requirements. Templates are available in easy to download word and pdf format.
Performance Review Template Word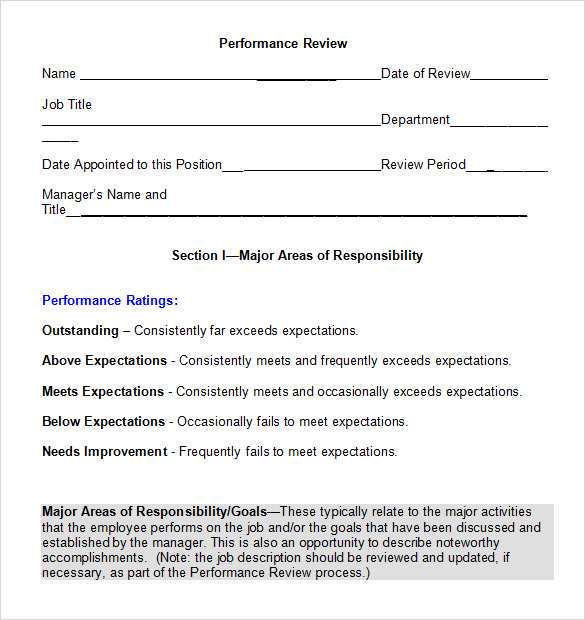 cmu.edu
This is a performance review template available in Word format. It is basically designed to evaluate an employee's performance in different areas of his work. Divided into a number of sections, this template asks you to rate an employee based on his performance in particular areas of his job.
Employee Performance Review Template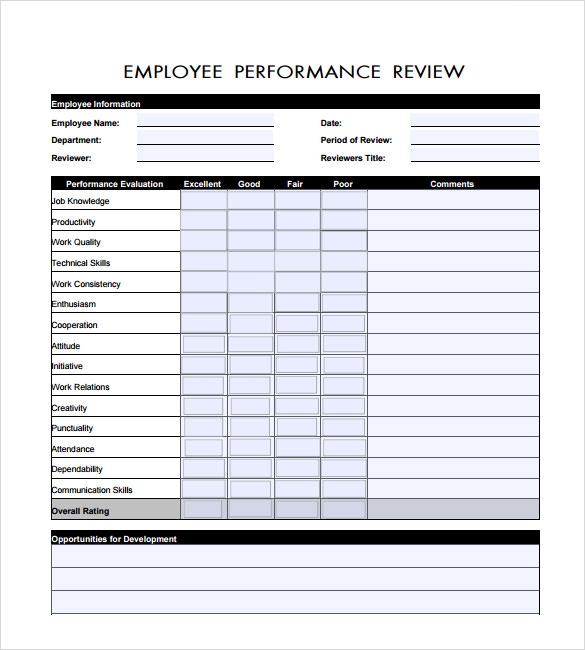 bellefourche.org
This is a simply designed employee performance review template which enlists a number of qualities required for the job, and the employee's rating as per his performance in that field. There are special spaces for comments and opportunities of development in the template.
Performance Review Plan Template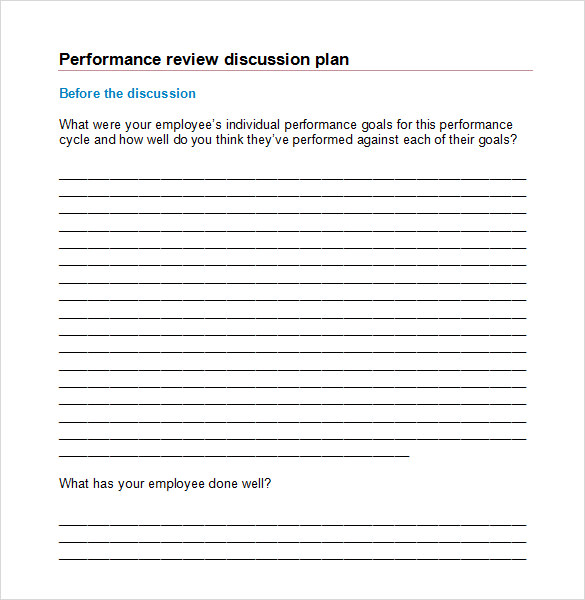 fairwork.gov.au
This is a performance review discussion plan template based on which you can evaluate an employee's performance and discuss with him the problematic areas and the improvements. It asks a few questions which you have to answer, based on which the performance review plan is created.
Intern Performance Review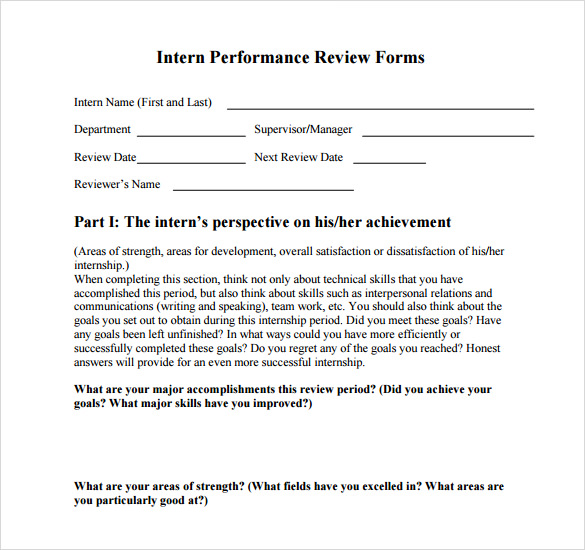 uncw.edu
This is a performance review template to evaluate an intern's performance in the job. If you have hired an intern, you have to give his report at the end of the internship. So, this template can help you to create an appropriate report based on this performance and your experience with him or her.
Staff Performance Review Sample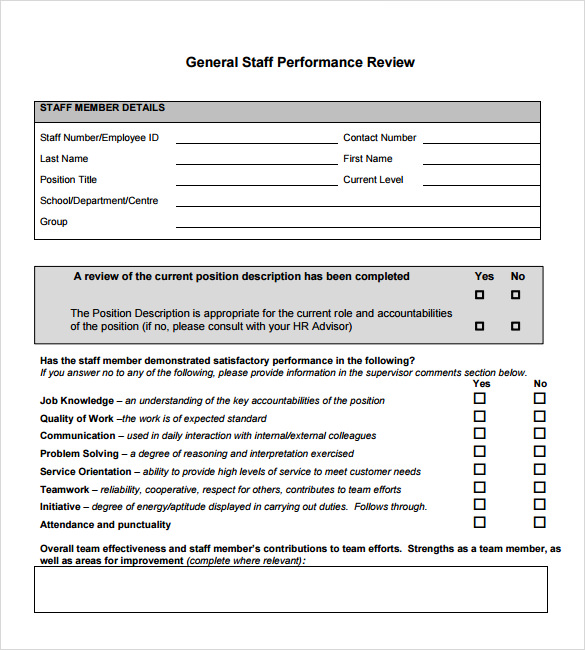 policies.griffith.edu.au
Performance Evaluation Template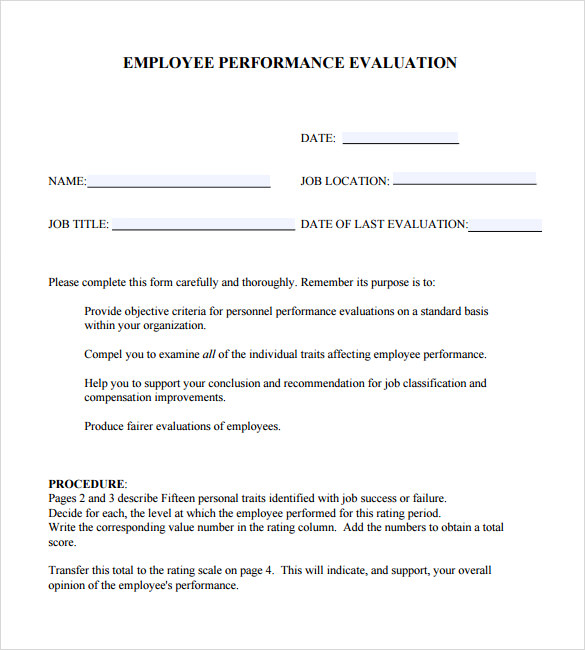 lead-deadwood.k12.sd.us
Performance Appraisal Template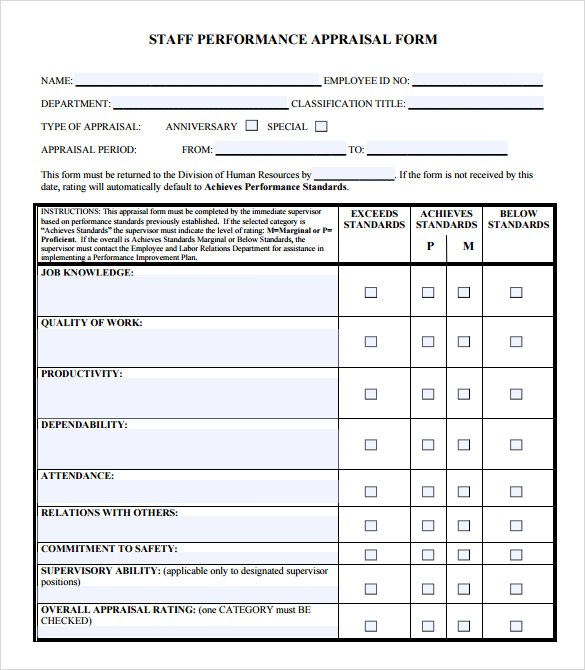 hr.fiu.edu
Why Do You Need a Performance Review Template?
As a business owner, you need to give a constructive feedback to your employees, and make sure they do their best for your business. Performance reviews help in praising your employees, improve their shortcomings, and discuss what you expect from them for the growth of your company.
With a performance review template, you can document your employee's accomplishments and your expectations, and get an opportunity to celebrate success. A written performance review proves to be a significant tool that helps your employees know where they stand and where they need to improve. You may like Management Review Templates.
When Do You Need a Performance Review Template?
While running a business, there are many instances when you need to document a performance review of your employees. You need it when you want a written note about the major accomplishments of your employees, and when you want them to know about what you expect and what they can do better.
You need this template when you want to make your company rules and performance standards clear among your employees. This template can also be used when you to give some kind of training to your employees, and you want to find out where they are currently standing.
Benefits of a Performance Review Template
The performance review templates available here are equipped with all the features that are required to review an employee's performance at its fullest. Being professionally designed, there is minimum space for errors and things missed out.
They are easy and fast to download, they are light weight, and can be accessed from a variety of devices. They are 100% customizable as per your individual requirements and preferences.
A well-written performance review will cover all the areas of an employee's job. It cannot be all negative or all positive. With a healthy balance between the both, your staff members can evolve their best in their roles and beyond that.
If you have any DMCA issues on this post, please contact us!