One important part of an HR department's business plan is its budget. Expenses are often part of every company's individual departments, and the HR division is no exception. This is why budgeting is needed to ensure that the department is able to run its business smoothly alongside with the company's workforce. Budgeting involves the systematic collection of information and data so that the finances needed to support an organization's objectives can be projected. HR department budgets use financial information, performance results, and historical data from every department in the organization. Since the HR department budget considers HR activities company-wide, it is an incredibly complex yet essential document to determining a company's future HR activities. Let us tackle more about this in our article below and don't miss out on our free HR department budget samples made available on this webpage.
10+ HR Department Budget Samples
1. HR Department Budget Template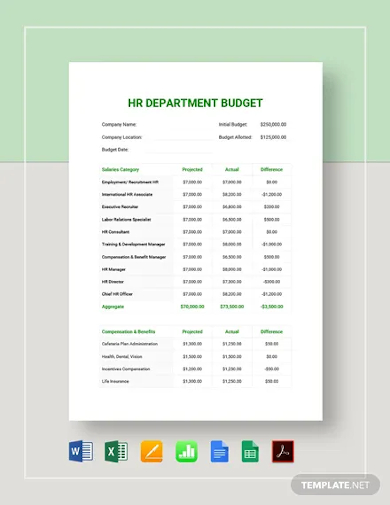 2. HR Department Budget Summary
3. HR Department Budget
4. HR Department Budget Plan
5. HR Training Department Budget
6. HR Service Department Budget
7. HR Department Item Budget
8. HR Department Proposal Budget
9. HR Department Revenue Budget
10. HR Risk Management Department Budget
11. HR Agency Department Budget
What Is an HR Department Budget?
Data collected for a budgeting plan is usually derived from other departments and from internal and external factors. The HR department will need to know what kind of funds are needed and for what purpose, since the most important asset of a business is its people, this budget must be carefully planned out, communicated to, and approved by the leadership team. In most cases, the HR department budget will include funds allocated to hiring, salaries, benefits, talent management, training, succession planning, workforce engagement, and employee wellness planning. Aside from the data derived from different departments, to be able to thoroughly work on an HR department budget, data from the previous year such as the expenses incurred, current year costs, the projected number of employees, and other future predictions would pay a big factor for the budgeting plans.
How To Prepare an HR Department Budget?
The main focus of an HR department budget is the overall welfare of the company's biggest and most important asset, its people, the human resource. Preparing a suitable budget can prevent any major issues that may disrupt the company's workforce and in fact, the proper budgeting plan would ensure more positive growth for not only its employees but for the overall organization. Then why the need to plan ahead? Well, budgeting is always planning ahead, identifying any expected expenses, and making sure funds are available. Now as you are about to prepare the HR department budget, here are some important things to consider.
I. Organinazation's Overall Business Goals
It is important that the HR department has to identify its goals and priorities set for the year. Administrating employees may be part of the department's responsibilities, but as they are distributed to different departments within the company then it is also essential that the entire company's business goals are aligned with the human resource department. Why so? This is how the department can identify any gaps and concerns that need to be considered and looked upon, and if the entire organization is heading in the same and right direction.
II. Previous Data
As mentioned, data from the previous year is important so the department can compare and review past performances, expenses, and the distribution of the funds within the year. With this, the HR department can learn and strategize their next move.
III. Forecasting
Again, data can play a great role when it comes to forecasting the workforce needs in the company. Aside from last year's data, it helps to gather information from other departments as well. Then the department will be able to analyze various trends that can affect the company's turnover rate, recruitment, employee training, benefits, and compensation.
IV. Positive and Negative Factors
Identify the positive and negative factors that may help or disrupt the company's workforce, for example, the Covid pandemic has greatly affected a lot of businesses and disrupted the workforce. So several measures had to be taken to make sure that companies can still sustain their employees and continue their business. With this, your team may be able to come up with a plan on how to approach such scenarios. Sort of a backup or contingency plan.
V. Set Expectations
In reality, one can never be sure of what the future may hold, it is often said to expect the unexpected. With this being said, when it comes to budgeting instead of being over the top, manage your expectations. Create a more realistic budget approach to get higher management to understand and approve of the budget.
VI. Monitor Your Budget
Once management approves of the budget, make sure you have methods in which you can continuously monitor its performance. Create a process for reviewing expenses to ensure you stay on track.
FAQs
What Is An HR Department?
The HR department is one of the major divisions that comprise a business organization. They are tasked to manage and oversee all matters regarding a company's human resources or employees.
Why Is Budgeting Important?
Budgeting is important to ensure that money or funds are well maintained and are properly spent and distributed.
What Is Cash Budget?
This is a company's estimation of cash inflows and outflows over a specific period of time, which can be weekly, monthly, quarterly, or annually.
An HR department budget requires a careful and thorough analysis of all sorts of important data to come up with the right budgeting plan. It may be a complex and challenging task, but once the right budget is approved, this will pave the way for a stronger and competent workforce for the company.