When you engage the services of a lawyer for either a criminal or civil suit, you realize that it's not a cheap process. Then again, lawyers are also entitled to pay taxes and should therefore issue invoices to clients for their services. Whether he acts as a consultant, notary, or an attorney, the lawyer must issue a legal invoice that details his services before he can be paid.
Our Invoice Samples are intended for professions with legal practices who need to issue invoices to their clients. These are free for downloading and can be personalized or modified before printing.
Legal Invoice Sample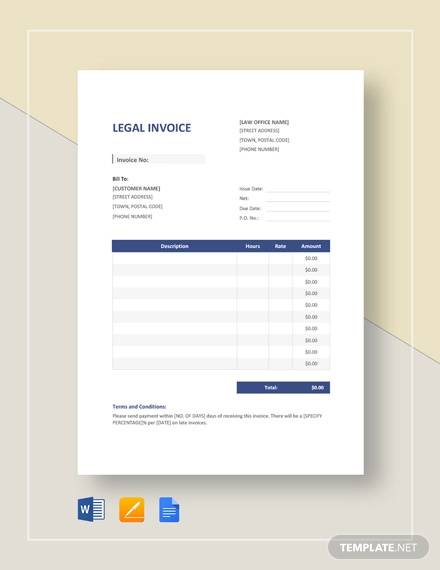 Sample Legal Invoice
Legal Tax Invoice
Legal Services Invoice
Legal Aid Invoice in PDF
In the legal service, there are two classifications of each profession with defined duties and responsibilities. These are an attorney and a notary public. In some countries, a notary may be an appointed public officer where he takes on the role of dispensing advice but cannot represent a client in court cases. His primarily role is to work on legal matters not related to disputes such as notarizing documents and witnessing parties sign important documents.
A notary helps his clients with services like these including drafting wills that people need to use in matters pertaining to properties that need to be dispensed on heirs or kin that are included in an individual's wishes. He may also help draft trusts like a client who needs to dispense real estate property or financial trusts. These may be through an entity or through a bank that may be handed to a beneficiary that may be dispensed either at death or after death of the client.
A notary's services meanwhile does not come cheap and in some instances rival that of a lawyer's. It's for this reason that he needs a legal invoice to detail his services to his clients. Through some of the legal invoices our samples have offered, a notary may be able to detail all his incurred expenses including fees that he needs to bill his clients.
These invoices are important to let the clients read a breakdown of the notary's services that need to be paid. A notary may provide a standardized invoice that he can use or download some of these samples that fit his specifications and edit or modify his choice to his liking.
Please check more invoice samples on our website or click on the links for Generic Invoice Samples and Word Invoice Samples that are all free for downloading.
Legal Invoice in DOC
Legal Invoice Inquiry Example
Sample Legal Invoice Format
For lawyers meanwhile who have a broad range of legal tasks that cover their profession, a legal invoice that represents their law firms are mostly given to clients who have availed of their services, whether these are retainer's fees for companies or individuals that need a lawyer on standby for an ongoing case.
Most law firms have franchises in other states and it's important for them to keep track of their clients in other states or provinces. Law firms who have lots of clients may have a standardized invoice with their own letterheads and logos, but those working independently can download their own from any of the samples here that we're offering. They can either draft their own or use these samples by modifying them to their specifications.
Please check out more on our website or click on the link for Printable Invoice Samples for users who may find these invoice samples useful.