How many activities are you looking forward to this year? Do you have them all listed? Have you prepared for them? These questions might not seem relevant to you now, but they will when they start to close in on you. What better way to manage your event agendas other than keeping track of them? An efficient event calendar can help you sort out future plans and activities in advance instead of carrying the weight of last-minute set ups.  
Event Calendar Template Sample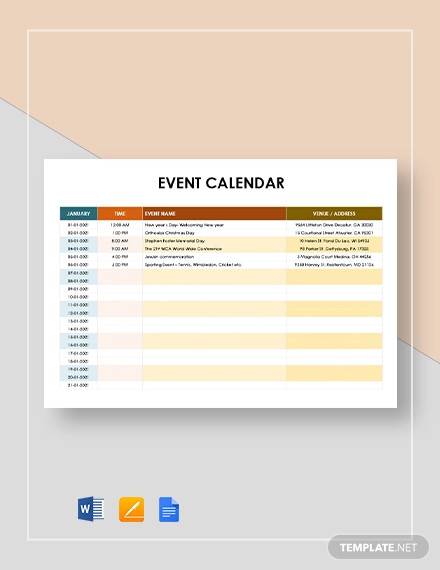 Sample Event Calendar Template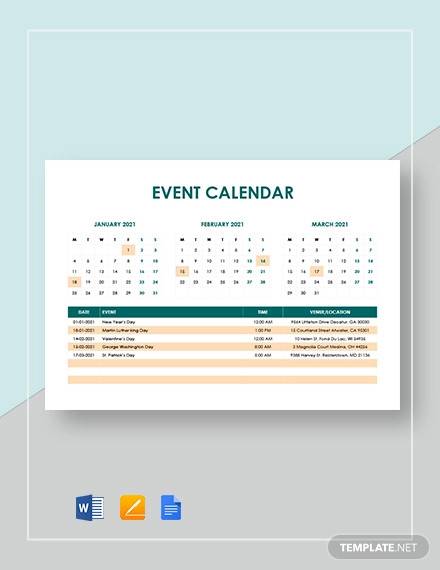 Printable Event Calendar Template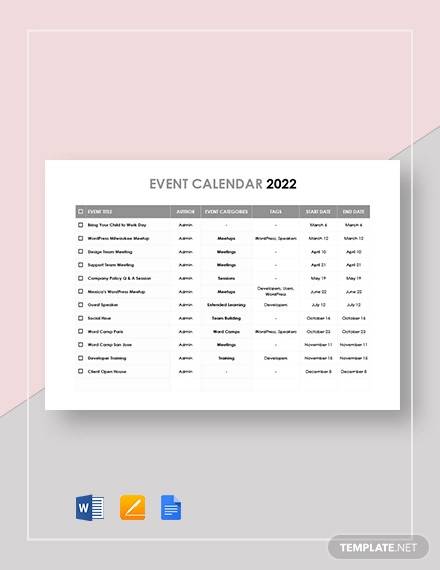 Holiday Event Calendar Template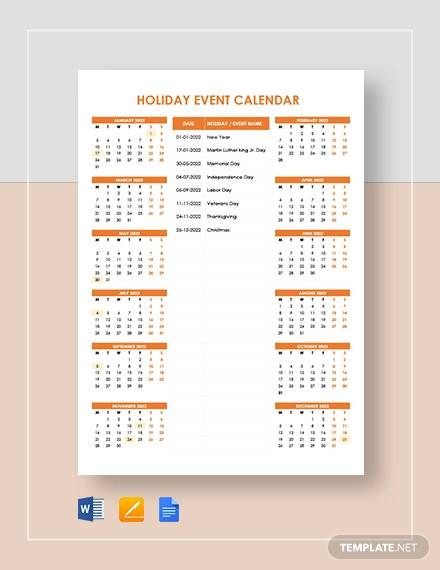 Weekly Event Calendar Template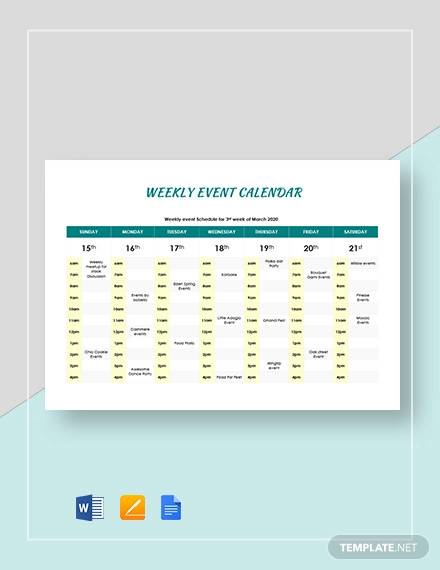 Project Event Calendar Template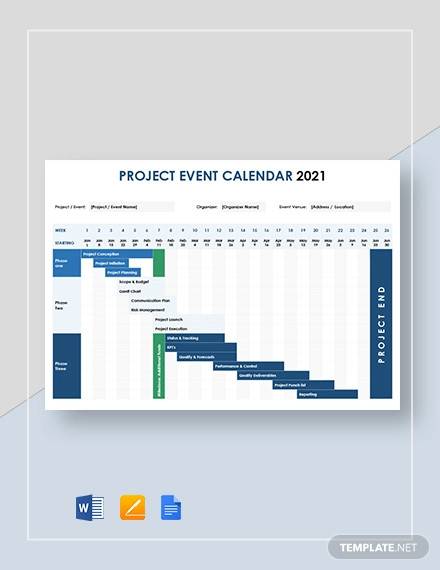 Daily Event Calendar Template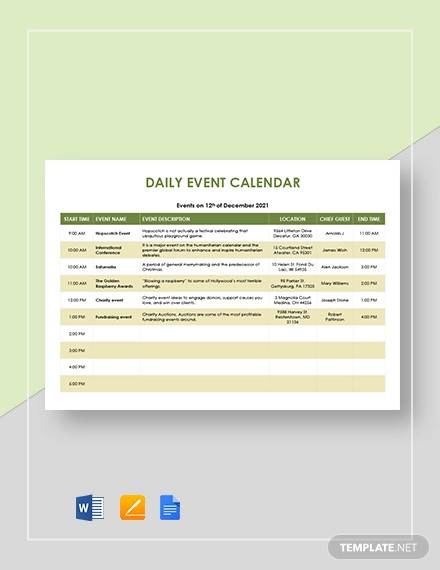 Annual Event Calendar Template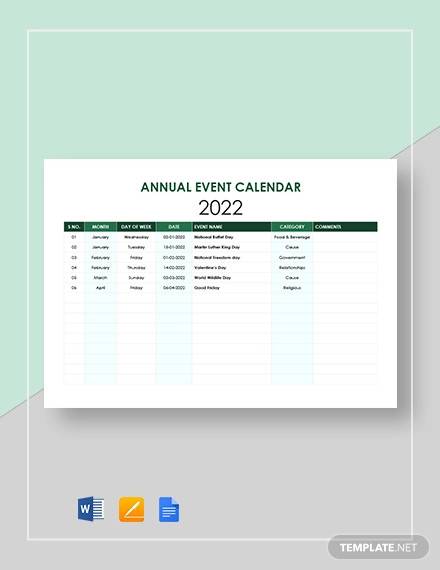 Yearly Event Calendar Template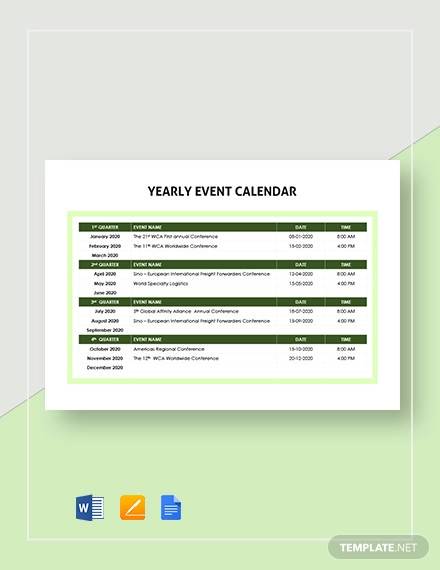 School Event Calendar Template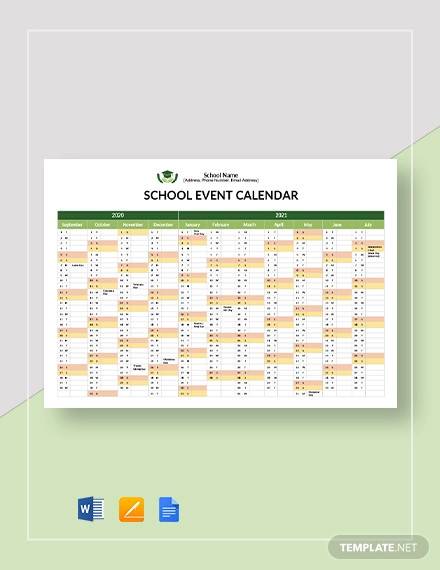 Event Management Calendar Template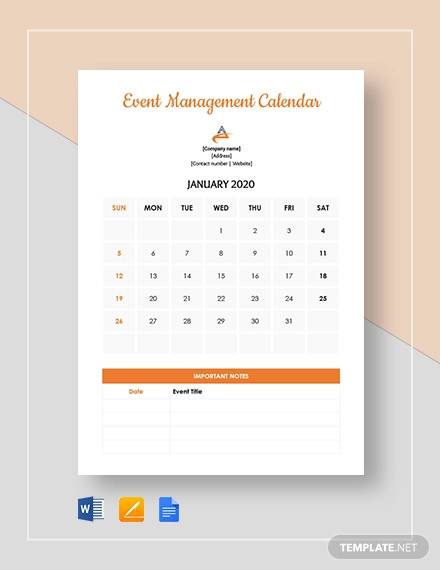 Company Event Calendar Template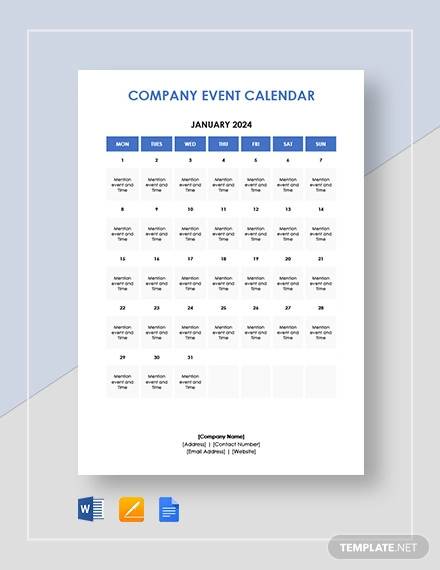 Restaurant Event Calendar Template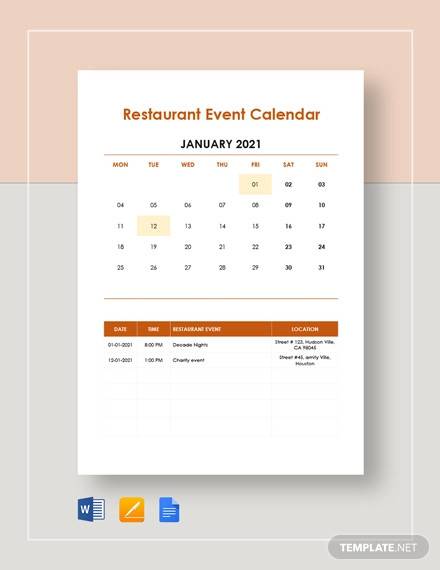 Monthly Event Calendar Template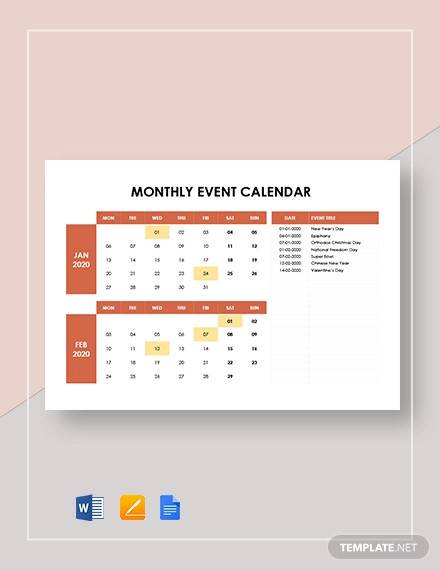 Corporate Event Calendar Template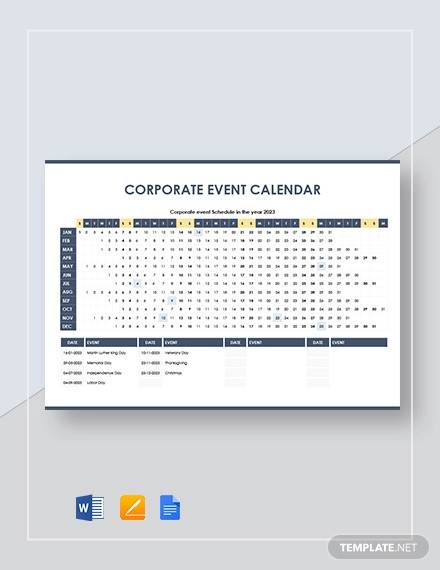 Church Event Calendar Template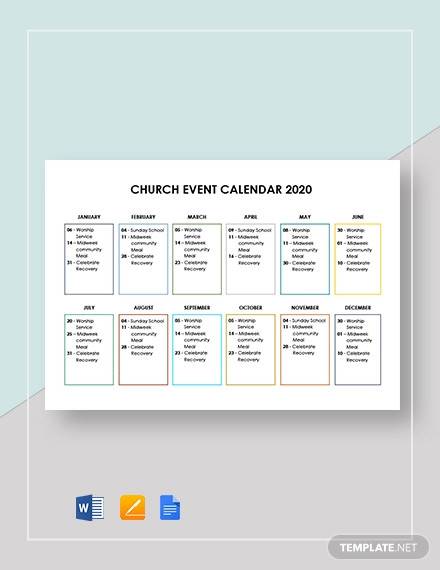 Special Event Calendar Template
Calendar for Social Event
Consumer Exhibition and Event Calendar
Calendar for Marketing Event
Monthly Event Calendar
Yearly Event
Calendar for Multiple
Event planning Calendar
What Is an Event Calendar?
An event calendar is a plotted schedule of activities and happenings. It can be used for personal or business purposes. Often organizations and institutions use a calendar of events to inform its members of what events, holidays, and important dates will occur in that particular year. It allows everyone to adjust their agenda according to the events included on the calendar in advance.
On a personal level, among the reasons why you should utilize a calendar is that it helps lessen your anxiety. When you have multiple due dates and several things ahead, not knowing when these things will take place puts you in a cramming panic. Keeping a calendar helps you anticipate upcoming activities and better prepare in advance, setting things in order.
How to Make an Event Calendar
How you arrange your work schedule or personal agenda develops your time management abilities—a valuable skill to learn in pursuing your personal and professional endeavors. Keeping an event calendar is not merely an act of pinning on to-do lists on different dates but also an integral part of planning. Here how you can make one:
Step 1: Determine Annually Held Events and Occasions
You will always have those events which your office holds regularly or annually. These are the easiest ones to plot on your business calendar as people expect them to happen again. Refer to your previous calendar (if it's available) and list them down. Be sure to note if this year's dates fall on a weekend, and you have to adjust them accordingly. Some of these events may be no longer applicable to the new calendar and you can announce the changes in advance. Or maybe, you just don't include the canceled events and surprise them.
Step 2: Plan Added Events Ahead
Besides the regular events, there will be activities specific to that year alone and may or may not continue to the next. When making an event calendar, it's wise to plan their schedule ahead to carry out your output's purpose. Identify what celebrations or activities that you'd like to happen for that year and determine when you'll be plotting them on your appointment calendar. You can add spontaneous events later on, but it's best to record them in advance if you want the information dissemination to be efficient.
Step 3: Note the Event Details
You won't know what to expect because all events on your calendar are yet to happen. However, once you have the details in order, remember to update it. This information can be the time, venue, preparation reminders, and other relevant matters of what's going to happen. While you're going to put out a separate announcement for the event's details anyway, attaching them on the calendar allows the participants to record the details in advance. This makes your calendar not only a list of events but also a useful reference when you want to check an event's info. 
Step 4: Look Out for Hectic Seasons
While you're still debating what month and day to pin your events on, do a little background check if you're not getting in the way of a busy project schedule. This is especially important in a workplace with hectic seasons that the company can't afford to compromise. Business event calendars are built around which office schedule they can spare for employee activities that won't hamper their productivity. They also work-related plans such as employee training schedules and team buildings. Identify which months or weeks, your office or establishment deals with a lot of clients or deadlines. Plot event dates where it's easy to manage extracurricular activities.
FAQs
What is a marketing calendar?
A marketing calendar contains all your marketing activities for the year.
Should businesses rely on event calendars?
Yes, not only is it an efficient organizational tool in managing non-work events, but it also helps in tracking significant business schedules such as incoming deliverables, agreement signings, and partner meetings.
Is it okay to distribute an entire calendar of events to organization members?
It's ideal to send all information on the event calendar in advance. However, some agendas need reconfirmations. Some schedules might need to be confidential. Release only event calendar items that are ready for dissemination and withhold those that are not.
Schedules are something that any organizations and institutions grapple with even when they seem to get used to tight deadlines and numerous activities. An event calendar can help them plan these things, work on the preparations in advance, and execute them successfully. Have a look at our event calendar template collection and get yours today!