A lot of us love going on leisure trips and vacations, the chance to relax, unwind and explore is one of the most beloved pastimes. Once you decide to take time off from work or your business, the first thing that would usually come into your mind is, what do you want to do and more importantly, where do you want to go? Planning for a vacation can be quite challenging especially if you plan to explore something new. Aside from purchasing your transportation tickets, there is one valuable thing you need to consider and that is your vacation itinerary. You need to have a detailed plan of where you want to go, how many days you want to spend your time in one area, the sights you wish to visit and if you want to add the food or restaurants you want to dine in. A vacation or travel itinerary is a handy guide most especially for first-time travelers, or even seasoned travelers always prepare their very own itinerary to make sure they are right on track with their plans. In this article let us discuss further below how to prepare a vacation itinerary. And if you need to start working on your itinerary then check out our free vacation itinerary samples that are downloadable for free on this page.
10+ Vacation Itinerary Samples
1. Vacation Itinerary Template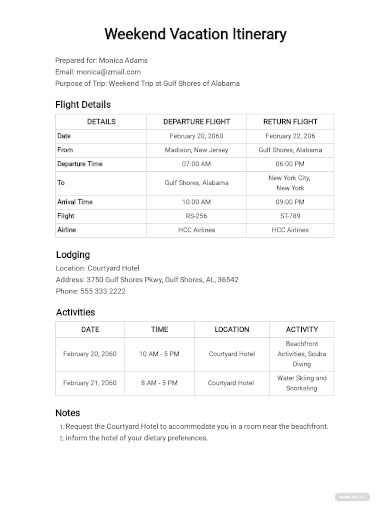 2. Vacation Itinerary Planner Template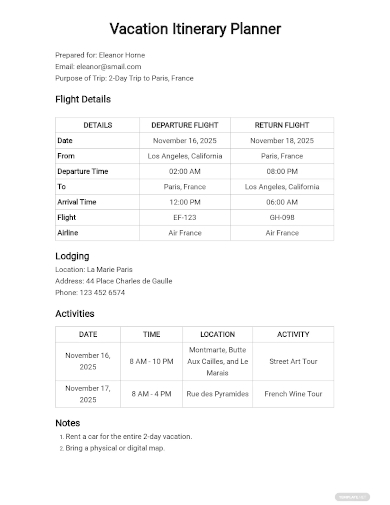 3. Luxury Included Vacation Itinerary
4. Basic Vacation Itinerary
5. Spa and Wine Vacation Itinerary
6. Formal Vacation Itinerary
7. Dream Vacation Itinerary Requirements
8. Sample Vacation Itinerary
9. Anniversary Vacation Itinerary
10. Editable Vacation Itinerary
11. Day by Day Vacation Itinerary
What Is a Vacation Itinerary?
Travel agents are all too familiar with a vacation itinerary, as this is a detailed holiday schedule of activities for an individual or group of travelers. This would comprise the travel destination, mode of transportation to be taken, the dates and times, accommodation, and sightseeing locations. Although not everything is applicable, these are the most common details you will find in this particular itinerary. Aside from a guide, a vacation itinerary will help travelers manage their time, travel budget and most importantly this will give them an idea of what to prepare and you will be able to set your priorities.
A lot of people nowadays prefer to do DIY (do-it-yourself) travel, but there may be some possibilities that you may miss out on important details that can cause disruption in your travel plans. This is why if you decide to travel to multiple locations or planning a vacation with a large number of people then it is highly advisable to consult a travel agency. Since they are the experts when it comes to travel, they can provide you with pertinent information, book your travel needs with ease, make sure that everything is in order, and ensure a hassle-free vacation.
How To Create a Vacation Itinerary?
Planning for a vacation is indeed challenging but also exciting as well. The prospect of relaxing, exploring, and basically having fun with family or friends can be fulfilling. To make sure you are able to cover everything you want to do from day one till the end of the vacation, the best place to start your travel planning is by creating a vacation itinerary. To start here are some helpful tips so you can create an effective itinerary for your vacation.
I. Shape Up Your Travel Plans
Begin with mapping down where you want to go, how many people are traveling with you, and how many days do you wish to travel.
II. Travel Budget
You need the right amount of budget for you to get to the destinations you wish to visit. There are a lot of things to consider for your travel budget from transportation, accommodation, insurance, pocket money, and the sights you wish to visit. For you to check if you are able to afford all these, do your research or visit a travel agent who can give you a quotation based on your requirements.
III. Transportation
There are several ways to travel around, via air, sea, or land. So to get to a certain destination would mean checking on what transportation you need to take. Not only that, but you must also take note of the availability, the prices, and the schedules if all these are compatible with your plan.
IV. Destination
You may opt to go to one destination or various locations, whichever you think you can afford, and have enough time to do so. Remember each destination has its own restrictions so you also need to pay attention to this. For example, you may need a certain vaccine or visa to enter depending on your nationality. So always double-check with the embassy for more details.
V. Dates and Time
Part of every vacation itinerary is the dates you wish to travel. This will give you an idea of how long you wish to stay, again you need to consider your budget as well check if the accommodation and flights are available on your travel dates. A more detailed itinerary would include information about the time such as flight schedule (including the flying time), and how many hours spent in one activity to another.
VI. Multiple Destinations
For multiple destinations, you will need to consider other modes of transportation aside from flights, such as car rentals, taking the train, bus, or ferry. Do some research and check how many hours it takes to get from one destination to another and what transportation do you need to take.
VII. Sight Seeing Sites
In most cases, a lot of travelers would love to visit historical or popular sites that is only available in that city so make sure to include what particular places you wish to visit, how much would the entrance fees cost, or if you wish to avail services from a guided tour instead.
VIII. Other Important Details
Also, take note of other important issues you need to consider while drawing up your vacation itinerary. It is recommended to purchase travel insurance, take note of the weather when you visit your preferred destination(s), and make sure you are aware of any political or health situation in the country of destination. Knowing such information will give you an idea of how to plan your vacation itinerary well since security is a priority even while on vacation.
FAQs
What Is a Flight Itinerary?
A flight itinerary is a confirmed schedule of the flight you are planning to take, which details the destination, airline company, schedule, and other optional details such as seat number and preferred in-flight meal.
Why Travel Planning is Important?
It is important to carefully plan your travel for you to be able to maximize the experience. Also, you will be able to determine if you have the right budget to afford the trip.
What Is the Difference Between Leisure and Business Travel?
Leisure travel focuses on recreation, tourism, sports, and entertainment whereas business travel is where travelers travel solely for work or other business-related activities.
A vacation itinerary is important so you may be able to organize your vacation and have an enjoyable and fulfilling holiday by yourself or with family and friends. Don't forget to download our free templates to make it easier for you to prepare.