5+ Board Resolution Approving Financial Statement Samples
As a board member, you must routinely oversee operations and make decisions in order to guide businesses in the appropriate strategic direction. Board resolutions let the Board of Directors keep track of its actions. Day-to-day tasks such as evaluating the organization's finances or discussing strategic options do not require a resolution from the board of directors. The layout and terminology might be overwhelming when you're just getting started. Recording these events will become more and more familiar with time. Drafting such a resolution can be daunting for others, look no further, because we've got you covered! In this article, we provide you with free and ready-made samples of Board Resolution Approving Financial Statements in PDF and DOC format that you could use for your benefit. Keep on reading find out more!
1. Board Resolution Approving Financial Statements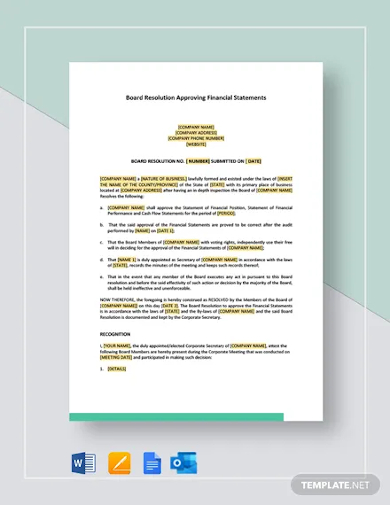 2. Board Resolution Annual Approval Financial Statement
3. Board Resolution Account Approval Financial Statement
4. Sample Board Resolution Approval Financial Statement
5. Board Director Resolution Approval Financial Statement
6. General Board Resolution Approval Financial Statement
What Is a Board Resolution Approving Financial Statement?
A directors' resolution to approve business's financial statements is a resolution made by the board of directors of a firm to approve the audited financial statements and directors' statement for a certain financial year before they are presented to the company's shareholders. The resolution of the directors can be passed in a board of directors meeting, in which case the directors must convene a meeting to ratify it. The directors' resolution might also be passed by a written resolution. To approve financial statements, you Will require board minutes. Alternatively, a board decision to approve financial statements can be used to pass the board resolution in writing.
How to Make a Board Resolution
A board determines anything legally binding by adopting a board resolution. This indicates that the document must be written in a specified language and following a precise pattern. A Board Resolution Template can help provide you with the framework you need to ensure that you have a well-prepared and robust resolution on hand. To do so, you can choose one of our excellent templates listed above. If you want to write it yourself, follow these steps below to guide you:
1. Specify the name of the company.
Board resolutions are important papers that may be requested by banks or the courts if the situation arises. You don't want your business resolution paper to be dismissed due to technological issues. One of the most crucial aspects in creating a successful and legally enforceable business resolution agreement is appropriately labeling the document. The company's name, as well as the governing body making the decision or developing a policy, must be written at the top of the page.
2. Entail additional legal documentation.
The requirement to include another line of legal identification emphasizes the necessity of making your document legally binding. It's critical to spell out the state in which the business was founded, because each state has its own set of corporate statutes. In the case of a legal issue, this might be useful for business lawyers.
3. Specify the time, date, and location.
It is critical to indicate the venue of the board meeting. The date and time must also be clearly written. At board meetings, a voting quorum is critical. To define quorum, it is the minimum number of participants that a body or organization required for a lawful meeting to take place. As a result, you'll need to keep track of how many board members are present and accurately identify them, as well as the place, date, and time.
4. Sign the paper after listing the Board Resolutions.
This portion of the corporate resolution document must list every resolution passed by the board by a show of hands or vocal vote. This will most likely be the bulkiest piece of your document, depending on how important or long the meeting is. Finally, verify that a legally enforceable company resolution instrument is signed and dated. This confirms that the information in the paper is true and verifiable.
FAQ
So, what exactly is a board resolution?
Board resolutions, also known as Directors' Resolutions, are written records of the decisions made by the Board of Directors during their meetings.
Is it necessary for a board of directors to approve audited financial statements?
The proper step for the agenda at the meeting where the board of directors receives the independent audit is for the board of directors to accept the auditor's report and letter to management rather than approve them.
Is it necessary for all directors to approve accounts?
Although not all directors must approve the accounts, they must all sign a written declaration stating that the accountants/auditors have received all essential information.
Realizing how board resolutions are organized and drafted will help you overcome some of the fear you may have before beginning this process. Keep in mind that board resolutions are legally binding. To help you get started, download our easily customizable and comprehensive samples of Board Resolutions Approving Financial Statements today!