Whenever we browse through the internet or visit commercial areas we once in awhile come across ads promoting or advertising for a cause or a campaign. These nonprofit organizations or communities are often associated with scientific, charitable, educational, literary, public safety, or cruelty-prevention causes. As the name suggest this are nonprofit or nonbusiness entities solely rely on donations, grants or membership from the public or business organizations. But how do they market their cause? In this article shall tackle more about nonprofit marketing strategy and for samples you may want to check out our free nonprofit marketing strategy samples below:
4+ Nonprofit Marketing Strategy Samples
1. Strategic Marketing Plan for Nonprofit Organization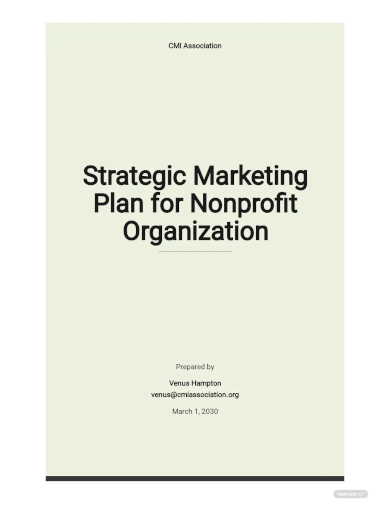 2. Nonprofit Marketing Performance Strategy
3. Nonprofit Organization Marketing Strategy
4. Fundraising Strategies for Nonprofit Marketing
5. Nonprofit Marketing Fundraising Strategy Organization
What Is a Nonprofit Marketing Strategy?
To be able to increase awareness and raise money for their cause, nonprofit organization would need to build up a effective marketing strategy. Basically, a nonprofit marketing strategy has the same components of those being practiced by any revenue based business organization. It is comprehensive plan formulated particularly for achieving the marketing objectives of the organization. Except the funds needed to organize their marketing plans come from as mentioned donations, grants or membership. Also nonprofits focus their marketing on how satisfying it feels to give back and help others. The main objective of nonprofit organizations is to raise awareness, continue to make yourself known, and give people something to care about that inspires them to take action. So, how do you achieve this? Let's head on to the next topic below.
How to Create Marketing Strategies for Non Profit Organizations?
Nonprofit organizations are often formed because they have a solid mission they want to impart to the general public. You must be able to reach individuals or a revenue earning organization who perfectly understand your cause and are willing to help. This would require continuous effort and smart strategic planning. Take note that each marketing strategy would differ in regards of the nature of the nonprofit organization. But basically, here are the following elements you can include in your marketing strategy:
1. Identify Your Target Audience
Various nonprofit organizations are raising awareness for different causes. But you could not simply just jump on the bandwagon and start promoting anywhere. You must first identify the people who you want to reach out to, could these be related to education or to help develop something in the scientific community? Or are you trying to reach out to business organizations to help campaign environmental related issues such as tree planting activities or clean up drives. The list is endless but not your target audience. Once identified, you will be able to focus your attention then on how to promote your campaign and which areas you could focus on.
2. Improve Current Relations
If your organizations has been long established before, it pays no harm in trying to reach out to past donors. But to do so, it is also good to send them a little token as a sign of appreciation for what they have done to help fund your cause. Aside from that sending out emails or any digital document regarding any updates of your organization's campaign would make them feel that they have done something remarkable to help your cause.
3. Expand Your Nonprofit Marketing Online Presence
The use of content marketing is one effective way of reaching your target audience. A lot of people love reading online blogs and stories. Watching videos or listening to podcast. And some of this could be done for free or for a minimal cost too. This is where you can make use of content marketing, the key here is to have a persuasive and engaging content regardless of what online platform used. You must have something to say, something people want to hear, something that will draw attention to your organization.
Social Media Marketing : Almost everyone is on it nowadays and this have been quite an effective tool to reach your target audience. Start pages on multiple platforms such as Facebook, Instagram, LinkedIn, YouTube, and Twitter are the biggest. Regularly post and share content, encourage your constituents to get involved as well. Boost your content post and consider learning how to run more advanced ads.
Email marketing or fundraising is the most cost-effective form of fundraising. It takes no physical resources and relatively little time. Its a free alternative to promoting your organization as you can use it to raise money, run campaigns, recruit volunteers, market events, sign petitions, start letter-writing campaigns to political leaders, run surveys, etc.
4. Get Volunteers
Another cost effective way to market your cause or campaign is with the help of volunteers. Most volunteers want to take part of your organization because they too are passionate and committed to your cause.
5. Influencers
In this day and age, social media platforms has been dominated with influencers. Influencer marketing can be an effective tool to get raise awareness. Influencer partnerships can allow organizations to connect with their target audience through the use of popular, relevant public figures for a value that can be comparable to publicity coverage or the high-priced celebrity endorsements. Influencer can solidify your legitimacy and leveraging an influencer with an engaged audience that overlaps with your target audience.
6. Peer to Peer Fundraising
Get your supporters to also help your campaign. The idea of this to have them reach out to their respective networks in order to raise money on behalf of your organization.
FAQs
What Are Examples of Nonprofit Organizations?
Public foundations, charities, social advocacy groups and trade organizations are some examples of a nonprofit organization. Money raised are not distributed to its members or shareholders but are used for charitable work and aiding their cause.
What Is Sponsorship?
Sponsorship is a form of marketing in which companies commits money or resources to a nonprofit event or program in exchange for specific promotional benefits.
What Are the Benefits of Nonprofit Organization to the Public?
Nonprofit organizations are formed because of a societal or environmental issue. Which makes them vital as their main purpose is to raise public awareness, address this issue, give incentive for change and aid those inflicted with this issues.
A nonprofit marketing strategy can only effectively work well with the right tools of the trade. In this day and age, it is no longer difficult to reach people from all walks of life. The internet alone can connect people from across the globe. So plan your marketing strategies well for the success of your campaign, so you may be able to achieve your respective goals of helping others or creating change for the betterment of all.