Once you hire an employee, he/she now becomes your responsibility. You should ensure that he/she would be able to properly transition into the environment of his/her new workplace. One of the few things that you should ensure that you would be able to provide to your new employee before his/her official start date would be a new employee checklist.
The pre-employment checklist samples would be your new employee's reference to what he/she needs to accomplish before he/she starts with his/her job in the company.
Pre Employment Checklist Template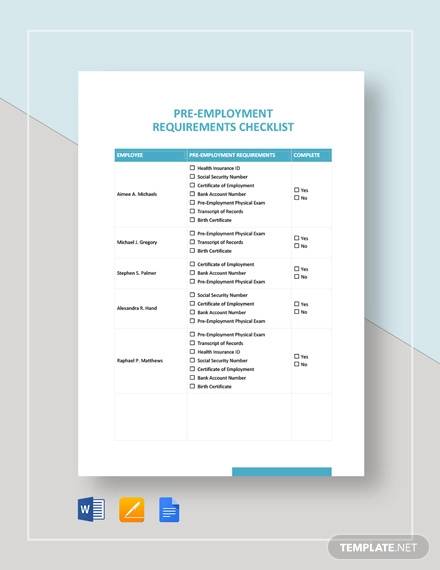 Sample Checklist Pre-Employment Template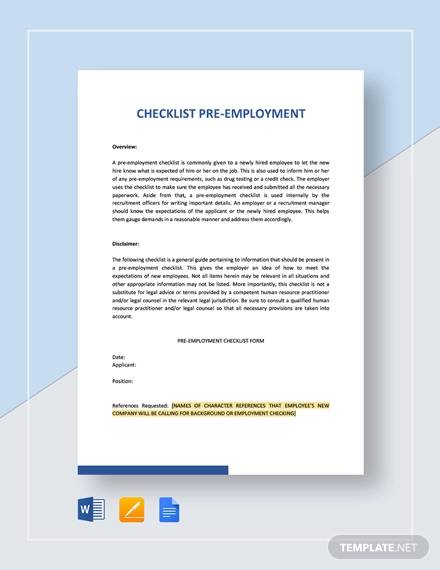 In case you need to update your current company's checklist or if you need to make one for your new company, we have a few sample checklists that you can use as a reference. We will also share a few information about pre-employment checklists that you might find helpful. Just keep reading the article to find out more!
Checklist Pre-Employment Template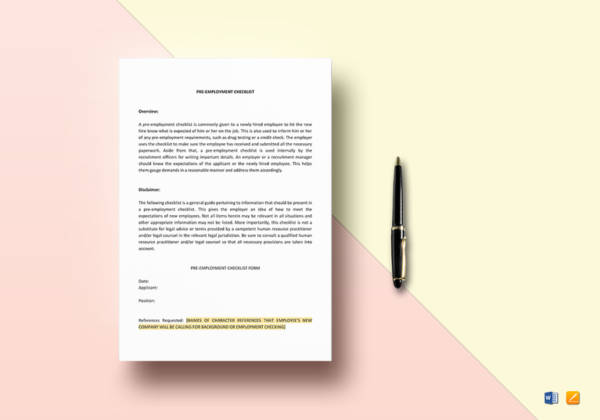 Distributor Pre-Employment Checklist
Pre-Employment Induction Checklist
Contents of a Pre-Employment Checklist
The checklist for new employers will help to make sure that the employees know what is expected of them and what would be needed before a he/she starts in the company. It also ensures that the employee has received and submitted all the necessary items that is needed. Here's what a typical pre-employment checklist contains.
Employee data. Typically, the checklist would contain all of the information that the employer needs to get from the new employee. The newly hired employee should ensure that he/she spells his/her name right and also ensure that the contact information is correct. Other information that may be reflected are the following:

Salary
Date of hire
Employment status
Name of supervisor
Job title/name of position

Forms checklist. This will list down all of the forms that the new employee needs to accomplish before he/she starts to officially work for the company. This will include W-4 and I-9 forms, as well as medical clearances and forms of identification that may be required. Credit background, criminal background, and drug tests might also be required by the employee.
Consent. There are sections in the checklist that the employee needs to check. This will include asking for consent to do background checks, drug tests, and other medical exams necessary.
Application and Pre-Employment Checklist
Support Staff Pre-Employment Checklist
Hiring decisions are not easy and it sure needs careful thinking as well as a careful selection process to ensure that you have picked the correct person to do the job. Making use of pre-employment checklists will help to make the employment process of the new hire smoother and faster. Plus, it will also make tracking of anything that might have been missed or needs following up a whole lot easier.
Once the employee has completed everything stated in the checklist, then he/she ready to start his/her journey as an employee in your company! Do not miss out on the printable checklist templates that we have included on this very article!