One of the ways to manage the finances is to create a budget for all the items one needs and then track the expenses using the same sheet. This allows people to see what is the variance between the budgeted and the spend amount and make corrections if required. Businesses also need to work on budgets so that their finances are tightly controlled. A cash budget template allows them to define the budget and update the expenses. This can be based on a particular time gap like weekly, fortnightly, monthly, quarterly and annually. It depends on the income cycle.
Cash Budget Template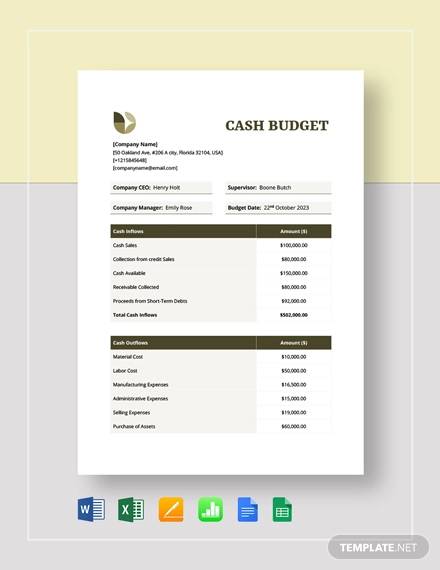 Weekly Cash Budget Template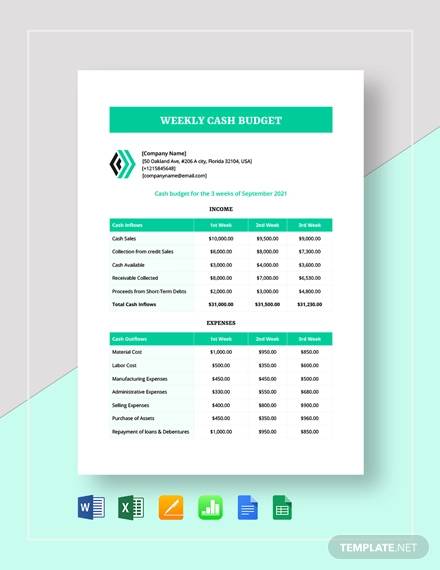 Cash Budget Envelope Template
Cash budget envelope is a tool or method for maintaining the cash budget appropriately. The process is simply to make different buckets for a different type of expenses like grocery as one bucket, entertainment as another so on and so forth. So as soon as the salary is received we can move the money to that bucket or envelope. Hence we will spend the money only for that particular allotment. This helps to control the spend effectively.
Cash Flow Budget Template
Cash flow budget is the flow of cash during a period i.e the income and the expenses which happen is documented. Individuals and businesses can budget the income and the expenses which happen over a period of time. Then this is converted to actual spend and compared with the budget. A cash flow budget can help in understanding the cash requirements and how much funds would be required. It allows monitoring the performance against budgeted cash. You can also see Monthly Budget Calculator Templates.
Quarterly Cash Budget Template
Quarterly Cash budget is made for 3 months or a quarter. The income for the quarter and the various expenses which will happen in the same period is budgeted using the template. The template also allows tracking the actuals. The cash budget sheet is reviewed on q quarterly basis and required adjustments are done for the next budget.
Monthly Cash Budget Template
As the name denotes it is a monthly cash budget sheet or template. The income and expense statement is maintained for a month and reviewed on a monthly basis. Salaried people or small businesses will generally maintain a monthly cash budget so that it is easier to monitor and manage.
Cash Budget Template Example
Cash Budget Template Free
Cash Budget Template Download
Simple Cash Budget Template
Use and Purpose of Cash Budget Template
Money is one of the most important resources for people and business. This money needs to be managed properly so that one can have a good amount of savings for a rainy day. It also helps to know where the main chunks of cash is being spent and what needs to be controlled or some areas need more money than expected. It allows people to plan, do, check and act on their finances. For a business, it acts as a tool for review and fixes budgets accordingly for the next periods. You can also see Film Budget Templates.
How to Create/Write Cash Budget Template
Cash budget Templates are available on the Internet. We can download the same and then customize the template. These templates are generally in excel so that we can have formulas in the required cells. There are different formats available like a monthly cash budget or quarterly cash budget templates. There are simple templates while others are quite detailed. One can choose the one required and edit the same.
Cash budget templates in excel format are available on our web site. Other formats will be available on request. Download these templates and customize the same for your use. Use our templates for better management of your finances.
If you have any DMCA issues on this post, please contact us!