The restaurant sector is a fast-paced, ever-changing environment. As you start your dream of starting your very own restaurant business, there are many things that you have to keep in mind. One of these things is thinking of how you'll manage the operations of your restaurant. The numerous actions that are carried out at a restaurant to manage the company are referred to as restaurant operations. These tasks include, among others, meal preparation, customer service, cleaning, acquiring raw materials, bookkeeping, and reporting.
Furthermore, all of the key elements of your restaurant's operations are overseen by operations management. It covers everything from how you schedule your workers to correctly managing your inventory to ensure that your business runs efficiently. Your restaurant operations will be manifested in an operating agreement. If you want to know what this is, look no further! In this article, we provide you with free and ready-to-use samples of Restaurant Operating Agreements in MS Word and PDF format that you could use for your convenience. Keep on reading to find out more!
10+ Restaurant Operating Agreement Samples
1. Restaurant Operating Agreement Template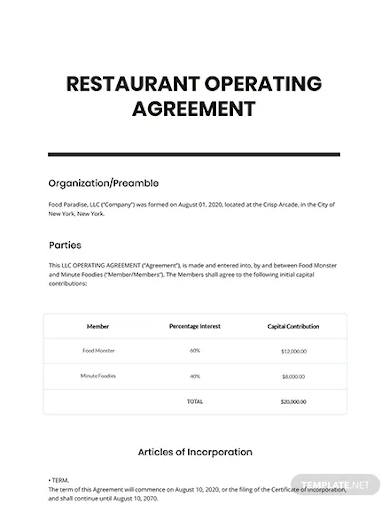 2. Restaurant Management Operating Agreement
3. Restaurant Operating Lease Agreement
4. Company Restaurant Operating Agreement
5. Restaurant Operating License Agreement
6. Restaurant Services Operating Agreement
7. Restaurant Liability Operating Agreement
8. Restaurant Enterprise Operating Agreement
9. Company Restaurant Liability Operating Agreement
10. Restaurant Solicitation Operating Agreement
11. Restaurant Operating Program Agreement
What Is a Restaurant Operating Agreement?
Every restaurant or bar will have its own ownership structure, and an Operating Agreement should make ownership and profit interests apparent. An operational agreement is a legal contract used by restaurant businesses that explains the financial and operational decisions made by enterprises, as well as the laws, regulations, and restrictions that govern them. The document's goal is to manage the business's internal operations in a way that meets the unique demands of the owners.  Members' economic and managerial rights and duties are dictated by operating agreements, which are sometimes severely challenged later in a company's life cycle if they are not in place.
How to Make a Restaurant Operating Agreement
Once your restaurant has been registered as a limited liability company, you'll need to create an operating agreement that spells out the rules of how your business will be operated and how business decisions will be made. Instead of beginning from scratch, a Restaurant Operating Agreement template might assist you. To help you ensure that you have a well-written and complete agreement, you can choose one of our excellent templates listed above. Other than that, if you want to write one yourself, you can check out these elements below to guide you:
1. Limited Liability Company (LLC).
LLCs allow members to restrict their personal accountability for debts made by their company. If your restaurant is registered as a single member LLC, you may consider operating your LLC without an operating agreement, as operating agreements are generally meant to manage the interaction between the members of the LLC.
2. Percentage of ownership.
In most cases, each co-interest owner's percentage in an LLC is decided by how much money each co-owner put into the firm when it first started compared to how much money each co-owner put in. You may do this for a variety of reasons—for example, to reward owners who put in more effort with a greater share of profits—but how you split your interests ultimately relies on your vision for the limited liability company  and your specific circumstances. Make sure you give ownership percentage a lot of attention because it will impact who makes critical choices for your firm.
3. Financial Framework.
Your restaurant's financial structure will be defined by your operating agreement. The agreement should specify who has contributed funds to the restaurant, as well as any donations such as kitchen appliances and restaurant furnishings. The operating agreement should also outline how LLC members will share in the restaurant's earnings and losses. The amount of earnings and losses a member is entitled to is usually determined by the amount of capital or equipment contributions they make.
4, Organization.
Your restaurant's management structure should be defined in your LLC operating agreement, in addition to its financial structure. Although it is feasible for all LLC members to partake equally in restaurant administration, in many cases it is desirable to assign managerial responsibilities to one person in order to minimize management conflicts. Additionally, your operating agreement should spell out member voting rights, meeting dates, and how any possible conflicts will be addressed.
FAQs
What is the job description of a restaurant operations manager?
You supervise all areas of a food service operation as a restaurant operations manager. To succeed in this field, you'll need prior expertise in the food service sector, as well as excellent communication, organizational, and customer service abilities.
What is the definition of a basic operating agreement?
An operating agreement is a crucial document for LLCs since it lays out the company's financial and operational choices, as well as laws, regulations, and conditions. The document's goal is to manage the business's internal operations in a way that meets the unique demands of the owners.
What is the cost of an operating agreement?
The expense of drafting an operating agreement is incurred since the project necessitates the time of a qualified lawyer. According to data, the average cost of establishing an operating agreement is $570 across all states and sectors.
With a well-crafted Operating Agreement in place, restaurant owners can move forward with confidence, knowing that future difficulties and queries will be addressed. To help you get started with this, download our easily customizable and comprehensive Restaurant Operating Agreement samples today!