It's becoming increasingly rare for businesses to operate on their own these days. It's almost as though it's fading into obscurity. Business managers would frequently form collaborative ventures, or joint ventures, with other organizations to expand their market reach, establish a new venture jointly, and improve operational capabilities, and some would even trade financial and promotional help to cover some of their costs. This can be extremely useful, particularly for businesses that operate in a crowded market. Creating a joint venture removes some of the competition from the sector while also meeting demand by expanding operational capabilities. Some joint ventures even allow corporations to get into industries that would be beyond their own capabilities if they were operating independently.
A partnership proposal is a useful tool to have when intending to form that joint venture partnership you've been considering. Partnership proposals are documents used by companies to try to secure a joint venture between themselves and another company. Regardless of how the management drafts the paper, the overall goal is to demonstrate your interest in collaborating with and maybe cooperating with potential partners. The document explains what operations the possible partner will be subjected to if they accept the agreement, as well as how this endeavor will help their own ventures or initiatives. However, before you begin writing your joint venture agreement, make sure you are well aware of the document, including how it appears and functions. Check out these restaurant joint venture agreement samples we've compiled below to get started. Once you've got a good understanding of the paper, you can use these samples as guidance or even templates while writing your own joint venture agreement.
4+ Restaurant Joint Venture Agreement Samples
1. Restaurant Joint Venture Agreement Template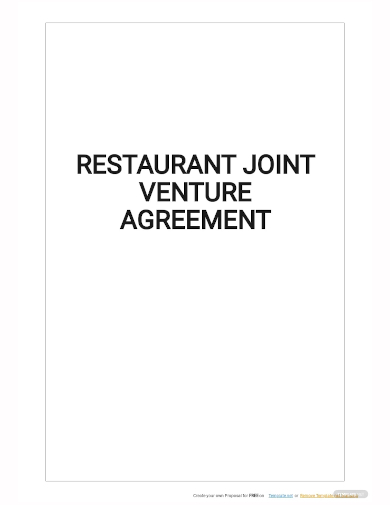 2. Restaurant License Joint Venture Agreement
3. Restaurant Joint Venture Franchise Agreement
4. Restaurant Joint Venture Development Agreement
5. Restaurant Concession Joint Venture Agreement
What Is a Restaurant Joint Venture Agreement?
Due to its similarities in terms of how the document is produced and used, a partnership proposal is closely related to a grant proposal. It's a document that a firm or organization sends to other companies, businesses, or organizations in the hopes of forming a joint venture with yours. It outlines the components that your organization requires, as well as the activities and expected outcomes, while also providing much-needed information on how the partnership will benefit both parties in terms of operations, staff retention, materials, equipment, peripherals, and access to a larger market, as well as ensuring that all values and business cultures are in sync.
A partnership proposal normally entails a long and winding process that necessitates a high level of accuracy and attention to detail. Because the document's key selling point is its ability to turn raw data into a narrative with a genuine human connection, it's critical that you have a crystal clear vision of what you want to achieve and how this joint venture will help you get there. How the relationship will benefit both of your companies, as well as how these effects will expand to the greater community to which you hope to give your services.
How To Write a Restaurant Joint Venture Agreement
A well-written and well-drafted partnership proposal address the typical concerns of your potential partners. It should be able to highlight elements such as the various benefits, how your values align, goals, and how it responds to inquiries about the partnership's possible breakup. Different portions of the text are normally dedicated to the guidelines that the drafter chooses to focus on. The document should be able to cover the components and parts listed below, regardless of how it is written and formatted.
Do your research
It is critical that you have a complete grasp of your possible spouse before you begin the writing process for your document. Learn everything there is to know about their firm, their brand, their products and services, and what their organization stands for. You'll have a better concept of how this partnership will benefit both of you if you do your homework, and you'll have the background you need to craft a strong partnership proposal. Take your time to get to know your prospect; they'll appreciate it a lot more if you showed that you put in the effort.
Demonstrate how your values align
Even if your organizations operate on the same wavelength, that doesn't guarantee you're the best partners for each other. Your relationship must demonstrate alignment of values and corporate cultures, compatibility, and the ability of both firms to make it work.
Clarify benefits
Although it is critical that you be able to draw attention to the things that you want to emphasize, you must avoid overdoing it. Many partnership proposals focus far too much on themselves rather than attempting to appeal to potential partners. Recognize that commercial alliances, as well as their operations and rewards, are reciprocal. Whether it's more resources for both, co-branding, or simply a higher level of consumer connection. If you don't bring up these points, or if you talk way too much about yourself or the other way around, your potential partner will have no reason to support you in this partnership proposal.
Outline goals
You should be able to define the objectives for this cooperation. Determine which organizational department will be in charge of which tasks, as well as how much money will be allocated to both parties. You must also specify the type of return on investment that both parties can expect from this agreement, as well as a process for resolving any disagreements between the separate managements.
Dissolving the partnership
Partnerships can only go in one of two directions: either it works out in the long run, or it inevitably comes to an end. As soon as an organization or business realizes that a partnership will not yield a profitable return on investment, they will often wish to withdraw from it. They do this to avoid further income loss and to free up extra resources. Your proposal should be able to offer a structure for usage in the event of a partnership breakup. One that safeguards both parties.
FAQs
What are the disadvantages of a partnership?
Liabilities
Loss of autonomy
Emotional issues
Business complications
Lack of stability
What is a good working partnership?
A balanced commitment and equal investment from each party is required to ensure that the collaboration has an impact, generates innovation, and lasts in the sector.
What is an example  of a partnership?
Simply put, businesses collaborating is an excellent illustration of a commercial partnership.
It's no easy work to ensure that the partnership proposal is well-drafted and written. Aside from requiring a great deal of time and attention to detail when writing it, the quality of your writing will also determine whether or not your partnership proposal is accepted. The pressure is on, but I'm convinced that with the tips and templates we've supplied in this document, you'll be able to draft a winning partnership proposal on your own.