Investing serves two primary functions. One, it allows others the chance to grow their business endeavors thanks to the financial support of their investors. Two, the investors themselves can earn a profit from the return on their investment. Sounds pretty simple, right? Well there's still a legal aspect to investing, which is why many require an investment agreement doc before they can begin. Read on to discover more about this and to see what a high quality investment agreement example looks like.
14+ Investment Agreement Samples
Investment Agreement Sample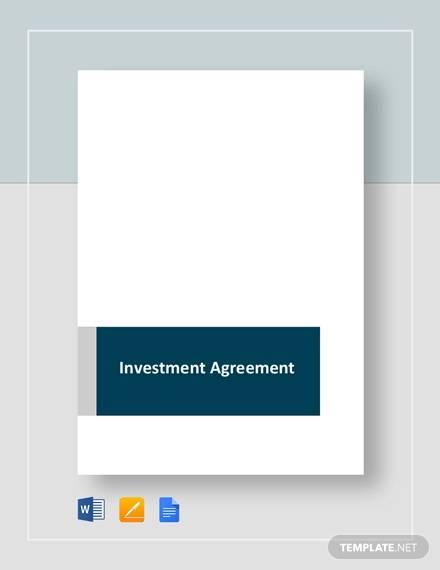 Business Investment Agreement Sample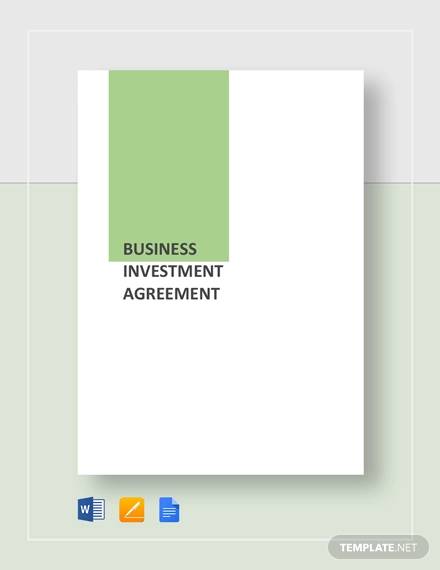 Investment Banking Agreement Sample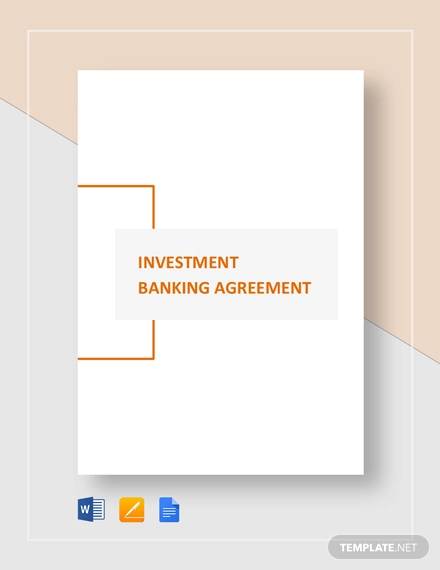 Investment Contract Agreement Sample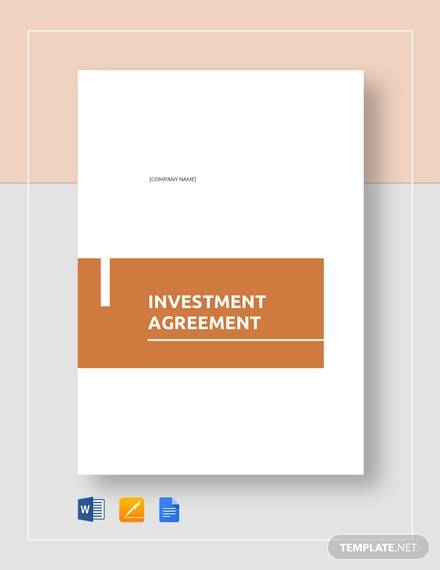 Restaurant Investment Agreement Template Sample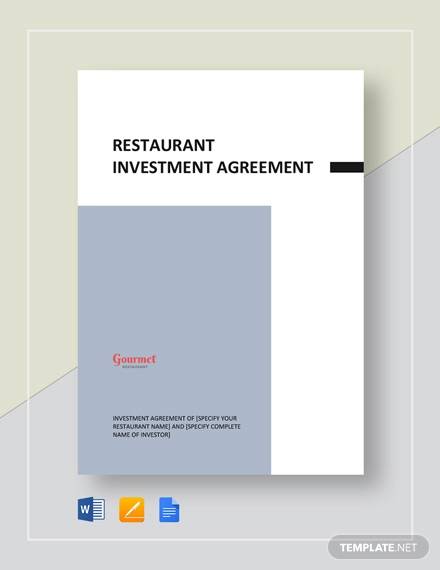 Investment Agreement Example in Word
Detailed Investment Agreement Sample
Small Business Joint Venture Agreement Template
Investment Agreement For Large-Scale Projects
Sample Investment Agreement Template
Local Government Association Investment Agreement Template
Equity Investment Agreement Template
Company Investment Agreement Template
Free Investor Agreement Template in PDF
Guaranteed Investment Agreement Contract Sample
What Is an Investment Agreement?
In an attempt to define this as simply as possible, investment agreements are legal contracts that serve as formal arrangements between two or more parties. These arrangements focus on how one of the involved parties has agreed to invest in the other parties' businesses, services, or products. There are multiple variations in existence, each one with its own specific attributes and purposes. For example, one may decide to download a restaurant investment agreement template if there is a need or desire to invest in an up and coming restaurant establishment.
How to Draw Up Your Own Investment Agreement
To create a simple investment agreement or a general investment agreement, one can always follow certain steps. In doing so, you make certain that the process goes down smoother and faster than it otherwise would.
Step 1: Determine the Agreement's Specific Terms
The first step to take would be to look into the terms and conditions of your investment agreement. In addition to that, there are also details like the product proposal or services that require investing in, what responsibilities each parties have, and how this investment is going to be structured legally.
Step 2: Identify the Parties and the Dates
Look at any investment agreement template or contract sample and you should see areas where the names of those involved are placed. When writing up your own contract, include not just the names but also their addresses. Signature lines are needed at the lower part of the document where each party can sign. Lastly, be sure to include the date when the agreement comes into effect.
Step 3: Specify the Investment Amount and the Parties' Rights
Next, you must state the investment amount that's been agreed upon by two parties involved. This must also come with a statement specifying the intent or function of the investment, as well as when the investing party can expect the ROI.
Step 4: State Your Provisions in the Event of Failure
One of the last things to put in the agreement are your provisions in the event the business fails or the project being invested in does not succeed. As an example, this may involve stating which company assets the investing party will receive should the company face bankruptcy.
FAQs
What should be included in an investment agreement?
In every agreement or contract, knowing the essential elements will always be an important thing to do. The first thing to concern yourself with is the title, followed by the table of contents. Next, there's the definition of terms and then there will be the agreement's introduction. From there one can expect mentions of the parties involved, the location, the dates involved, the specific terms and conditions, and the responsibilities of each party. Those are just some examples since contents will vary depending on what type of investment agreement it is.
What are the advantages of agreements?
First of all, general agreements help make a transaction become legal and acceptable. It also makes one feel at ease because an agreement binds all the parties involved in it to its terms and conditions. A valid agreement can guarantee that a certain transaction is not illegal or is not related to activities that are against the law. Lastly, it provides protection to all the parties involved in the agreement and keeps the transaction hidden from any third party or outsiders.
What are the disadvantages of an agreement?
One disadvantage is that it may take some time before all parties come to terms with the terms and conditions stated in the agreement contract. To create a legal agreement that is recognized by the law, the parties must submit the required documents and follow certain steps to become valid. There is also the need to hire a legal adviser or professional, which may be costly.