Once you've got a construction project underway and you have chosen all your contractors, then the next step of the process is to create a construction agreement. It is important as an owner or as the project manager, you are able to document all the terms for the construction project. Particularly for complex construction projects, clarifying all the scope of work and other relevant details must be incorporated in the agreement to ensure that all these are properly carried out. So, how do you create a construction agreement? Let us discuss this further below. And if you need to start drafting this agreement, check out our comprehensive list of construction agreement samples that are downable for free!
10+ Construction Agreement Samples
1. Construction Agreement Template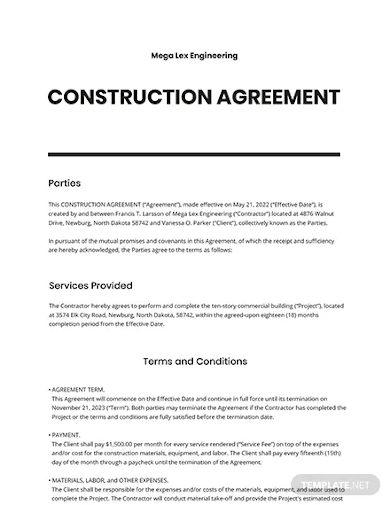 2. Construction License Agreement Template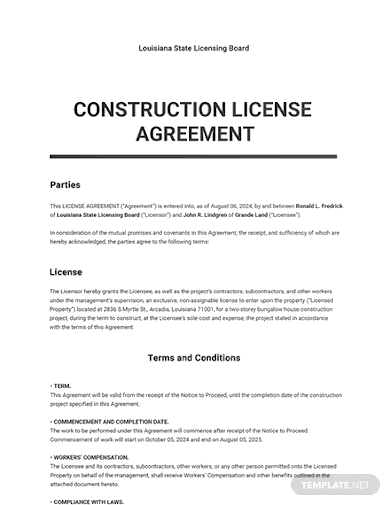 3. Construction Management Agreement Template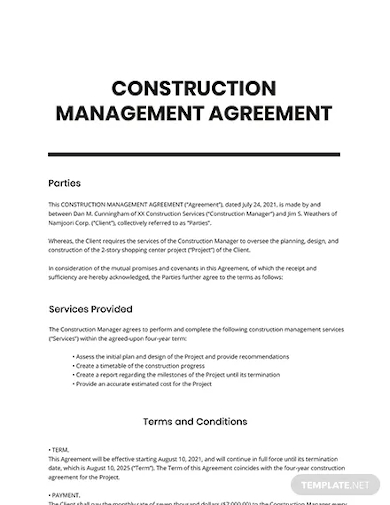 4. Short Form Construction Subcontractor Agreement
5. Residential Construction Subcontractor Agreement
6. Subcontractor Construction Hold Harmless Agreement
7. Work Order Construction Agreement
8. Temporary Construction License Agreement
9. Construction Grant License Agreement
10. Assignment of Construction Contract Agreement
11. Company Construction Agreement
What Is a Construction Agreement?
First of all, a construction agreement is a legal document that defines the scope and terms of work of a construction project. No matter how small or complex the project may be, it is always important to prepare this document before beginning any construction work. This is an agreement between a contractor and the owner or company who hires them to do the work. Such a document will protect both parties and will help deter misunderstandings and disagreements over the work involved in the project, missed payments, delayed schedules, or any other terms that may lead to any legal disputes which can be a costly affair.
How To Create a Construction Agreement?
Like most service agreements, the most important aspect of the document is the scope of work or service to be provided by the contractor and the payment. And having a construction agreement protects the legal and financial state of both parties, so it is highly advisable not to start working on the project without one. Each agreement may be different depending on the project, but here are the basic elements that are commonly found in this document.
1. Agreement Between Parties
State the name and address of the parties involved in the first section of the document.
2. Project Description
Describe in detail what type of construction work will take place, if this involves constructing a commercial building, a bridge, etc.
3. Project Schedule
Include the time of commencement of the project and the targeted completion schedule.
4. Contract Amount and Basis
Indicate the contract price as well as the general conditions, for example, payment at the unit price will be based on actual measured quantities in the work or planned quantities. This section should also specify how much percentage of money should be retained for every application of payment, and also include is the payment due date, late payment fees, invoicing terms, and the final payment.
5. Contract Documents
Create a list of the contract documents which form the contract such as Construction Contract, Project Special Provisions, if applicable, blueprints provided by owner/or and any applicable, drawings, change orders if applicable, modifications, and many more.
6. Construction Scope
List down all the construction activities that will be part of the project.
7. Responsibilities and Conditions
Included in the agreement is the list of responsibilities of the contractor and the project owner/manager. It should properly lay out who is responsible for providing documents, labor, and other important factors needed in the completion of the project. Instructions on how to process claims and disputes must be laid out in the document.
8. Contract Law
Include procedure on how to terminate or suspend the work and agreement with the contractor, as well any applicable governing law, claims procedures, insurance, and other subsequential completion requirements.
9. Signatures
Both parties must sign the document after careful review and discussion.
FAQs
That Is a Role of a Contractor?
In general terms, a contractor is hired to perform work for another individual or organization on a contract basis.
What Is a Project Manager?
A project manager is a professional who is in charge of delivering and ensuring the completion of a project.
Why are Contracts Important in Construction?
Contracts or even agreements are important in construction projects because this sets forth the parties' obligations to each other and determines how risks will be shared or divided on the project.
Preparing a construction agreement will lead to a better and firm working relationship between construction owners and their contractors. This will help clear all expectations and ensure that all terms have been properly laid out in order to complete the construction project.