Working on a project can be a complex and tedious activity. You need to be able to carefully plan for it from the beginning till it gets completed. Whether you are preparing for a construction project, a new product, or for research purposes, you need something to guide you along the way. To help point you in the right direction from start to finish. And to do so, you need a project roadmap, which is an essential tool to keep everyone who will be on board the project with a snapshot of what the entire project is all about and its process. To know more about this let us discuss this further below. If you need any templates to help you prepare, then check out our free project roadmap samples that are downloadable on this page.
10+ Project Roadmap Samples
1. IT Project Roadmap Template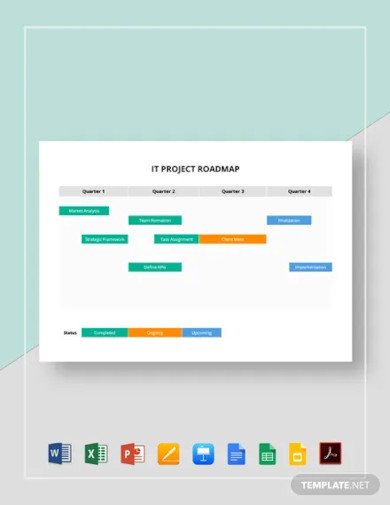 2. Software Project Roadmap Template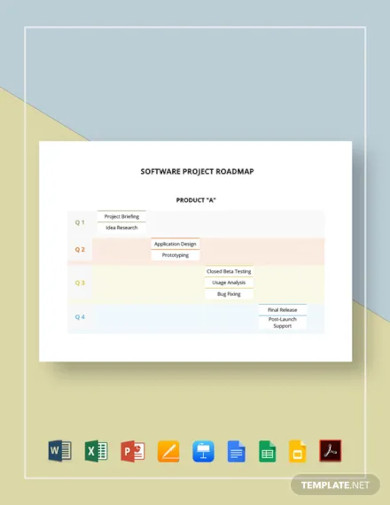 3. Construction Project Roadmap Template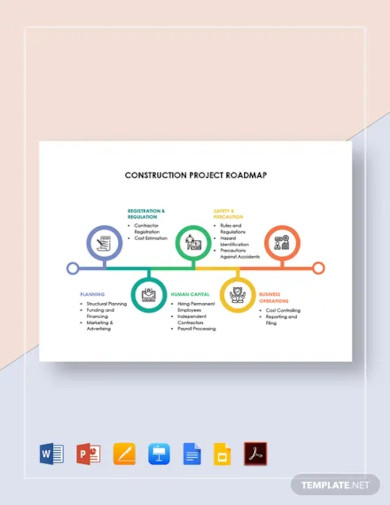 4. TNC Project Roadmap
5. Project Management Roadmap
6. Project Development Roadmap
7. Standard Project Roadmap
8. Project Roadmap in PDF
9. Project Roadmap Report
10. Student Project Roadmap
11. Space Projects Roadmap
What Is a Project Roadmap?
In project management, a roadmap is an essential visual tool that will help paint a clear picture of the project that is underway. It is an overview of the project's goals and deliverables often presented on a timeline. A project roadmap is used to monitor the project's progress, manage stockholders' expectations, for communicating plans, and coordinating resources with other teams. Project managers should be able to develop a project roadmap first to create a strategic overview of the project, after which develop the project plan to prepare the task-level details. Project roadmaps are quite useful in the following projects such as engaging in new business development, sales or marketing project, IT strategy or development of new technology. The more complex the project is the more important it is to prepare a roadmap to use it as a reference to ensure that the project stays on track.
How To Create a Project Roadmap?
As mentioned, a project roadmap is usually prepared before the project plan as this will help everyone onboard the project understand the goals, how the project will be soon executed, and the timelines associated with it. Also, remember that your roadmap is not a fixed concept, a lot of things are bound to change along the way. But the good thing about it is that you are able to set your priorities and make faster decisions with a roadmap on hand. So how do you create a roadmap for your upcoming project? Now, each project is unique so is your roadmap, therefore is no standard format for creating one, you just need to make sure this is highly visual and it fits on one single page so that readers can follow through. But you will need the following important elements below to be able to present this to the team.
I. Project Overview
To start, provide an overview of the entire project. This should be able to contain concise goals and objectives.
II. Schedule
Stockholders and other members of the team would want to know how long each task may take, so this is why it is important to include an estimated target schedule for every phase of the project.
III. Highlight Important Milestones
In order to reiterate to the team what steps or dates are most important in the whole project cycle, you must be able to highlight all these. This will help them identify what is to be prioritized.
IV. Resources
Every project has its own set of resources which play a crucial part needed to completing the project. Such resources may be manpower, equipment, utilities and etc. That being said, you need to advise the estimated cost and the specific resources needed to give enough time to organize all these.
V. Key Contacts
In most cases, you will need to organize different teams to are essential to the project's completion. So it is important to include the roadmap of who these people are, the hierarchy, their roles, and contact information.
VI. Keep Track and Update
Remember that your roadmap may change as the project commences and progresses, with that it is important to regularly monitor and update these changes so that all relevant teams and individuals have access to the current version at all times.
FAQs
What is Project Management?
This is the process of managing a project from its conception and throughout its entire cycle. It involves planning and organizing the project and its resources.
What Is the role of a Project Manager?
A project manager plays an important role in project management. He or she is in charge of overseeing the day-to-day operations of the project ensuring that it gets completed on time.
What makes a great Roadmap?
A roadmap isn't all just for visuals, it must be able to present the goals and objectives of the project as it gives a more realistic view of the entire process.
To prepare your team and the stockholders for an upcoming project, then a project roadmap is a great tool to give them a visual overview of what to expect for the entire project cycle. To make it easier for you to prepare this roadmap, don't forget to download our free templates above!