Employee Evaluation process is a part of any corporation who timely asses the employee's performance, reward them and also motivate them according to their performance. Any organization that focuses on a healthy relationship between the employees and the authorities always make it a point to review the performances after a certain time period. These Employee Evaluation Template serve various purposes like motivating employees to enhance their performances, advising on their working methods, boosting self esteem and loyalty etc. Therefore, these employee evaluation forms must be designed carefully so that they cover every aspect of effective assessment.
Sample Employee Evaluation Form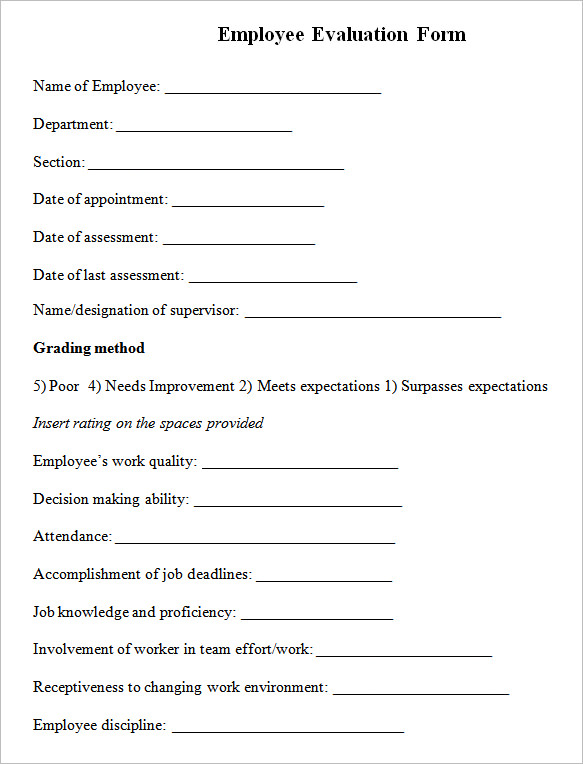 This is sample employee evaluation form that covers all important information ti be filled like name of the employee, designation, performance grading, employee's work quality, decision making ability, attendance, accomplishment of deadline, job knowledge and proficiency, performance in team effort etc. to help review an employee's performance effectively. One can easily download the form online.
Employee Performance Evaluation Form
Employee Self Evaluation Form
Simple Employee Evaluation Form
General Employee Evaluation Form
Printable Employee Evaluation Form
Uses and Purposes
The core purpose of employee evaluation form is to review an employee's performance timely. The form in exclusive of all aspects that will help an employee to enhance performance, boost loyalty towards the company, give them advice to improve and level up their self esteem. These employee Student Evaluation Form have been written by experts so that they turn out to be fruitful in assessing the employee's performance and be mutually beneficial for both the company and the employees. The employee evaluation template comprises of employee evaluation questions that help in better understanding of employee professional behaviour. One can easily download the sample of the employee evaluation form and then fill in the information later.
Target Audience
Every responsible corporation will carry out employee evaluation at a certain point and for that they will require a form that covers all aspects of employee evaluation. Anyone from business owner to people at higher authority or seniors in administration can make use of these employee Peer Evaluation Form template to review the performances of their currently employed personnel. This will be a check on the employee's performance as well as motivational activity to enhance performance. The wide range of employee evaluation forms available online fit various business situations and therefore are effective mode of analysing the abilities, intellect and interests of the employees.
Benefits
The benefit of circulating an employee evaluation is to review the work ethics of employees, their performance in various work related situations; changes need to be made in working methods and their ability to adjust to changing work environment. This will in turn encourage them to deliver better services, be loyalty to the company and also follow the advices given by their seniors for future performances. These Interview Evaluation Form are easily available online. One can download them, edit them according to their requirement and print them to be filled later. The forms are available n popular formats like Word, PDF etc for easy download. The employee performance review is an integral part of any responsible organization.
Employee evaluation form is one method to let the employees know about their performance, reward them accordingly and motivate them to be fruitful and loyal personnel towards the organization. These forms have been written by experts and therefore cover all aspects that will disclose the strong and weak points of employees' performance.
If you have any DMCA issues on this post, please contact us!