Have you ever come across a rather persistent email from an online shop you had visited a couple of days ago and perhaps made purchase of some sort? Or did you recall exchanging emails with a sales representative when you visited trade fairs or conventions? Whenever you see emails that contain advertising or promotion, this is one of the marketing strategies companies have been using for a long time, called an email marketing strategy. Whenever you sign up on websites or leave your email elsewhere there are chances you will be receiving promotional emails of products and services. Read more about this in our article today, and if you want to get started now check out our free email marketing strategy samples below:
10+ Email Marketing Strategy Samples
1. Email Marketing Strategy Plan Template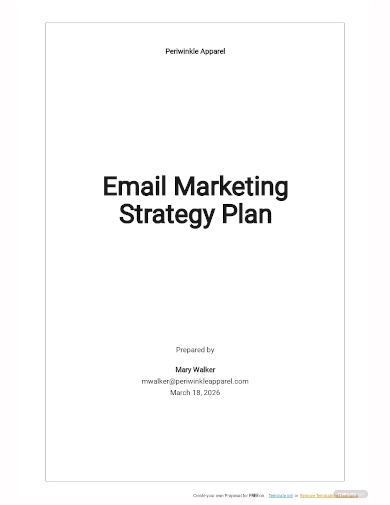 2. Email Marketing Strategy
3. Enterprise Email Marketing Strategy
4. Email Marketing Delivery Strategy
5. Email Marketing Survey Strategy
6. Brand Email Marketing Strategy
7. Email and Digital Marketing Strategy
8. Ecommerce Email Marketing Strategy
9. Email Marketing Strategy Outline
10. Sample Email Marketing Strategy
11. Standard Email Marketing Strategy
What Is an Email Marketing Strategy?
As mentioned earlier, emails that you find in your inbox that consists of anything with product or service promotions are all part of the email marketing strategy of a company. An email marketing strategy is marketing activity which uses a digital platform called an email to achieve desired marketing goals with email advertising. It is one of the oldest forms of digital marketing with a user base of billions. Most of the times, when we are asked to fill up forms of any sorts there is always a section that requires your email address. This is because, in case an individual changes their physical address, they could be at least easily reached online through emails. And using basic emails are free of charge which is always one advantage that marketers prefer using to advertise their products and services.
How To Create an Email Marketing Strategy?
The value of email marketing strategy is irrefutable as this is the easiest and cost-effective way to promote your products, communicate with your customers and reach your business goals. But merely sitting down and randomly sending out emails isn't one way to instantly reach a client and obtain a sale. There are number of ways to ensure that your brand messages would effectively reach your clients and urge them to consider your product or services. Let us go through a number of important factors that can help your marketing team come up with an efficient email marketing strategy.
1. Know Your Audience
Randomly sending out emails to just about anyone would be a perfect way to waste time and resources. So, it is important to identify your target audience and build your email subscribers list–this is a database of email contacts who have expressed interest in receiving marketing communications from your brand. Perhaps you can launch a survey, have people subscribe on your website, use specific tactics such as giving something in return to obtain their email, or make use of the existing email database from previous users or clients. Consider even those who previously inquired about your products as a potential target for your email marketing.
2. Marketing Tools
Rather than manually sending out hundreds of emails in your database, there are several great email marketing automation tools that can help you effectively disseminate your emails. Marketing  automation makes it easy for you to follow up with customers and send subscribers the right email at the right time based on how they are interacting with your website. You can research these tools and choose the most effective and what you think is relevant to your business.
3. Personalized Your Email Promotion
The simplest form of personalization is to address the reader by name which makes it sound more friendlier to the reader. Also it pays to use friendlier tones in your email, as if you are emailing a friend or an acquaintance. This gives off a more warm and personal touch.
4. Types of Email Campaign
There are a variety of email campaigns digital marketers use. The choice of email style depends on the aim of each specific campaign. Examples of such are welcome emails, announcement emails, seasonal emails, upselling and newsletters to name a few.
5. Email Content
Consistently sending emails to remind or keep your clients aware of the product is efficient but don't forget that the email content is what matters the most. Aside from personalizing, the right content, product placement and writing style should captivate your clients to continue on to your online website. Come up the a great content, use graphics to attract your customers and make sure not to sound redundant in your emails.
6. How Often To Send Out Emails
Honestly it may seem a bit bothersome if promotional emails are sent in a daily basis. With a lot of emails from your competitors as well, sending them during the most strategic days and times can help. Your best times will vary a bit depending on your subscribers, so experiment to see what times your audience is the most engaged. You can't just send your email at the best time; you also need to send it on the best day. Use the analytics in your email marketing platform to determine the appropriate time to send and understand what works best for your audience.
7. Define Goals
To execute an effective email marketing campaign, your email list, and goals must align. Goal-setting is critical for your email marketing strategy because it gives each email you send a specific purpose. You need to know what you need to attain in order to come up with the right strategy. The use of  SMART goals is an effective tool to help you define your goals accurately.
8. Monitor Results and Performance
Checking on performance level and monitoring the results is the best way to see if your email marketing strategy has been working well for your and generating leads to your website. Also you are able to determine what needs to be altered or improved in order to adapt to the changes with consumer's buying behavior.
FAQs
Is Marketing Important?
Marketing is important for businesses because it provides awareness to your products or services, thus generating sales. The main goal of any business is to make a profit and marketing helps achieve that end goal.
Is Marketing Products or Services an Expensive Venture?
Marketing your brand entails cost as you have to choose various platforms to promote and advertise. But it is the main component for making money. Marketing is not just an expense, it is what drives revenue for all of the most successful businesses.
What Is an Email?
Email or electronic mail is a method exchanging mail using a digital platform. And is one of the most widely used features in the internet, efficiently bridging users from all parts of the world.
Email marketing may have its advantage and disadvantage like most marketing promotion tools. By doing your research this can benefit your team to formulate a well conductive email marketing strategy can help you conquer your clients online.