A deposit payment is essential to some businesses such as businesses dealing with selling real estate properties as well as those businesses that provide services to their clients. Business owners would feel assured as to the security of their property if their clients would make a deposit prior to their full payment.
That is why if you are a business owner or a sales agent, you need to make sure that you know how to formally ask your customers for a deposit payment. You may do this through a deposit invoice. Browse our collection for helpful sample invoice templates that can help guide you in creating one.
Deposit Invoice Template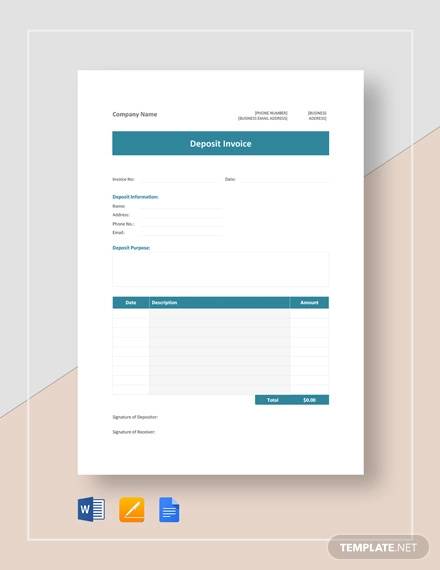 Deposit Payment Invoice Template
Deposit Service Invoice
Deposit Tax Invoice
What Is a Deposit Invoice?
A deposit invoice is the document that is issued by a business owner to his/her customer in order to formally ask them for a deposit payment.
For the sake of clarification, a deposit payment is the amount that a customer pays in order to pay in advance the partial amount for the remuneration of a service or accommodation to be provided by a business.
What Are the Advantages of Issuing Deposit Invoices?
It assures business owners that they are making a profitable deal with a customer who is willing to comply with his/her obligation to compensate for the service or accommodation he/she is planning to avail.
A deposit invoice would place a legal stamp on the deal previously made between a business owner or sales agent to a client or customer. This is so because a deposit invoice is a formal document that can serve as a proof that a transaction has been made between a business owner and a customer. Further down the road, should there be disputes as to the client's denial of having entered into a sales contract with the business, a deposit invoice would be a legally admissible proof as to its actuality.
On the part of the client or customer, he/she would feel assured that he/she has a right over the property or the service that he/she has availed.
Now that you understand the importance of invoices, you may create your own now. Simply refer to our collection of invoices in PDF, security deposit receipts, and professional invoice templates. Click on the links to access these templates.
Security Deposit Invoice
Rental Deposit
How to Create a Deposit Invoice?
Before you can create an invoice, determine first the determinative factors that can influence the number of columns or fields you need to include in your deposit invoice. Examine the following:

Whether or not the deposit payment is a separate payment or it is considered as a partial payment that would accrue to the customer's full payment of the property or service availed.
Whether or not there are certain circumstances in the future to which the deposit payment would be used (e.g., for the reparation of property).

Download any of our Deposit blank invoice templates on this page.
Fill in your business specifications and alter the parts that you deem necessary.
Print it on a medium that your prefer.
For more references, download from our collections of Excel invoice template and draft invoice format.