A user story is a common tool utilized in Agile software development designed to create an efficient tracking of software projects at hand. User stories can be done in Microsoft Excel where it uses specific syntax narratively form thoughtfulness of the product or project being introduce. User stories template is just a reminder of collaboration in documenting about a topic for agile development. Using template for user story, will help the users to create their own user story map template for business or commercial purposes. This user story template will explain what and why the person will need to use a particular service describing it narratively.
User Story Template Download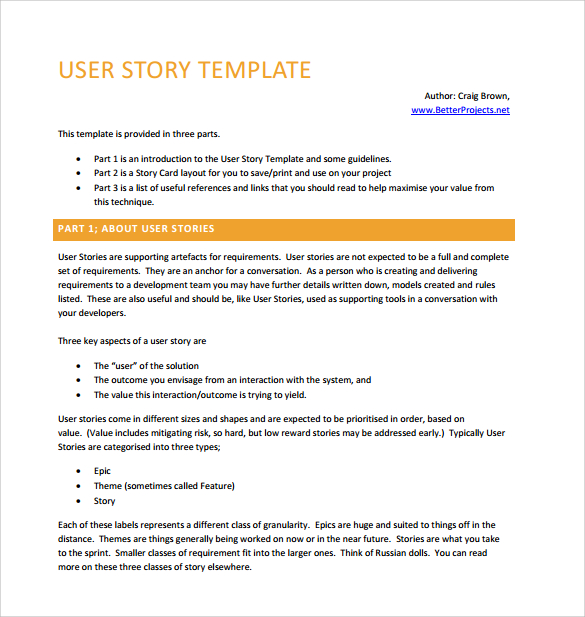 There are different varities available in user story templates for you to choose. Manual effort on work like this is no longer necessary. You can make your user story experience much more interesting with efficient template and all the templates are available for you to download for free.You may also see use case templates.
User Story Template Word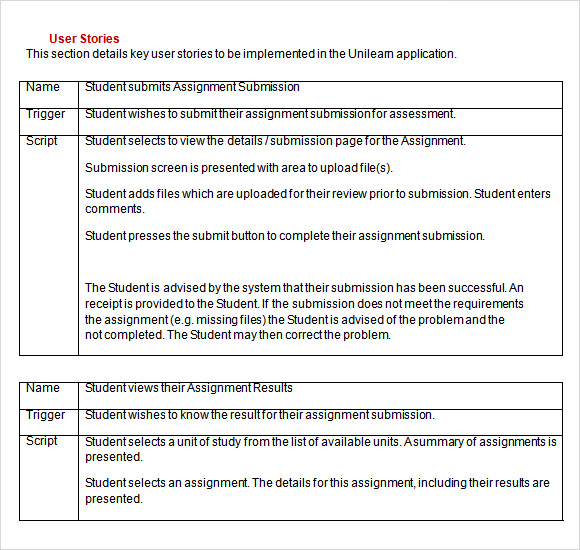 Microsoft office word is the most common format that allows users to develop document easily. This format is highly popular and if it is most suitable for you then you can search and choose word user story templates to download. Word template will offer you complete working flexibility and freedom.You may also see autobiography templates.
User Story Acceptance Criteria
There is a list of certain standard norms that become the reason of user story acceptance. You would need to understand them before you actually develop your user story. Or you can simplify this procedure by simply using the professionally developed user story templates.You may also see artist statements.
User Story Format
User story requires proper format and if you want to make sure that you follow all the format standards thenit is necessary that you research about it. Or, you can save your time and then you can use readymade user story templates. These templates will work quite efficiently for your needs and you will get best results of user story development as well.You may also see newspaper headline templates.
User Story Example
Writing User Stories
User Stories in Scrum
User Story to Download
Writing User Story to Print
Why do You Need User Story Templates?
The story template is necessary because developing own user story format with so much research is not really a wise choice. You can make simple and quick selection of user story templates. Selecting the template will save you the trouble of template development and you will get all necessary format features and information in it.
When you will download the template, it will be ready for you to use and you can start using it as per your requirement. You can avail the advantage of complete customization features which will ensure you that you get best creative and visual styling in your template.You may also see chibi templates.
When do You Need User Story Templates?
User story will only require simple use of syntax efficiently. You would need to use the syntax feature narratively so that it can reflect the basic feature of product. This would be the source of introducing your project which makes it very important thing. So, either you can spend some serious time with Microsoft excel to get all necessary standards and narrative features right or you can simply prefer using user story templates.You may also see professional storyboard templates.
These templates will offer you all the necessary features but you don't need to work for it. Professionals have developed wide range of amazing and highly assistive user story template options for you which makes it possible for you to stay away from development stress and get perfect template in minutes.You may also see personal timeline samples.
Benefits of User Story Templates
The user story templates can be used efficiently and conveniently for all different commercial and business purposes. If you have business and you need to create a user story then you don't need to start development of entire format. You just need the necessary information for user story and then you can find perfect template for this purpose.
There are so many templates available which you can download for free. You can find the user story template in all common document formats so you don't need to worry about supporting format either. You can get best user story template without investing your time or money in this procedure.You may also see newspaper headline samples.
Use of readymade user story templates will offer you professional level accuracy in your task. Your user story will be complete and highly accurate. This is clearly the most appreciative thing about template that they are available for free and offer you complete freedom of choice and customization. So, just find the best template and avail the advantage of it.You may also see obituary program templates.
If you have any DMCA issues on this post, please contact us!