Opinions matter in all stages, scales, and in every individual group. Student opinions highly matter for these reasons, and specially where the percentage of student population is high across the world. An individual spends one fifth of the life's span as a student, and during that period his or her opinion on many things matter.
Based on these opinions many global changes takes place in the days ahead. That is why to note all student opinions through organized surveys, for many reasons, the survey forms satisfaction survey sample are used. You May also See Sample Student Survey Templates
Sample Student Survey Template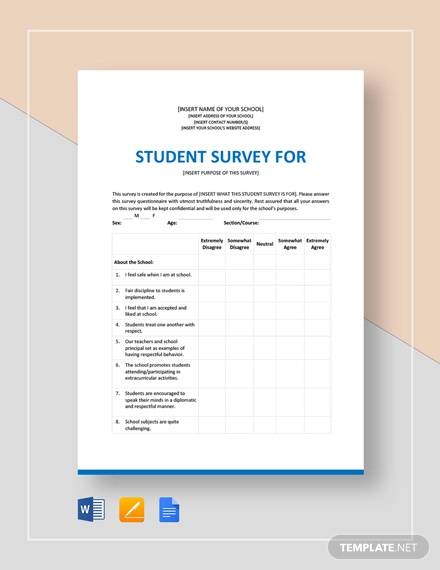 College Student Survey Sample
The college student survey form or format is what you would use to get an idea of the sample format that should be used to record opinion of college students for any kind of survey. The format is not domain specific, and is rather a very general one. It can be flexibly molded to bring into use for any type of college student survey in any part of the world.
Parent Student Survey Sample
The parent student survey sample format is what you would use to either design a survey form for the parents or design it for the student. The opinion of both parties or just either may be important to get to a conclusion on a subject or gather public reaction. The format makes it easy to note such reactions.
Student Survey Form Sample
The student satisfaction survey sample, as the name suggests is a format, which assembles all such questions which in general would help you judge the satisfaction of students in various spheres as they study in an institute. Naturally you will have to customize many questions, and add and remove some values to personalize it.
Student Satisfaction Survey Sample
Student Survey Report Sample
Student Teacher Survey Sample
Student & Parent Survey Result
Student Perception Survey
Why a Sample Student Survey Template is Used?
The use of the student survey sample is to help you design a similar format, and give you a general idea of how exactly the sample survey form do look like. Anything that you design to record opinions of students in a place or institution must have a professional setup, so that you may maintain some standards.
This format will help you maintain that, and give you the actual idea of how such survey formats are. Many types of student survey samples and forms are available online which you may use as per requirement to get an idea. You May also See Student Survey Templates
How to Use the Samples?
Using samples is always a smart way to start a job where you have the slightest confusion. Like when you are making forms for school survey or teacher survey, then you must take some ideas from the samples available online.
There are some fixed school survey questions which really helps and prevents you from fumbling for questions. These samples or references that are designed by many experts, or are taken from already approved and used student surveys can be excellent guides in helping you make a standard survey form. The survey forms are easy to download, and they come in easy printable and editable formats. You May also See Survey Form Templates
A great way to start planning a student survey form is by referring to samples and templates. You get standard samples which can fit into any student survey format. Even some nice employee survey sample styles may seize your attention for use in the student survey forms.
If you have any DMCA issues on this post, please contact us!