The 19th century saw the earliest baseball games ever played. Although there exists a continuing debate as to the exact origins of the sport, there is no question that for as long as fans could remember, onlookers have been known to have scorecards and pens with them as they watch the games.
Below are samples of these scorecards. There are now smartphone apps on scoresheets, but since fans track the games according to their own preferences and styles, carrying physical ones with them to the stands never really went out of fashion. If you have only been hooked to the sport very recently, learn to design your own if you wish, with the help of these samples. Yet another game for which scoresheets are popular is bridge, which take on the format of these Sample Bridge Score Sheets.
Baseball Score Sheet Sample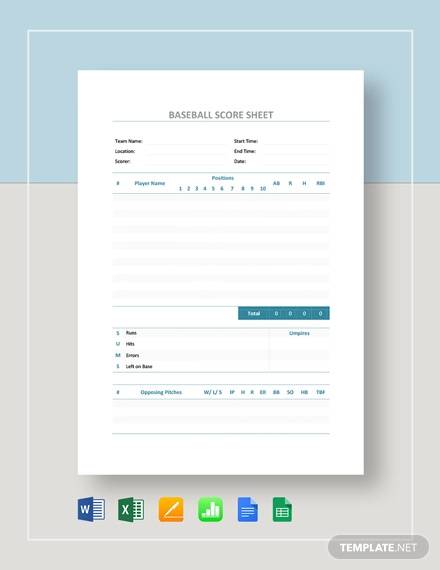 Blank Baseball Scoresheet
Youth Baseball Scoresheet
League Baseball Scoresheet
Baseball Announcer Scoresheet
There are game programs for sale during matches. These programs could include scorecards, but if you wish to record the game in your own way, bring ready-made ones like these samples with you to the stands. Not only is it personalized, it is free too.
Basically, your baseball scorecard should look like these samples, and should track
the players and their positions,
and the play.
Major League Baseball or the MLB lists the following play:
Single
Double
Triple
Homerun
Sacrifice
Walk
Strikeout
Called out on strikes
Balk
Fielder's choice
Hit by pitch
Wild pitch
Passed ball
Stolen base
Double play
Error
Sacrifice fly
Intentional walk
Foul fly
Force out
Line drive
Bunt
Unassisted
Symbols correspond each one, and the cards are marked accordingly. The MLB also uses a numbering system for the players:
1 – Pitcher
2 – Catcher
3 – First baseman
4 – Second baseman
5 – Third baseman
6 – Shortstop
7 – Left fielder
8 – Center fielder
9 – Right fielder
This is the system conventionally used, but you may create your own symbols for each.
Why Use Baseball Scoresheets
Professional baseball leagues follow a scoring system and have official people recording the ins and outs of games. Fans and onlookers, however, have been known to record scorecards too for the fun of it. Completed scorecards make great game souvenirs and collectibles, and are also a great way to interact with fellow fans. The games of today make for moments remembered and celebrated tomorrow, and years from now your grandchildren could talk to you about these matches and you can pull out your scorecard and say that you were there.
Scoring exists out of the baseball stands and the general world of sports too. In the field of work, applicants and candidates can be assessed with these Interview Score Sheet Samples.
Attendance Base Ball Score Sheet
Baseball Scoresheet Excel
Baseball/Softball Scoresheet Printable
Superstar Baseball Scoresheet
Baseball Scoresheet/Scorecard Format
Pinochle, a two-player trick card play is another game for which scorecards like these Sample Pinochle Score Sheets are similarly used too.
For sports fans and game-watchers in general, keeping track of plays through scorecards makes for a more enjoyable and interesting time during matches.