FREE 12+ Legal Notice Samples
A person or organization may need to submit a legal notification on a number of situations. A legal notification could be sent for a number of different reasons. A legal notice's main objective is to alert the recipient that legal action may be taken if the debt, responsibility, or obligation indicated in the notice is not paid within the allotted time period. It could also serve as the accused's final opportunity before court procedures start. Giving legal notice to the other party provides them a time to respond and aids in settling the dispute without resorting to expensive litigation. In need of drafting legal notice? Look no further, because we've got you covered! In this article, we provide you with free and ready-made samples of Legal Notices in PDF and DOC format that you could use for your benefit. Keep on reading to find out more!
1. Legal Notice Template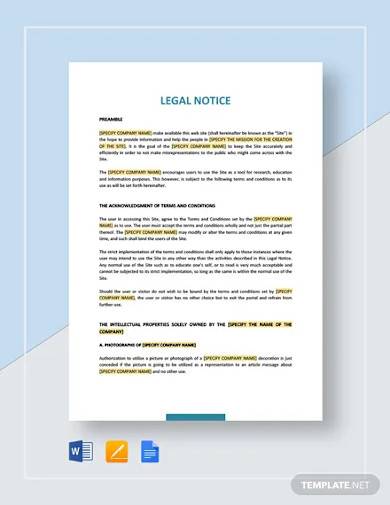 2. Final Notice Before Legal Action Template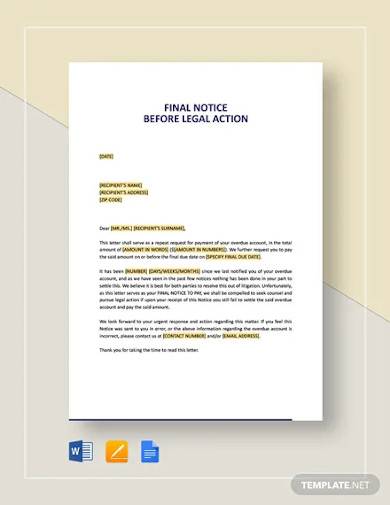 3. Restaurant Final Notice Before Legal Action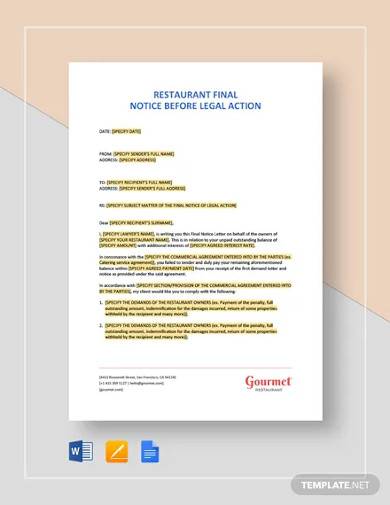 4. Copyright Notice Template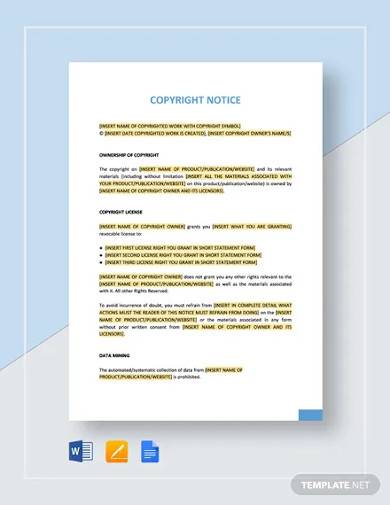 5. Free Legal Notice Template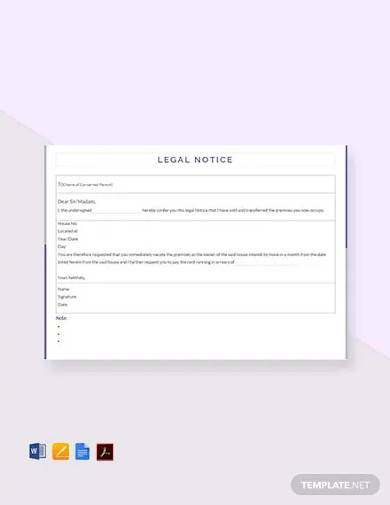 6. Reply to Third Party Sample Notice
7. Notice of Legal Representation
8. Sample Legal Notice
9. Notice of Free Legal Representation
10. Notice of Legal Representation Format
11. Free Legal Notice Template
12. Customer Legal Notice Template
13. Sample Legal Notice Template
What Is a Legal Notice?
A legal notice is a formal written communication between the parties informing the receiver that the sender intends to file a lawsuit against them. It aids in alerting the recipient party to the sender's complaints. It is seen as a warning to the recipient to comply with a certain requirement if he wants to avoid taking the case to court. It is a very efficient technique for settling disputes by discussion, mediation, or arbitration rather than going through a court process. In civil cases, a legal notification is often submitted.
How to Make a Legal Notice
By allowing the parties to resolve the dispute through dialogue, mediation, or arbitration, this notice serves as a tool to reduce the time and expense of litigation. A Legal Notice Template can help provide you with the framework you need to ensure that you have a well-prepared and robust document on hand. To do so, you can choose one of our excellent templates listed above. If you want to write it yourself, check out these elements below to guide you:
1. The legal notice's heading.
The title must be succinct, informative, and able to sum up the subject of the notice. Additionally, the ideal address must be included so that the notice is delivered to the right location and to the right person.
2. Matter and facts.
The cause of the relevant notification is mentioned in this section. It is important to be specific about the actions that have caused the sender problems, whether they were done knowingly or accidentally. If there have been any prior communications about the subject, those must also be cited. Nothing crucial pertaining to the topic should be omitted.
3. Demands and specifications of the sender.
The notification's sender must carefully craft and include their request in the notice. For the grievance and mental harrassment he had to endure owing to the other person's behavior, the sender may demand either a specified performance or monetary recompense.
4. Results and repercussions.
The legal notice must specifically state what will happen if the terms are not followed. The penalties will intimidate the recipient into doing the required action within the allotted period. A fair amount of time, such as 20 or 30 days, should be provided to the addressee to resolve the issue through dialogue or another method.
FAQ
How serious is legal notice?
A legal notice informs the opposite party of the grievance by communicating the intention prior to legal action.
Is a legal notification required?
A legal notice is simply a notification that is sent on behalf of a client by an advocate. A person is not required to send a legal notification via an advocate.
What is a notification that is needed by law?
Mailing a legal notice informs the other party that you are suing them, provides them with the justification for your case, and establishes the legal grounds on which you filed it.
An official legal action is a long, expensive process. Because of this, a legal notification should always be filed before a lawsuit. The plaintiff can express his complaints to the receiver in detail using a legal notice. To help you get started, download our easily customizable and comprehensive samples of Legal Notices today!@