A freelancer's dream, but sometimes a nightmare, is the opportunity to bid on a significant job. It can be tough to know how much to charge when the client hasn't set a price and you have to come up with your own estimate. If you make a mistake with your estimate, you may miss out on good projects and not be able to keep up with your workload. Alternatively, you could end up working for too little money and having to finish a job at a rate that doesn't pay your expenses.
10+ Freelancer Estimate Samples
You may be able to grasp the concept of project estimates in general, but let us define it in detail. In a nutshell, an estimate is a cost breakdown for the work you'll accomplish for a client. While this is an approximate estimate, the client will almost always want a more precise estimate. An important milestone in your working relationship is providing an estimate or quote for the job you'll do for a client. Your personal quotes may have appeared impromptu or pulled from thin air, but determining an estimate normally takes a lot of time and effort.
1. Freelancer Price Estimate Template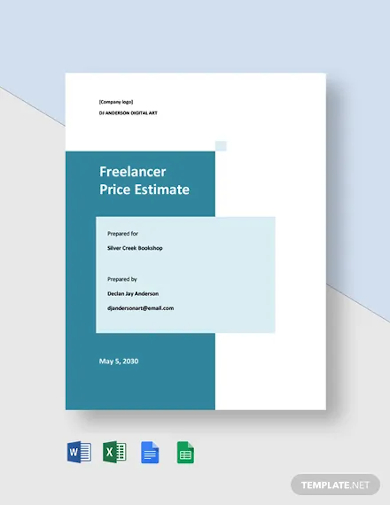 2. Freelance Time Estimate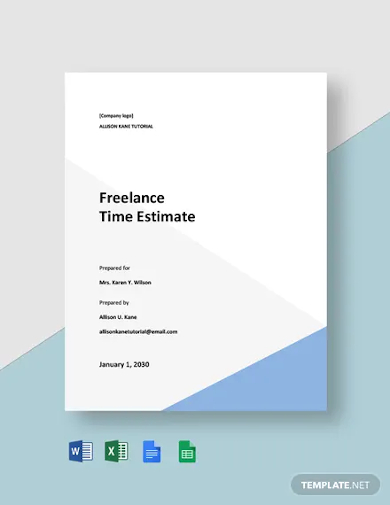 3. Freelance Writer Estimate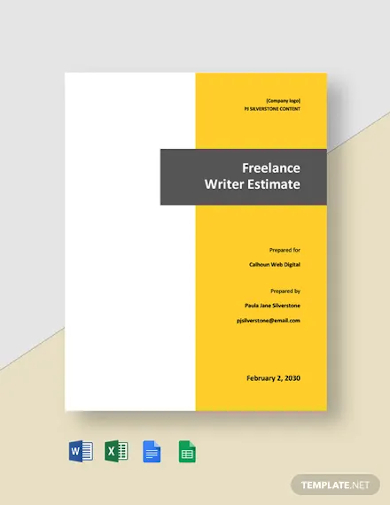 4. Freelance Project Estimates
5. Defining & Estimating Freelance Workforce
6. Freelancer Quarterly Estimated Taxes
7. Freelancer Growth Estimate
8. Freelance Estimating Checklist
9. Freelancer Finances Detailed Estimate
10. Freelancer Estimate Global Market
11. Media Freelancer Estimation
Guide to Giving Estimates
Get the details – An accurate time estimate is the key to an appropriate pricing estimate. Before you can commit to a price, you must have a good understanding of how long the project will take you to finish. Sadly, the initial brief you receive from a client is frequently frustratingly vague. It's critical to have clarity from the start. Additionally, your contacts with the client at this stage will aid you in determining how simple the procedure will be later on. The job should go pretty easily if the client communicates openly and has acceptable expectations. If you perceive a lack of clarity, the process may be difficult, requiring numerous rounds, which you'll need to factor into Step 2.
Estimate the time commitment – Now that we have more information on the job, we can estimate how long it will take us to complete it. Please base your estimates on your own experience because everyone works differently and at a different speed. The time estimates I've provided are only to show you how the process works, not to tell you how long it'll take you to write a white paper. Even if this is your first freelance work, consider other similar tasks you've completed in the past, such as writing papers in high school or college. If you're unsure, remember that it's always better to overestimate than than underestimate!
Establish minimum rate – This stage can be a little time-consuming, but it only needs to be done once, and you can use it for future projects as well. The idea is to figure out all of your operating costs and the bare minimum you'll need to break even.
Consider non-financial benefits – Perhaps it's a non-profit whose purpose you truly believe in, and you're delighted to donate something to them for free. Alternatively, it could be a prominent client that can provide you with excellent recommendations. It's worth undercharging to get projects, build your portfolio, and gain endorsements, especially if you're just starting out.
Research the competition – Unfortunately, for many freelancers, this is their first and only step. When you first started out, you might have calculated your prices based on what you thought the "normal rate" was, only to be disappointed by how little money you were making.
Decide on your profit margin – Now it's time to have some fun. You choose the amount of profit you want to make. There is no one-size-fits-all solution here; it changes from job to job, depending on the competition, your level of expertise, and other considerations.
FAQs
What are the reasons why a client would want an estimate from you?
Prepare a budget for the tasks you'll be doing ahead of time.
To compare the quality of your service to that of your competitors.
Why is communication important in freelance work?
In terms of time and work, the communication portion of a freelance contract is typically overlooked. Because you're a trustworthy freelancer, you want to meet your clients' needs as best you can while also protecting the quality of your work. You'll have to spend a significant amount of time sending emails or talking on the phone in order for this to happen, especially if you work in a creative profession.
It doesn't have to be difficult to put together a quote for a freelancing project. Simply follow the steps I've explained, taking into account all of the key elements such as your costs, your degree of expertise, how badly you want the job, and any non-monetary rewards.