Houses, hotels, hospitals—regardless of the place you're in, cleanliness is of utmost importance. When cleaning, you do not only focus on the surfaces evident to your eyes. Remember that dust building up in the corners of your homes or anywhere else might cause health issues, such as asthma. To avoid this, it is best to have a cleaning checklist app alongside a comprehensive cleaning checklist. These tools will guarantee you a successful cleaning project, leaving no dirty spots behind.
FREE 16+ Sample Cleaning Checklists
Simple Cleaning Checklist Template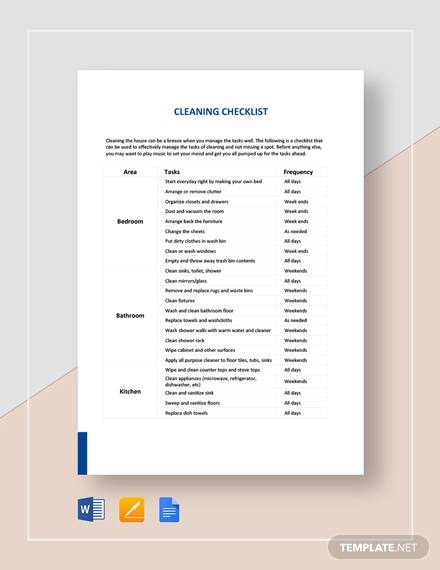 Blank Cleaning Checklist Template
Sample House Cleaning Checklist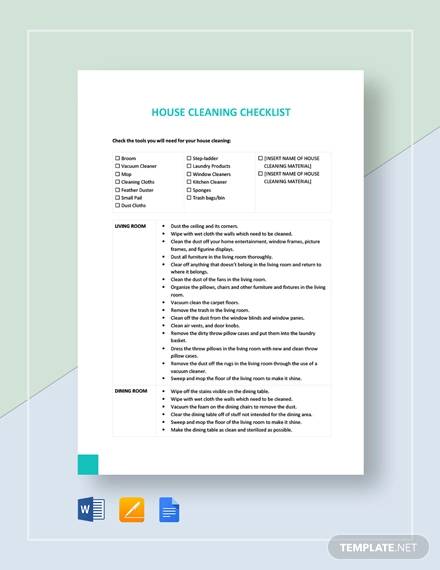 Cleaning Company Checklist Template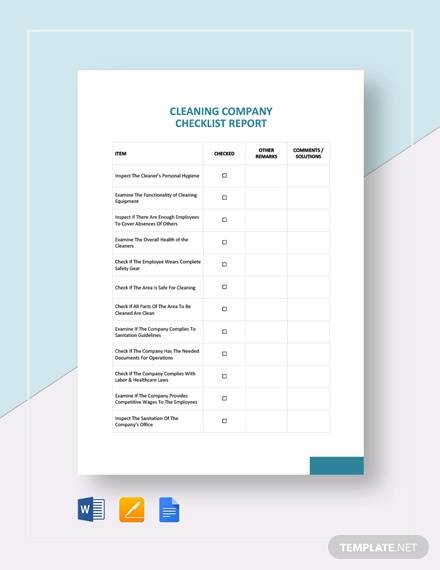 Cleaning Service Checklist Template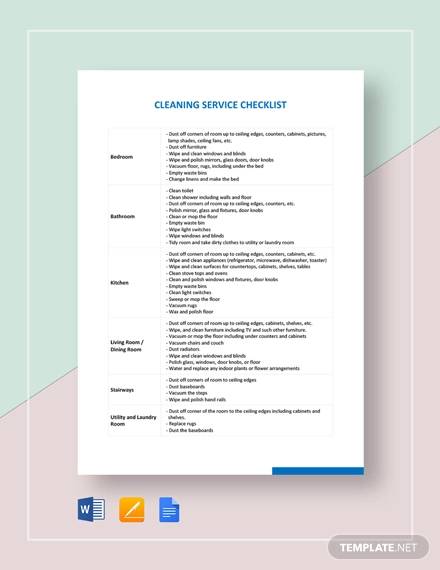 Sample Restaurant Cleaning Checklist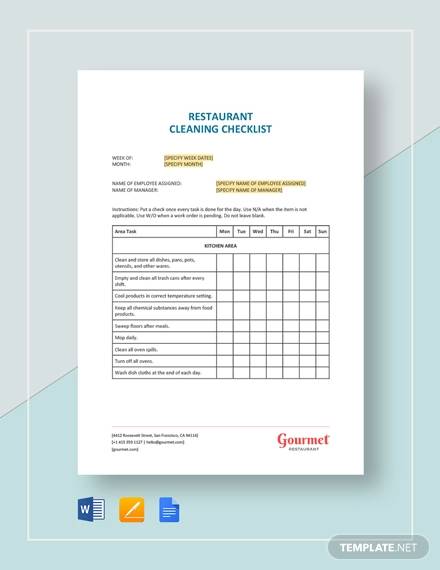 Sample Restaurant Kitchen Cleaning Checklist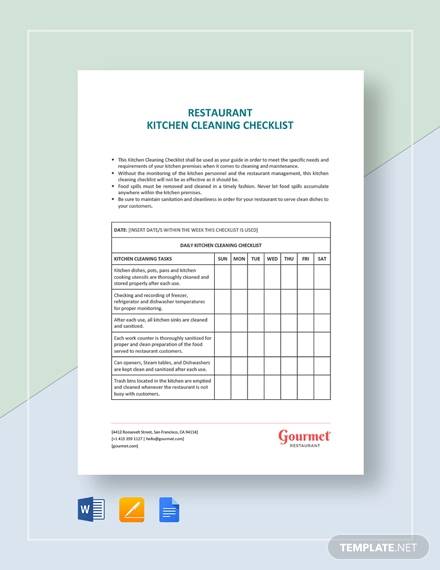 Sample Restaurant Back of House Cleaning Checklist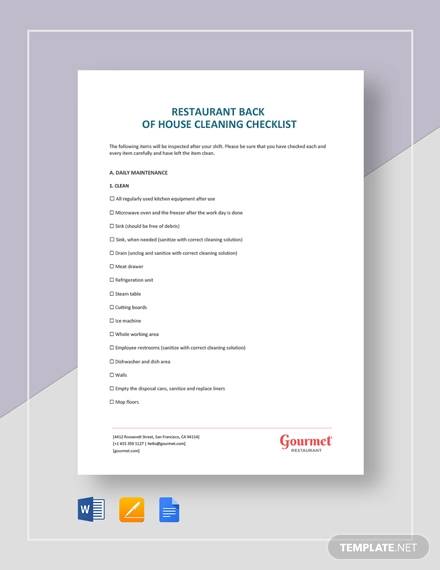 Spring Cleaning Checklist Template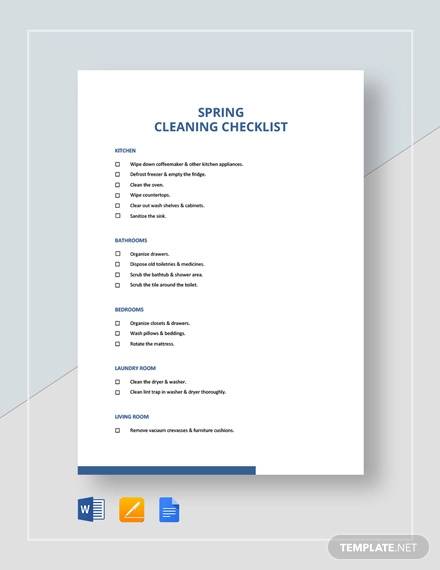 Cleaning Schedule Checklist
House Cleaning Checklist
Cleaning Service Checklist
Weekly Cleaning Checklist
Sample Cleaning Checklist
Cleaning Checklist Template
Sample Cleaning Supply Checklist
Deep Cleaning Checklist
What Is a Cleaning Checklist?
A cleaning checklist is a document that enables individuals to keep track of the areas they need to clean in a house, hospital, building, grocery store, and any other places. It contains an itemized and detailed list of the chores needed to be accomplished by those assigned to a particular task. While some homeowners prefer a simple cleaning checklist for a house, others make use of a deep cleaning checklist or a spring cleaning checklist for thorough sanitation and disinfecting.
How To Create a Cleaning Checklist
In creating a cleaning checklist for a house or apartment, bear in mind that you also have to include a bathroom cleaning checklist, living room cleaning checklist, and dining room cleaning checklist, among others. And under these categories are various tasks that you should do weekly or daily, depending on the house cleaning rotation schedule. If this sounds like a tedious task for you, worry no more! Outlined below is a step-by-step guide to help you create a cleaning checklist.
1. List the Areas
The first thing you will do is to list down the areas that need tidying up. This means that you have to identify every room your residence has. This way, you can categorize your tasks accordingly to avoid confusion. A sample cleaning checklist in PDF usually includes the kitchen, living room, bedrooms, bathrooms, and dining rooms.
2. Specify Tasks
Now that you have listed down the categories, you can already fill each with the necessary cleaning tasks. Remember that cleaning does not only involve dusting surfaces, you also have to wash curtains and sheets, disinfect facilities, vacuum the floor, make the bed, etc.
3. Set the Schedule
There are various areas or equipment in the house that you only need monthly cleaning, not daily. For this reason, it is essential to specify how often you should do each chore. You should also set a schedule as to when you will start doing the tasks and see to it that it won't interfere with your daily routine. Setting a specific time enables you to be more efficient in carrying out these tasks.
4. Assign People
If you are not living alone, it would greatly help if you assign tasks to each person living with you. Doing so gets more things done. Also, it wouldn't leave you exhausted at the end of the day.
5. Update
A checklist wouldn't fully serve its purpose without checkmarks. That is why you have to mark each completed task in your document. Aside from helping you not overlook an activity, it also gives you a sense of accomplishment. Nevertheless, if you want to create a cleaning checklist in an instant, we recommend you to download one of the cleaning checklist templates provided on this page.
FAQ's
What should I clean weekly?
As previously mentioned, you don't have to do every chore on a daily basis. There are some that you just have to accomplish once every week. It includes laundry, disinfecting kitchen appliances, vacuuming the rugs and carpet, and cleaning the tub, toilet, and shower.
What is the fastest way to clean a house?
For an efficient housekeeping practice, it would help if you choose one task that you can do in various parts of your home. For example, when you sweep the floor, do it in one go. It means that you have to sweep the living room, kitchen, and bedroom floor. This way, you wouldn't have to start a chore repeatedly.
What is the difference between cleaning and sanitizing?
Cleaning involves the removal of dust, dirt, and trash on a surface. On the other hand, sanitizing entails disinfecting areas to kill strains of germs to reduce health hazards.
Since the old times, it has been instilled in our minds that cleanliness is next to godliness. That is why we value cleanliness, especially in our own homes. According to Statista, 71% of 1010 respondents deem cleanliness as a "very important" aspect in their homes. If you are one of the people who feel the same, then make sure to maintain the tidiness of your residence with the help of a cleaning checklist.