In the general workplace, a project means a current work or job that needs to be done before the set deadline. The sample projects that companies and employees handle vary greatly and are dependent on the industry where one is working in. In the school setting, projects are work that students need to do and in order to pass or get good grades and complete requirements. Just like in the work setting, the projects that students do vary and are dependent on the subject for which the project is for.
Projects can be easy and they can be difficult. To add to the difficulty is the stress of the deadline that is coming up. It is critical that you know how to manage your time in handling or making projects, regardless if it is for work or for school. Organization, planning and prioritization are the keys to finishing any types of projects that you may be facing.
Sample Project Checklist Template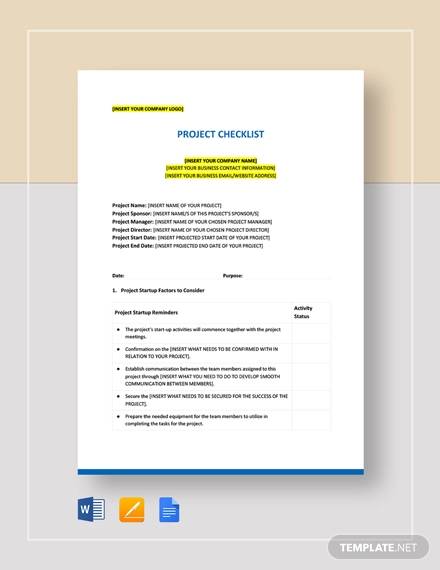 The use of a project checklist will help you do all of those things in one to-do list. Try to check out the checklist samples that we have provided below so that you will have an idea about what it is. Included are some useful basic information that you should know about project checklists.
Project Requirement Checklist Template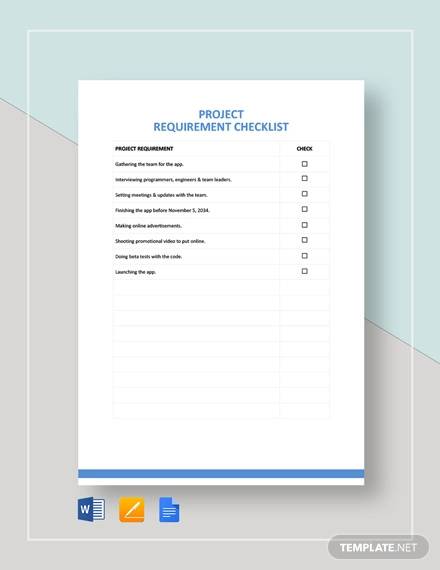 Construction Project Checklist Template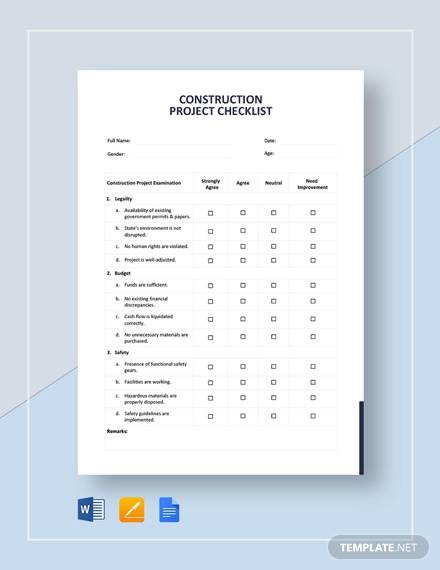 Project Management Checklist Template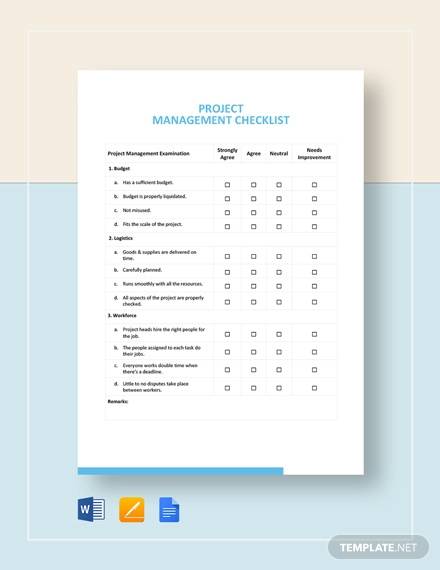 Project Planning Checklist Template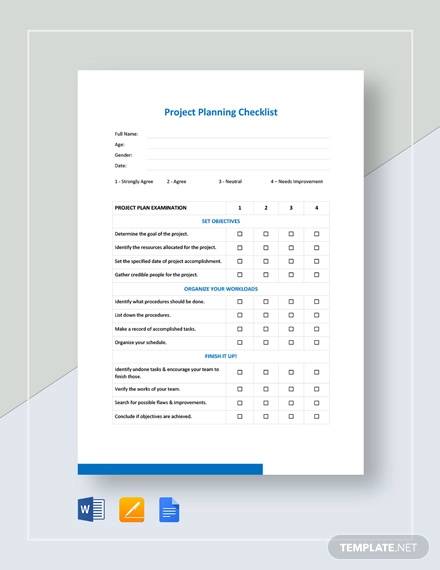 Project Plan Checklist Sample
Science Fair Project Checklist Sample
Project Close-Out Checklist Sample
Construction Project Checklist
Project Management and Quality Plan Checklist Sample
Simple Project Checklist Sample
Project Startup Checklist Sample
Uses of a Project Checklist
Checklist are very useful no matter what type it is or for what purpose it serves. There is definitely no denying that this tool is something that can help change one's topsy-turvy life in a realistic manner. Here we will have our focus on project checklists and below are its uses.
Project Manager Checklist Sample
Checklist Sample for Project Planning
Project Planning and Execution Checklist
Field Project Checklist Sample
General Project Checklist
Useful Tips for Making Effective Checklists
Making checklists is fairly easy and even ultimate beginners will be able to make one without even sweating. Easy as it may be, not everybody is successful when it comes to using it. They end up giving up halfway or getting into a much disorganized situation. Although there are no rules when creating checklists, you can surely use some tips to make your own checklist effective.
When making checklists, make sure that you only write or list down the tasks that you are capable of doing. What's the point in listing something you know you cannot do? Do not think that writing or listing more will make you do more as that is not true. The number of tasks that you have listed will soon overwhelm you. This will lead to you giving up halfway.
Make sure to put a mark or a check on the tasks that you have already performed. This allows you to determine which tasks are done and which ones still need to be done. Also, seeing all the tasks that you have accomplished will motivate you to do more.
Prioritize the list of tasks that you have. Prioritization of tasks actually depends on you. Decide and weigh the tasks that you have on the list and determine which ones should be on top of your list and which ones should be at the middle or bottom. Base your priorities on the project you are working on.
Use a clean sheet of paper to write down your general checklist. Scratch papers are fine, but it is still best that your project to-do list looks neat as this is also one of the things that will motivate you to check your tasks and have them done.
Write neatly and provide enough space for additional tasks that need to be written at a later time. Writing neatly will allow you to read your task list without any difficulty and avoid confusion.
Be concise with the tasks that you will be listing, especially if the project is in collaboration with another team. Properly decide the tasks and responsibilities so that there will not be any confusions and repetition.
Use checklists templates to make your checklist task easier and convenient. There are a lot of different samples made available for you. Examples are daily checklist templates, wedding checklist templates, and new employee checklist templates.