There is that common adage that says, "The only constant thing in this world is change." I'm sure we have know from or elementary science, that states in matter changes. Solid can turn to liquid or gas, liquid can become solid or gas, and gas likewise. We are very familiar with changes.
There are people who are very welcome to change, there are also those who find it scary. But let us talk about a more specific sort of change first. Moving. As in moving from one place to another. Unlike the states of matter, this isn't just solid, liquid, and gas. These are a number of heavy boxes, labeled with every memory you have of a place you used to call home. Before you get teary-eyed with the prospect of moving, below are Checklist Samples you can download to lessen your worries.
Printable Moving Checklist Template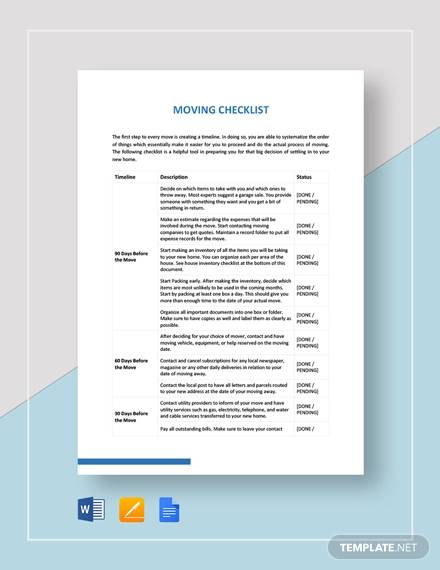 Sample Printable Local Moving Checklist
Printable Moving House Checklist Example
Printable Apartment Move-In Checklist
Printable Home Moving Checklist
Printable Office Moving Checklist in PDF
Moving is a really big deal. Imagine living in an apartment for years, which only means you have already invested time, money, and emotions with your furnishing, to make the place comfortable and somewhere you can call your home. Aside from the emotional baggage you have been feeling now, you might also be worried about what to do with your stuff, or where you should even begin packing. So I suggest that you get a checklist.
A checklist is a note that contains a list of the things you need to do, bring, and accomplish. It sounds simple enough, but do not underestimate its importance.
It makes you organized. Chances are, with all the things that you need to pack, it might be a wonder how you can get them into categories. The checklist can give you an idea which item goes to which box.
It also saves time and stress. Having a checklist means you can devote your time on the things that you know should go first or are more important.
It lessens the probability of forgetting things. A checklist serves as a reminder. Seeing the things that you need to do at least ensures that you do not miss doing them.
A checklist, of course, is only the first step to moving more efficiently. Remember that you still have to actually pack your items and have them categorized in boxes. And do not forget that your new place should also be sorted out and cleaned as well. You can also download our sample Cleaning Checklists for free. And since we are talking about checklists, maybe moving means you are taking your relationship with your partner on another level, you may check out our Sample Wedding Checklists.
Printable Moving Inventory Checklist
Printable Moving Out Cleaning Checklist
Printable Moving Checklist and Planner
Printable International Moving Checklist
Printable College Moving Checklist
Moving is not that bad. Sure, the packing takes a lot of time and energy. And you might be worried about the time that you have settled in and feel at home again. But really, there are lots of things that you can look forward to in the prospect of moving.
Change is constant, it's true, but no matter how common it is, the thought of it still is not that easy. But changes mean new beginnings. It means a fresh start. It's like waking up early in the morning and seeing the sunrise for the first time. It is every bit exciting and hopeful. So look ahead and smile—a new day is coming. And if you are moving for college, remember to check out our Sample College Checklist.