A work contract is basically a written document of agreement that is legally binding to both employer and employee. It is based on the guidelines of each country's laws where applicable, to augment the rights and responsibilities of both parties in the agreement. A contract agreement generally defines the service that an employee needs to render and the responsibilities by which the employer is bound to honor in terms of compensation.
Our Sample Agreements for work contracts offer several examples including independent contracting like work-for-hire agreements. Users who need to draft their own agreements can refer to a couple of guides that may be downloaded for free and can be edited or modified for printing and immediate use.
Work Agreement Contract Sample Template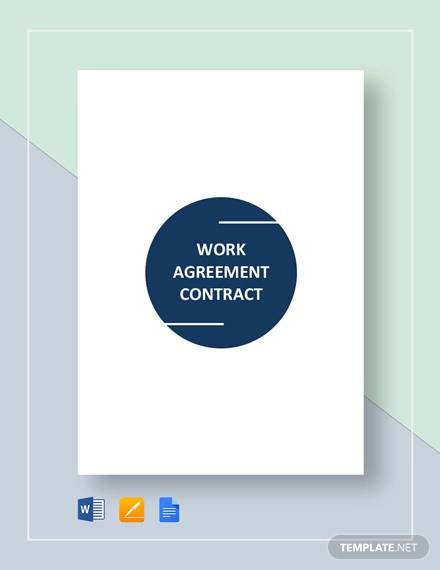 Work for Hire Agreement Template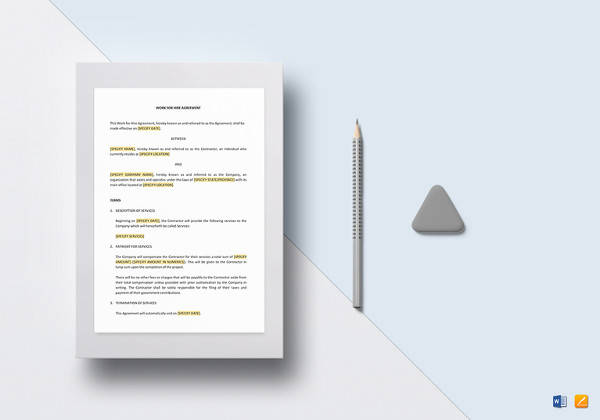 Employment Contract to Print
Employee Agreement Template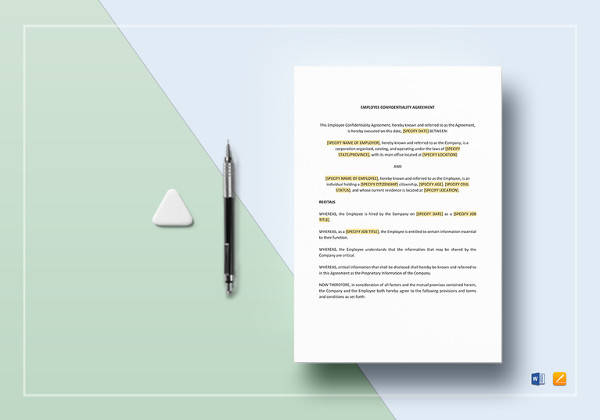 Employee Work Contract Agreement
Work Order Contract Agreement in PDF
Temporary Work Contract Agreement
Work Performance Contract Agreement
Model Work Contract Agreement in PDF
A work contract agreement establishes the details of employment of an individual by a company that hires him. These contain specific information that the employee needs to perform like the tasks, duties, and responsibilities plus the details of compensation and benefits that the company is bound to extend in exchange for the individual's services.
A work contract includes the details on the starting date when the individual is starting his services and is accompanied by a job title. In most cases, however, job titles include several kinds of work that are within the legal bounds of the agreement even if such kinds of work are not listed in the agreement.
Besides the hours of work rendered and compensation, the work contract agreement also outlines the benefits the employee is entitled to receive, but these are usually applicable only upon regularization and not during the employee's probationary period. These include paid leaves like holiday pay or vacation pay, health and dental insurance, and even company profit sharing plans and stock ownership.
For more examples, please check more on our website's list or click on the link for Sample Contract Agreements that users with different contracting needs may be able to use. These are all free for downloading and can be edited for specifications before printing them and using them.
Work-for-Hire Contract Agreement
Work Placement Contract Agreement
Civil Work Contract Agreement
Basic Work Contract Agreement
Since work contracts include part-time work as shown in our samples, these can be applied both to work-for-hire or independent work agreements. As shown in the contracts, the following details may be applicable to work for hire and independent contracting agreements:
Contract Period/Duration – Specifying the duration of the contract, usually indicated on the agreement as the specified period of the work being done until terminated by either employer or contractor. This provision also indicates terms in case the contract is being violated by any one of the parties involved. 

Details of Services Being Provided by the Contractor – The kind of work being rendered by the contractor depending on what kind of service is being rendered and the kind of project being initiated. This describes work, duties, and responsibilities that the contractor needs to do in order to render service and finish the project.

Pay/Compensation – Employer indicates how much pay is being paid to the contractor in either hourly, daily, weekly, or monthly basis. When applicable, employer may deduct withholding tax and other tax considerations that are within the bounds of such agreements.
Since contractors may hire subcontractors for certain aspects of the job, we also have in our samples Subcontractor Agreements that are also free to download, edit, and modify before printing.