10+ Waiver of Liability Agreement Samples
For certain businesses and event organizers alike, the chance that your clients and customers would be hurt while engaging in events sponsored or given by your business is a concern. A lawsuit stemming from an unintentional injury can put a company's finances in jeopardy, and you don't want that to happen! If your business has any inherent risk, a liability release may be required to protect you from injury or damage claims. Need some help with this? We've got you covered. In this article, we provide you with free and ready-made samples of Waiver of Liability Agreements in PDF and DOC format that you could use for your benefit. Keep on reading to find out more!
1. Waiver of Liability Agreement Template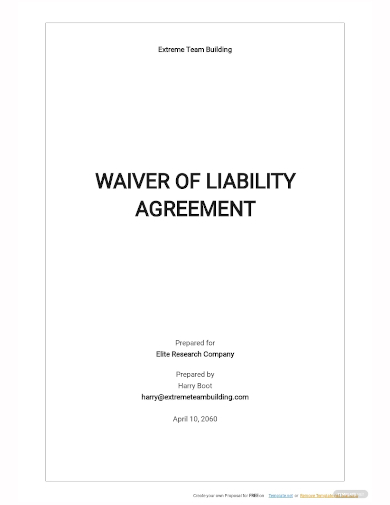 2. Waiver of Liability Risk Agreement
3. Release and Waiver of Liability Agreement
4. Waiver of Liability Indemnity Agreement
5. Assumption Waiver of Liability Agreement
6. Waiver of Liability Assumption Risk Agreement
7. Waiver of Liability and Release Agreement
8. Waiver of Liability and Hold Harmless Agreement
9. Participant Waiver of Liability Agreement
10. Family Waiver of Liability Agreement
11. Waiver Form of Liability Agreement
What Is a Waiver of Liability Agreement
A liability waiver agreement is a legal contract that a participant in an activity signs to accept the risks associated with that activity. By doing so, the corporation is attempting to absolve the business or person responsible for the conduct of legal culpability. When you sign a liability waiver with a service provider, you agree not to hold the provider liable for any harm you may suffer as a consequence of ordinary carelessness.
How to Make a Waiver of Liability Agreement
The waiver includes text declaring that the customer understands the risks associated in participating in the activity. A Waiver of Liability Agreement Template can  help provide you with the framework you need to ensure that you have a well-prepared and robust agreement on hand. To do so, you can choose one of our excellent templates listed above. If you want to write it yourself, follow these steps below to guide you:
1. Investigate industry norms.
Gather information on the contents of liability waivers used by your industry's rivals. This activity will guarantee that all potential hazards have been addressed and that best practices have been followed.
2. Recognize the law.
Look about the laws in the area where you'll be operating. The laws governing exemptions vary depending on whatever state or nation you work in. To guarantee that your waiver is enforceable, you must first thoroughly grasp the legislation in your country.
3. Seek the advice of a legal team.
If you want to write a liability waiver for your firm, you should contact with a business lawyer. Your waiver will be legally binding in court if your lawyer uses precise and explicit language. You may also look for a suitable waiver template online and have it verified by a lawyer afterwards.
4. Ascertain that participants are well-informed.
You should guarantee that participants are not pressured into signing waivers once they have been prepared, reviewed, and completed. They must be given sufficient time to study the paper attentively and readily sign it.
FAQ
What is the duration of a liability waiver?
The waiver must be kept by the sponsoring unit for six (6) years following the end of the event or activity for which it was signed.
Is it possible to cancel a waiver?
A waiver and consent are legally binding on the party who signed them and may only be revoked in particular situations.
What is a waiver and how does it work?
Unclaimed players are temporarily frozen by waivers, giving everyone a chance to claim them.
Overall, the amount of security provided by a liability waiver will preserve your profitability and corporate brand while also preventing needless legal issues. To help you get started, download our easily customizable and comprehensive templates of Waiver of Liability Agreements today!