If you're starting a new business, you would know that funding is important in a start-up. Stock is common among startup founders, employees, and investors. Starting with full ownership, creators progressively cede power to other co-founders, investors, and workers as the company grows.  However, owners of start-ups frequently have high hopes for their company ideas and are certain that they will be a big success. At this time, many entrepreneurs overlook the need of taking preventative measures to deal with potentially complex circumstances. If you're a start-up founder or shareholder, you should know that you have to have a contract that assure the legal security of your start-up. Look no further! In this article, we provide you with free and ready-to-use samples of Startup Shareholder Agreements in MS Word, Google Doc, PDF formats that you could use for your convenience. Keep on reading to find out more!
8+ Startup Shareholder Agreement Samples
1. Startup Shareholder Agreement Template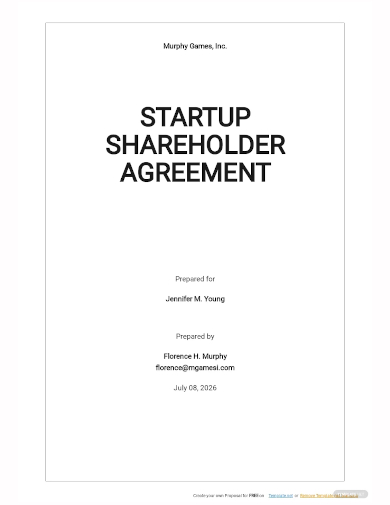 2. Shareholder Agreement for Startup Template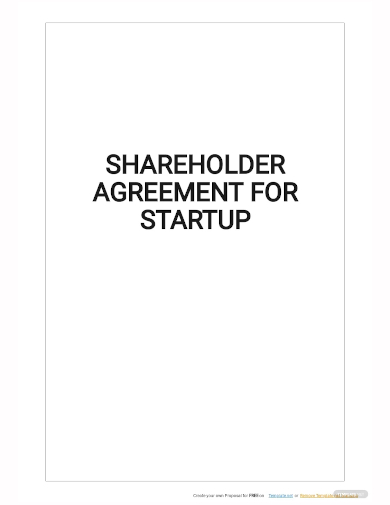 3. Startup Shareholder Agreement
4. Startup Investor Shareholder Agreement
5. Startup Company Shareholder Agreement
6. Foundation Startup Shareholder Agreement
7. Sample Startup Shareholder Agreement
8. Standard Startup Shareholder Agreement
9. Editable Startup Shareholder Agreement
What Is a Start-up Shareholder Agreement?
A shareholders' agreement is a private contract signed voluntarily by all shareholders of a company with the goal of regulating their relationships, rights and duties and the everyday operations of the firm. All or portion of a company's shareholders may agree to a shareholder agreement. It governs the connection between shareholders and the company's management, as well as who owns which shares and how shareholders are protected. They are also in charge of the company's management style. Shareholders agreements are legally enforceable once signed, as long as they meet the standard contract requirements of offer, acceptance, consideration and an intention to form legal relations (also known as the four corners test).
How to Make a Start-up Shareholder Agreement
The substance of shareholder agreements will vary according on the sort of project your start-up regulates. It can encompass a wide range of topics, including day-to-day operations, organizational procedures, business activities, and interactions amongst shareholders. If you want a comprehensive and well-structured agreement, check out the great templates listed above so that you don't have to go through the hassle of drafting one of your own. Other than that,  in order to draft your own agreement, follow these steps to guide you:
1. Decide on your company's shareholders.
An agreement between shareholders is a contract between a company and its first shareholders, who must be properly identified in the agreement. Determine the legal name, address, and phone number of each shareholder who signs the contract. You will also identify the company's executives and select who will be the managing shareholder in this agreement.
The shareholder agreement aims to keep things calm in the company by preventing misunderstandings. The regulations governing the appointment and termination of officials are well defined. This agreement should also be extremely explicit about the activities that executives and shareholders can conduct on behalf of the business. If a problem arises, you can refer back to the shareholder agreement to decide the correct course of action to address it.
3. Stipulate the shareholders voting rights.
It is common for shareholders and directors to be the same persons in a smaller firm. A more varied collection of people will run the company as it expands. The shareholder agreement should specify the voting rights of each shareholder and the sort of vote needed to make a decision.
4. Settle on the statutory obligations of each party.
It's important for a good shareholder agreement to clarify what legal responsibilities each party to the contract has. The agreement essentially dictates how the company will be organized and serves as the building blocks from which it will grow. You must spell forth in writing the legal responsibilities of everyone who signs the contract. While a well-written shareholder agreement cannot prevent all shareholder conflicts, it may be utilized to resolve them civilly.
FAQs
Is a lawyer required for a shareholder agreement?
A shareholders agreement is one of a company's most crucial operating papers. As a result, it should be tailored to the company's needs and written by a skilled commercial lawyer.
What happens if no shareholders' agreement is reached?
Because a shareholders' agreement creates the connection between the shareholders, failing to have one puts both the shareholders and the firm at risk of future dispute.
Is it possible to compel a shareholder to sell their stock?
Shareholders can only be forced to give up or sell their shares if the articles of organization or a contractual agreement specifically state that they must do so.
In conclusion, a shareholder contract defines the rights and duties of shareholders as well as rules relating to the management and authority of the start-up company. The agreement's goal is to safeguard shareholders' rights. To help you get started with this, download our easily customizable and concise samples of Start-up Shareholder Agreement today!