Everyone wants to avoid the worst-case scenario from occurring. But let's face the fact that there are several risks we have to encounter to keep growing. But how do we lessen the probability of these risk factors from interfering in our daily activities? How can you protect yourself from it?
Sample Protection Agreement
In business, maintaining your source of income and meeting your goals is critical for the survival and success of your company. In protecting it, you are not only securing your business' financial health and stability, but also defending your ownership to your business.
Written agreements are the best way to settle your concerns about protecting your business. And if you need further enlightenment about protection agreements, just read through the article and check out these fantastic sample agreements below.
1. Sample Professional / Facility Use and Protection Agreement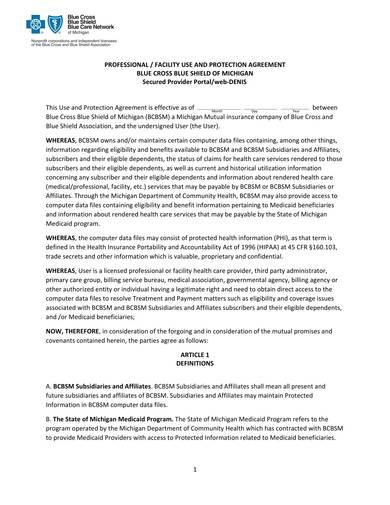 Healthcare information and medical records are an essential factor in improving the field of medicine through research and data analysis, resulting in scientific breakthroughs, technological advances, and medical innovations. But information is intellectual property. Thus, it needs to be kept confidential to every medical institution that owns it. To aid you in protecting it, help yourself with this sample professional/facility use and protection agreement.
2. Sample Customer Protection Agreement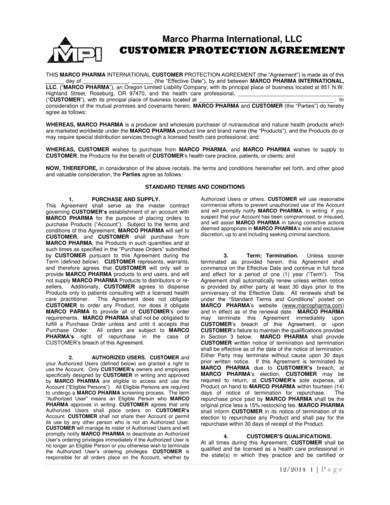 Your customers are an essential factor that keeps your business alive. They serve as the foundation that supports your business' success, and your main goal is to keep them satisfied with excellent customer service. Protecting them and attending to their needs are part of it. Fulfill their rights to protection from unwanted scenarios and check out this sample customer protection agreement. After all, gaining their loyalty and providing them the best service is the best promotion you can ever have.
3. Sample Business Protection Agreement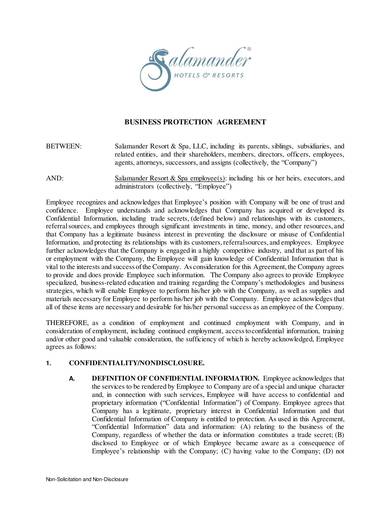 Your company has the right to prevent your employees from disclosing any crucial and confidential information to the public, especially from other competitors. By signing a business protection agreement with you, they are acknowledging the fact that they shall be held liable for any misuse of confidential information acquired from the company. This sample business protection agreement contains information which focuses on protecting your business' interest and relationship with your employees.
4. Sample Pet Protection Agreement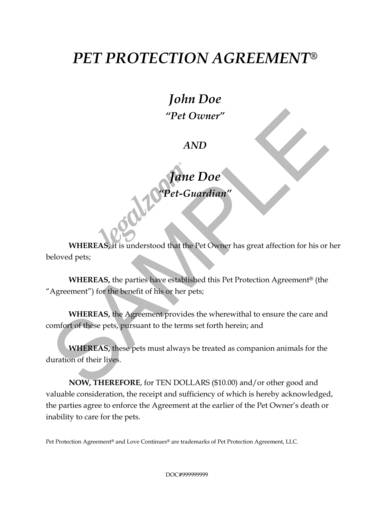 Are you a pet lover? Then, surely, you know how it feels like to have pets at home. What pets do you have? Whatever it is, owning one is a privilege that comes with a responsibility to take care of them. This sample pet protection agreement has every detail, ensuring the care and comforts your pets will have. Following it are the information about your pet, your information as to its guardian, with the corresponding amount of funds to supplement your pet's care and comfort.
5. Sample Smart Lease Protection Agreement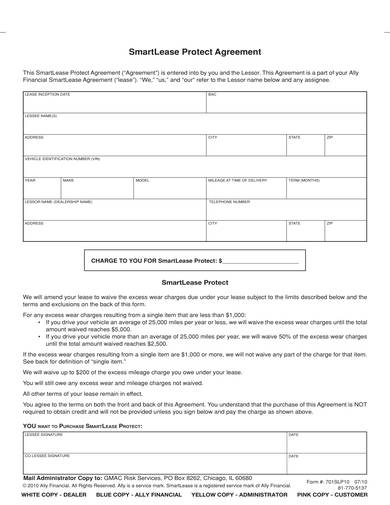 Under a smart lease agreement, you are giving your clients the ability to borrow your vehicles. You let them drive it for a few years, return it, and then take another vehicle for lease. For clients who couldn't afford to buy a car, this type of agreement is beneficial to them. This sample smart lease protection agreement will aid you in protecting your clients on behalf of leasing your vehicles by providing your terms and conditions on the transaction.
6. Sample Master Data Protection Agreement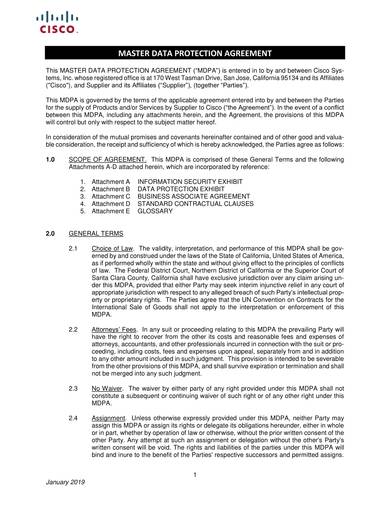 Your company's data security is not something that you should take lightly because this holds the complete information about your company and your business. What's more, is that your master data represents your most valuable information that you share across your company. Protect your data's privacy and finish your transaction with a protection agreement that contains a concise content of its scope and general terms in the master data protection.
7. Sample Asset Protection Agreement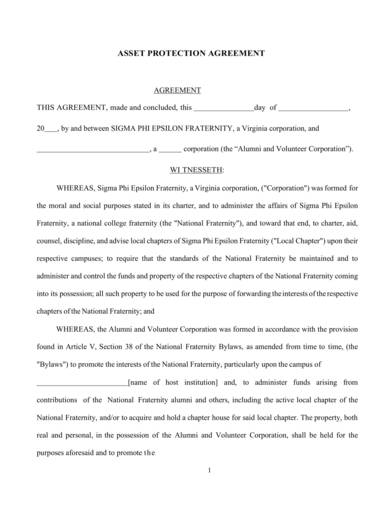 Your institution's assets are items of value, and you cannot operate without it. This can come in equipment and facilities, cash, intellectual property, as well as your customer relations. If not protected, this can lead to a lot of risks and can even cause the downfall of your institution. Plan how you will manage your assets and protect them by minimizing risk factors lingering around. This asset protection agreement has everything you need to know in making one from scratch.
8. Sample Irrevocable Fee Protection Agreement
An irrevocable fee protection agreement is commonly applied when you have an over-the-counter commodity transaction with your clients. From the word "irrevocable," it means that your transaction is fixed and cannot be changed. As this is a legal binding agreement between a buyer, seller, and a business broker, both you and your buyer shall pay a business broker to arrange the transaction. The fee then shall only be given once the transaction is complete.
9. Sample Cooperative Fire Protection Agreement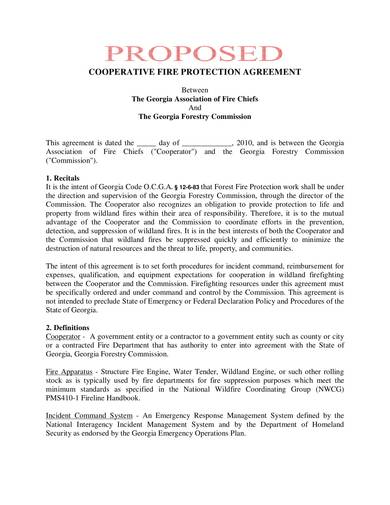 Fire is a destructive force that can burn an entire area if not appropriately responded and remedied quickly. In less than an hour, this can diminish an entire forest into ashes with its destructive power. Wildfire and forest fires are a costly natural disaster that commonly occurs in the forest and poorly constructed areas. Prevent wildfires and forest fires by creating fire protection systems. Then, create a cooperative fire protection agreement as evidence of every member's consensus of the protection system.
10. Sample Tax Protection Agreement
Wouldn't it be easier if the tax are the same wherever you go? Imagine what life would be if that were true because, in reality, it varies around the world. In the case of a tax protection agreement, this ensures to reimburse any excess tax incurred by an individual assigned on an international assignment. This is calculated by comparing the probable stay-home-tax the individual should incur to the actual worldwide tax paid by the individual.
11. Sample Tree Protection Agreement
12. Protection Agreement in MS Word
Trees are a vital member of the environment and had been living long before we were born. They filter the air we breathe and provide shelter to creatures and people like you and me. They link every life on this planet, including our past, present, and future. But as we urbanize the area, they grow less and less in number. If we do not do anything about it, we are only killing ourselves. Protect them while there is still time, protect them in your little ways.