Whenever you hire a subcontractor, contracts will aid you in safeguarding your financial and legal rights. The practice of hiring subcontractors to complete a portion of another's work is common. For example, a graphic designer might hire a writer to create content for a brochure that they are producing. It is possible for practically any type of business or profession to employ a subcontractor. A contract can be used to explain and clarify all of the terms and conditions of your agreement, including the scope of the assignment, deadlines, and payment arrangements, among other things.
Although a subcontractor agreement may appear to be a mechanism for contractors to protect themselves rather than subcontractors, in reality, it can work to the advantage of subcontractors rather than contractors in certain circumstances. During the construction process, this formal written document outlines the work to be done, the timeframe, and any other critical variables that need to be taken into consideration. Subcontractors can protect themselves by being aware of all of these components, which will allow them to demonstrate what the contractor or owner was expected to achieve. Taking the time to carefully review their subcontractor agreements and refusing to accept unreasonable risk in their subcontractor agreements are two ways that subcontractors can avoid some of the more harmful conditions in their subcontractor agreements. Furthermore, the subcontractor agreement gives subcontractors the opportunity to exercise their rights and increase the efficiency of their company operations. To get you started, we've provided you with some sales subcontractor agreement samples that you can use as a guideline before you start writing your own. Feel free to use these samples as guides or even templates to aid in the entire writing process after you have become familiar with the document, including how it appears and how it functions after you have become familiar with it.
10+ Sales Subcontractor Agreement
1. Sales Subcontractor Agreement Template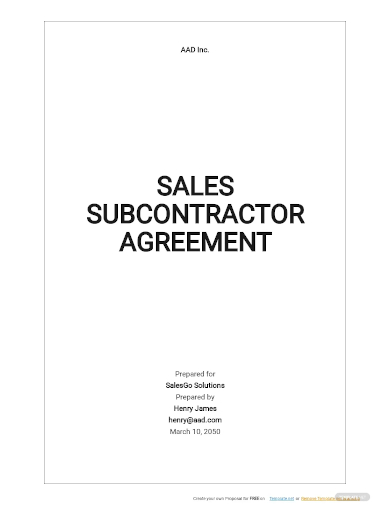 2. Sales Subcontractor Joint Check Agreement
3. Sales Agreement Between Subcontractor and Contractor
4. Master Sales Subcontractor Agreement
5. Sales Tax Plumbing Subcontractor Agreement
6. Printable Sales Subcontractor Agreement
7. Equipment Dealership Sales Subcontractor Agreement
8. Sales Applicable Subcontractor Agreement
9. Basic Sales Subcontractor Agreement
10. Revenue Sales Subcontractor Agreement
11. Employees Sales Subcontractor Agreement
What Is a Sales Subcontractor Agreement?
A subcontractor agreement is a contract between a contractor or project manager and a subcontractor in the construction business. This verifies that the two parties have achieved an agreement and that the task will be done. To protect themselves against undue risk, subcontractors should carefully analyze the subcontractor agreement and ensure that all of the conditions are completed. The project's particular timeframe, scope of work, communication routes, and even payment are all written out in detail in various subcontractor agreements. In some agreements, the terms "pay when paid" or "pay if paid" are used to decide when a subcontractor is compensated. Other subcontractor agreements, on the other hand, are exceedingly fair to both contractors and subcontractors. Subcontractor agreements may be more profitable to subcontractors than ordinary verbal agreements, depending on the conditions of the agreement. If a government department signs a contract with a large firm, the large corporation may be responsible for providing maintenance services to all of the government department's commercial locations. The huge firm may contract out the upkeep of each location to a subcontractor. As a result, the subcontractor performs the maintenance services, and the large firm profiteers by billing the government department a greater fee for the maintenance services than the government department had to pay the subcontractor in the first place. Subcontractors can be either individuals or businesses, as well as non-profit organizations.
How To Write a Sales Subcontractor Agreement
A subcontractor agreement may appear to be a device for contractors to protect themselves rather than subcontractors, yet it might really operate to the benefit of subcontractors. This is a formal written document that lays out the work to be done, the timeline, and other important factors to consider during the construction process. Knowing all of these details can assist subcontractors protect themselves by demonstrating what the contractor or owner was supposed to do. Subcontractors can avoid some of the more detrimental terms in their subcontractor agreements by carefully evaluating them and refusing to assume undue risks. Subcontractors can also use the subcontractor agreement to exercise their rights and improve their business operations. A subcontractor agreement should include a number of crucial provisions. There are a few things that subcontractors should be aware of as well. These are the factors that could have a positive or negative impact on the agreement.
Scope of work
In a subcontractor agreement, the scope of work should always be mentioned. The duties that a subcontractor is hired to do are referred to as the scope of work. A large scope of work can be difficult to navigate, and subcontractors may struggle to meet deadlines. When the task is not precisely described, it is easier to allege that a subcontractor did not offer the appropriate work for the project. As a result, it's critical to have a well-defined scope of work.
Supply chain
The risk connected with the supply chain and other operational difficulties is another key factor in a subcontractor agreement. The owner's supply chain or commodities are not always under the subcontractor's control, and in certain cases, the subcontractor should not be held liable. On the other side, some contracts aim to shift risk to subcontractors. Preventing supply chain risk issues can be as simple as reading and negotiating the subcontractor agreement.
Defense & Indemnification
In subcontractor agreements, the terms "defense" and "indemnification" are frequently used. In their subcontractor agreements, many contractors incorporate defense and indemnity clauses. On the other hand, these requirements may occasionally create an undue strain on the subcontractor. Some states have passed legislation to protect subcontractors from contract papers that include unfair indemnity terms. In addition, other states have legislation in place to avoid undue indemnification. Subcontractors should include defense and indemnification clauses in their subcontractor agreements.
Insurance, Bonds, & Liens
Subcontractor agreements may include subcontractor insurance, liens, and bonds. All subcontractors should be informed of their contract's specific insurance and bond requirements. However, it's possible that a contractor will specify whether or not a subcontractor can file a lien in the subcontractor agreement. The ability of a subcontractor to establish a mechanic's lien is prevented or severely limited in the event of non-payment or late payment.
Warranty
The work guarantee stipulated in a subcontractor agreement may vary from project to project; nevertheless, this is dependent on the project. This provision of the contract is advantageous to the contractor, but it may also be advantageous to the subcontractor. A subcontractor's reputation is good if his or her work is of high quality and properly documented. This allows the subcontractor to correct any issues that develop as a result of an unfortunate accident while also maintaining their good reputation.
Arbitration
Arbitration clauses are frequently included in subcontractor agreements. Subcontractors, on the other hand, are obligated to pursue any claims through binding arbitration rather than a court of law. As a result, subcontractors will be unable to take contract disputes to court. Depending on your sector, this may or may not be an issue, but it is something to think about before hiring a subcontractor.
Conditional Payment
Conditional payment clauses are becoming increasingly popular in subcontractor agreements. Conditional payment structures include terms such as Pay if paid and Pay when paid. The problem with this is that it creates subcontractor payment delays and, in some situations, non-payment altogether. Subcontractors must be aware of the existence of this condition in their contract prior to signing it; otherwise, they risk losing their job.
FAQs
Does a subcontractor have to give notice?
You must follow the principal contractor's directions if you are subcontracting something like electrical work or fence construction. It is common to give two weeks' notice.
What are contract documents?
Contract Documents include Tender Documents, Designs, Drawings, Specification, Schedule of Quantities and Rates, Letter of Acceptance, and any agreed-upon adjustments, if any, as well as other documents that make up the tender and acceptance.
Who is responsible for a contractor?
Subcontracts can effectively outsource contractual duties to a third party as a result of this. Because the primary contractor is still responsible for the main contract's performance, any subcontractor failure must be borne by the main contractor.
A subcontractor isn't the same as an employee. Subcontractors are self-employed individuals who do not work for the contractor and choose how to complete their tasks. It's not always easy to identify the difference between an employee and a subcontractor. The contractor's obligations change if the subcontractor is considered an employee (such as payment of superannuation contributions). The legal requirements and rights of a subcontractor differ from those of an employee.