The success of a firm is the consequence of a variety of different factors interacting to create an environment conducive to growth. Among these variables are logistics, marketing, operations, technical, manufacturing, and production, as well as money, which is a key component. Alternatively, businesses utilize investments and capital. Unfortunately, not everyone has the means necessary to immediately begin the venture they envisage, let alone assure that the firm they envision succeeds in the industry in which they intend to operate. Numerous startups fail owing to a lack of capital or appropriate investments. If, on the other hand, you are adamant about starting your own business and are devoted to its success, the first step should be to develop a comprehensive and effective investment agreement.
Investments are assets or items purchased with the goal of generating a suitable level of income and appreciation over time. It refers to the increase in the asset's value that occurs anytime a business invests in items. With the purpose of generating future wealth through the use of these commodities. Investments and investing are key components of the business and corporate sectors since they provide a very tangible means of securing assets and additional budget during the early phases of your firm. Simultaneously, it is an outstanding technique for securing and earning revenue in the near future.
Investment agreements are not simple documents to prepare because they often include pitching your business to prospective investors. As a result, verify that your document is capable of addressing everything that is required. Effectively prepare the paper by first going over the equity investment agreement samples supplied below. Once you're acquainted with the document's style and functioning, feel free to use the samples as references or even as templates for building your own.
10+ Equity Investment Agreement Samples
1. Equity Investment Agreement Template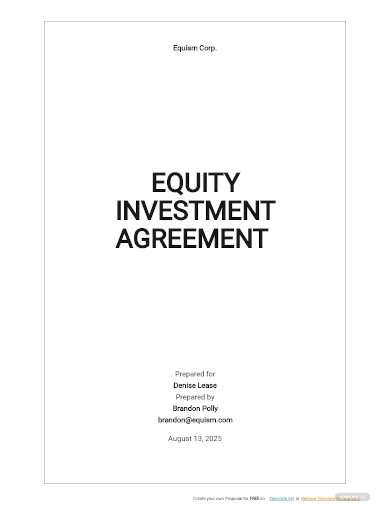 2. Sample Equity Investment Agreement
3. Private Equity Firm Investment Agreement
4. Future Equity Investment Agreement
5. Equity Investment Concerning Agreement
6. Preferred Equity Investment Protection Agreement
7. Formal Equity Investment Agreement
8. Equity Investment Participation Agreement
9. International Equity Investment Agreement
10. Equity Equivalent Investment Agreements
11. Project Equity Investment Agreement
What Is an Equity Investment Agreement?
An investment agreement is a contract that can be used to showcase a business or project with the express intention of raising capital and developing a budget for the enterprise. The proposal will be most effective if it is delivered to entities with the financial means and an interest in assisting your firm. Investment proposals are frequently produced to encourage prospective investors and business partners to collaborate with your organization in a mutually beneficial business arrangement. These organizations contribute to your firm's capital in exchange for a pre-agreed percentage of income. Generally, the proposal will include the concept of the business that you are attempting to promote in order to help investors visualize the project's overall value, present the anticipated benefits of the partnership, and provide the information necessary to address and resolve any additional reservations that the audience may have about the project. The document can be written in a variety of ways; it can be generic in nature in order to appeal to a broad range of potential investors, or it can be written expressly for a particular investment group. The document is often utilized in a number of different businesses and investment opportunities. For example, a fledgling business may prepare the proposal to assist with the launch of their new venture, while established enterprises may use it to aid in their expansion.
How To Write an Equity Investment Agreement
A well-written investment agreement informs potential investors of the numerous benefits they can expect if they opt to embrace this relationship. All of these characteristics are accessible if your content is written carefully and appropriately. To aid you in this endeavor, we've included a list below of some of the most critical components of an investment proposal that you may refer to and keep in mind. Additionally, we've sprinkled in a few recommendations throughout.
Description of the project
Investment proposals should begin with a description of the firm or project for which finance is sought. Your introduction should be able to express to investors the fundamental notion for your organization or project, and as this is the first piece they will see, you must ensure that it is well-written. After all, it establishes the tone.
Company performance and financial report
Your proposal's following section will explain your company's performance and financial statements. If your company is already founded, you can easily share snapshots of your organization's statistics and accomplishments throughout time. If, on the other hand, you're just getting started, you can instead describe how you came up with the initial idea for the enterprise and your overall objectives.
Planned marketing and sales method
Another crucial component of your investment proposal is the overall market analysis. Proper market study will provide you an edge in your local market by telling you of your current competitor's identity or nature. Following a thorough market analysis, you should be able to establish the numerous methods and techniques essential to maintain a competitive edge.
Business technical operations management
Before investing, investors frequently want to learn everything about the company you are proposing. That is why you must present the numerous operational components of your organization. For example, the staff you intend to hire, the location of the firm, operational expenditures, equipment, suppliers and sources of raw materials, manpower, and other expenses.
Project financing
Without a section devoted to the financial aspects of the proposed project, investment proposals are incomplete. A well-crafted financial plan can be immensely appealing to investors and prospective business partners looking to engage in a business that will deliver a positive return on their investment. Present numerous financial records, including the source of cash, the potential return on investment, anticipated gains and losses, the venture's overall profitability, and loans.
Project timetable
You should be able to provide a timeframe for your project to notify investors about the potential collaboration's duration. Additionally, you may use it to track the performance of your own business activities over time.
Exit plan
Not all entrepreneurial endeavors succeed. This is, regrettably, the case. Thus, a sound investment strategy should contain a sufficiently defined exit strategy outlining how diverse investors can manage their expectations and stakes in the business. Additionally, the exit strategy should include essential information regarding your business's response to a probable failure.
FAQs
What are the other types of investments?
Growth investments
Shares
Property
Defensive investments
Cash
Fixed Interest
What are the different types to evaluate an investment proposal?
Payback period method
Accounting rate of return method
Net Present Value Method
Internal Rate of Return Method
Profitability Index Method
Discounted Payback Period Method
Adjusted Present Value Method
What is an investment?
Investments are payments made to acquire securities in other businesses with the specific objective of earning a sufficiently high rate of return. Investments in bonds, common stock, and preferred stock are commonly made.
Investments are necessary for the survival of any form of business in the real world. The success of the investment you are pitching will actually determine the success or failure of the venture you are launching. Using the tips and templates included in this post. You should now be able to construct a profitable financial investment strategy on your own.