Navigating the intricate world of construction projects requires an added layer of confidentiality to protect unique designs, proprietary techniques, and trade secrets. A Construction Non-Disclosure Agreement (NDA) acts as this protective shield, ensuring that both parties involved respect the sanctity of shared information. Whether you're a builder, subcontractor, or property owner, understanding the nuances of a well-crafted NDA can be your blueprint to secure collaborations. Dive deep into the essentials of this pivotal document right here.
10+ Construction Non-Disclosure Agreement Samples
1. Construction Agreement Template Bundle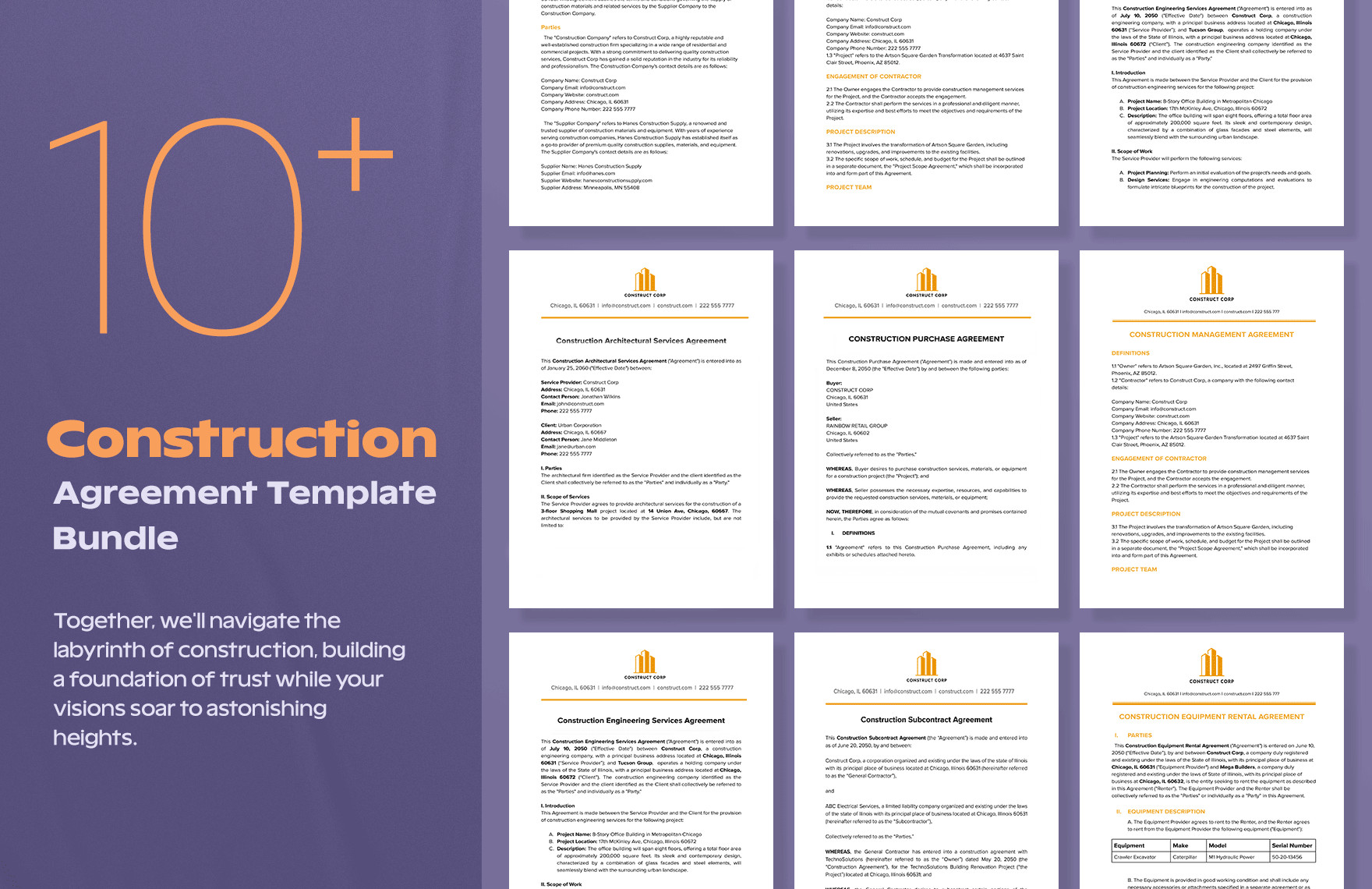 2. Construction Software Non-Disclosure Agreement Template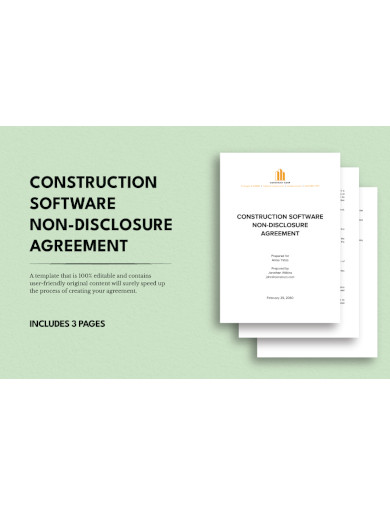 3. Construction Manager Non-Disclosure Agreement Template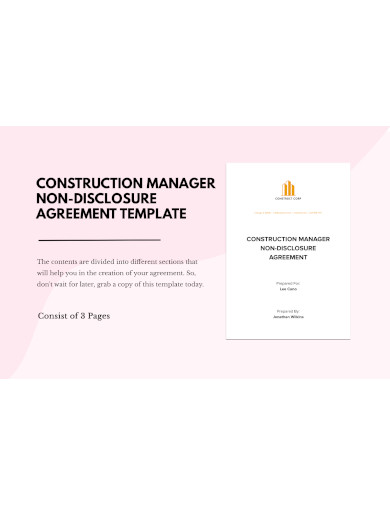 4. Construction Non-Disclosure Agreement Template
What is an NDA in Construction?
In the vast world of construction, where projects often involve several stakeholders, contractors, designers, and even investors, safeguarding sensitive information becomes paramount. This is where a Non-Disclosure Agreement (NDA), also known as a confidentiality agreement, comes into play.
An NDA in construction is a legally binding contract that ensures all parties involved in a particular project keep certain information confidential. This can include building plans, architectural designs, cost estimates, vendor lists, or any other proprietary information that a party might want to shield from competitors or the general public.
While the basic tenets of an NDA in construction are similar to those in other sectors, the specifics might vary given the nature of the industry. For instance, a construction NDA might have clauses pertaining to:
Blueprints and Designs: Ensuring that the unique architectural plans or internal systems designs aren't shared or replicated without permission.
Material Suppliers and Costs: To keep a competitive edge, a company might not want its competitors to know from whom they source their materials or at what cost.
Project Timelines and Stages: Information about when certain stages of the project are due and how they're progressing can be sensitive.
Subcontractor Details: Details about which subcontractors are employed for which jobs and their respective contracts might also be confidential.
NDAs in construction can be unilateral or bilateral. In a unilateral NDA, only one party (typically the disclosing party) requires the other party to maintain confidentiality. In a bilateral NDA, both parties exchange confidential information and pledge to keep each other's information secret.
What is the Purpose of a Non-Disclosure Agreement?
The primary objective of a Non-Disclosure Agreement (NDA) is to establish a confidential relationship between parties to protect any type of trade secrets, proprietary data, or other sensitive information. Let's delve into the various reasons and purposes behind this critical document:
Protecting Intellectual Property: This might be the most apparent reason. Companies and individuals often have proprietary methods, designs, or ideas that give them a competitive advantage. An NDA ensures these remain confidential.
Maintaining Business Strategy: Companies might share future sample plans, strategies, or even client lists that they wouldn't want competitors to know. An NDA helps maintain this competitive edge.
Facilitating Open Dialogue: Knowing there's an NDA in place encourages parties to communicate more openly, as they have assurance their discussions won't be shared with outsiders.
Legal Recourse: Should a breach happen, an NDA provides a clear path to legal recourse. It can outline potential damages or actions that will occur if either party breaks the terms.
Building Trust: NDAs signify that a company or individual values the information they're sharing and, in return, trusts the other party to keep it confidential.
Setting Boundaries: NDAs clearly define what is considered "confidential." This clarity ensures all involved parties understand their responsibilities and what information cannot be shared or disclosed.
Protecting Client Data: In cases where sensitive client information is involved, an NDA is a testament to your commitment to safeguarding that client's interests.
In essence, the purpose of an NDA goes beyond merely safeguarding secrets. It sets the stage for open collaboration, underpins trust, and provides a safety net for both parties. Whether it's within the realm of construction, technology, or any other sector, NDAs serve as the backbone for many professional interactions and partnerships.
5. Construction and Development Company Non-Disclosure Agreement Template
6. Sample Construction Non-Disclosure Agreement Template
7. Construction Non-Disclosure Agreement Example
8. Basic Construction Non-Disclosure Agreement Template
9. Simple Construction Non-Disclosure Agreement Template
10. Construction Non-Disclosure Agreement in PDF
11. Printable Construction Non-Disclosure Agreement Template
How to Write a Non-Disclosure Agreement in Construction?
In the intricate world of construction, safeguarding confidential details is paramount. Non-Disclosure Agreements (NDAs) act as protective shields, ensuring that disclosed sensitive data doesn't fall into the wrong hands or get used inappropriately.
Key Steps to Drafting an Effective NDA for Construction Projects
Party Introduction: Every NDA should start with a clear introduction of the entities involved. It's imperative to distinguish between the "Disclosing Party" (the entity sharing the information) and the "Receiving Party" (the entity receiving and using the information). This section should also state the effective date, marking when the protection begins.
Detailing Confidential Information: This is the heart of the NDA. It's essential to be exhaustive and specify what information is deemed confidential. In construction, this could include architectural designs, pricing data, project timelines, proprietary techniques, vendor details, and more. Being vague can lead to potential loopholes and misunderstandings.
Receiver's Responsibilities: After disclosing information, the receiving party has a set of obligations. These responsibilities can range from the method of data storage, prohibition of unauthorized sharing, to the commitment of not leveraging the information for personal benefits or outside the agreed-upon purpose.
Agreement Tenure: NDAs aren't forever. Specify the duration for which the data must remain confidential. It's common in construction for some information to remain classified even after the project's completion to protect proprietary methods or sensitive financial details.
Outlining Exceptions: No agreement sample is absolute. There will be situations where the receiving party might need to disclose information, such as in legal proceedings or if the information becomes public knowledge through no fault of their own. Highlighting these exceptions prevents unnecessary disputes.
Consequences for Breaches: Clear consequences act as a deterrent for violations. Whether it's a financial penalty, legal action, or other remedies, explicitly state the ramifications if the agreement is not upheld.
Jurisdiction Clause: The legal landscape varies across regions. Specify the governing laws and location for any potential legal proceedings related to the NDA.
Sealing the Agreement: Wrap up the document with a section for signatures. This ratifies the agreement, making it legally binding.
When Do You Need a Construction NDA?
The construction domain is rife with shared secrets, be it innovative techniques or financial insights. Knowing when to secure these details with an NDA can be the difference between maintaining a competitive edge and facing setbacks.
Key Instances Warranting a Construction NDA
Preliminary Discussions: Even before any official partnership, discussions can involve sharing sensitive data. NDAs ensure these preliminary talks don't leak valuable insights.
Design Unveilings: Every construction project starts with a vision. As designs and blueprints are shared, NDAs help protect these from unsanctioned use.
Vendor Negotiations: Price negotiations, supply specifics, or unique arrangements with vendors or suppliers can be pivotal. NDAs ensure competitors remain in the dark about these engagements.
Incorporating Subcontractors: Subcontractors are often privy to overarching project details. NDAs make sure these specifics don't get disclosed further.
Regulatory Engagements: Securing permits or approvals can sometimes require sharing project details. NDAs with regulatory bodies ensure broader dissemination is prevented.
Post-Completion Analysis: After a project concludes, there might be evaluations involving data that should remain confidential, necessitating an NDA.
Parts of a Construction Non-Disclosure Agreement
To draft an airtight NDA, one must be familiar with its integral components. Each part plays a pivotal role in ensuring the sanctity of shared information.
Anatomy of a Robust Construction NDA
Parties Involved: Clearly indicate the entities entering the agreement, solidifying their roles.
Definition of Confidentiality: This section offers clarity on what is deemed confidential. It should be detailed to prevent ambiguities.
Receiver's Duties: Enumerate the exact responsibilities of the receiving party concerning the data shared.
Duration of Agreement: Outline the lifespan of the NDA, clarifying both the start and end dates of confidentiality.
Exceptions to Confidentiality: Carve out scenarios where the rules of the NDA might not apply, offering flexibility where needed.
Data Management Post-Termination: Once the NDA concludes, there should be protocols on how to handle the data, whether it's returning, destroying, or continuing to safeguard it.
Repercussions of Violations: This acts as a deterrent and provides clarity on the consequences if the agreement's clauses aren't met.
Legal Governance: Point out the jurisdiction that will oversee any potential disputes, ensuring everyone knows the legal playing field.
Signature Section: The area where parties involved officially agree to the terms by endorsing the document.
Conclusion
Navigating the construction realm requires safeguarding sensitive details, making Construction Non-Disclosure Agreements (NDAs) indispensable. These legal instruments shield proprietary techniques, financial data analysis, and innovative designs from unsolicited use. As the industry continues to evolve, ensuring the confidentiality of shared information through well-crafted NDAs will remain paramount, fostering trust and integrity in all construction-related collaborations.