Whenever you need to bill your client for a sale of a product or for an acquired service, then you have to prepare an invoice. An invoice is a document commonly used in any sort of business transaction and is part of a billing process which is normally included especially if both parties hold a contract or agreement with each other. This serves as proof of sale between the buyer and seller.
With a commercial sales invoice or commercial invoice, details of the transaction are all written down and will serve as a reference for the payment. And this document is required for goods that are sold across the borders or sold internationally. To know more about this, let us discuss this further below. And if you need to start preparing a sales invoice, then check out our free commercial sales invoice samples that are available for download on this page.
4+ Commercial Sales Invoice Samples
1. Commercial Sales Invoice Template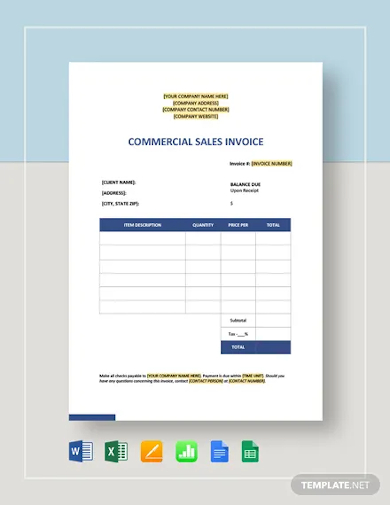 2. Sample Commercial Sales Invoice
3. Editable Commercial Sales Invoice
4. Commercial Sales Supply Invoice
5. Commercial Sales Company Invoice
What Is a Commercial Sales Invoice?
Every business has its own way of documenting and paperwork. Whether the transaction is done internally or with its customers, it is important to keep tabs on every negotiation, sale, dealings, and purchase. One of which is a commercial sales invoice or a commercial invoice, a document that serves as billing or request for payment for goods sold internationally. The invoice does not indicate the ownership of goods nor does it carry a title to the goods being sold but this is one important document required by customs to determine what taxes, tariffs, or duties apply to the package and prevent any further delays. It details the price, value, and quantity of the goods being sold. It should also include the trade or sale conditions agreed upon by both buyer and seller of the transaction being carried out.
How To Create a Commercial Sales Invoice?
Before a commercial sales invoice could be issued by the seller, it is necessary to issue first a proforma invoice which will provide the buyer an idea of how much the goods purchased will cost and the estimated date of delivery. When creating this invoice, it is important to make sure you've got all the details right and accurate since customs will be reviewing this document. Now, there is no standard format in creating a commercial sales invoice, you may want to use our templates or if you need to customize your own, and it should cover the following details below.
1. Information of Both Parties
The details of the seller and buyer are written down. This should include the names, addresses, contact numbers, and a tax identification number if applicable.
2. Invoice Number and Date of Issuance
An invoice number is a unique series of numbers (often in sequence) and don't forget to include the date of issuance. Depending on your company's policy you may opt to include the payment due date, which might have been previously agreed upon with the client or stated in the proforma invoice.
3. Product and Shipping Details
The main purpose of the invoice is to provide a detailed description of the product(s) to be shipped. This information gives the customs department a list of all of the contents of the package, along with their prices. The following below should best describe the products to be shipped:
Name and description of the product
Item number
The quantity
Net and gross weight
Unit price (or price per item)
Total price
Subtotal
It is very important that everything you have written down is accurate, or you would risk being fined.
4. Information Related to the Shipment of the Merchandise
Bill of lading number – this is a detailed list of a shipment of goods in the form of a receipt given by the carrier to the person consigning the goods.
Forwarding agent – the freight forwarder company
HS code –  code that determines taxes for each product
Incoterm or terms of sale under which the merchandise has been sold
Origin of merchandise
Insurance (if applicable)
Date of exportation, means of transport, and final destination
The shipper's signature
FAQs
Why are Invoices Important?
Invoices are needed for accounting and bookkeeping. Aside from that, this helps both the seller and the buyer to keep track of their payments and amounts owed.
What is the difference between a Statement and an Invoice?
A statement is a document that is sent to a client which summarizes the billings and payments from the customer during a specific time period, resulting in an ending balance. While an invoice identifies a transaction for which the customer owes a payment to the seller.
Why do you need an Invoice?
An invoice is a document you use to bill your client, it is important to issue this if you want to get paid. Invoices serve as legally enforceable agreements between a business and its clients, as they provide documentation of services rendered and payment owed.
A commercial sales invoice is an important document that is needed for shipping merchandise across borders. It should be written in a concise and complete manner to lessen delays and additional fees. To make it easier for you to prepare, don't forget to download our free templates above.