A spring party can be celebrated in some college, educational institute, office, nonprofit organization and in any other kind of group or congruence. Whatever is the place, you would always love to get in as many people as possible for the party, who will actually be part of the group, or connected to the cause or would cheer through the party thus boosting the party mood.
To bring the Spring Flyer Template party to the attention of all such people, the best mode of communication is the party flier. Not just it elaborates the complete party details, but also sets in the party mood through the rampant colors and style. Here is a nice collection of some party fliers which you would love to use in your spring party.
Fall Festival Flyer Template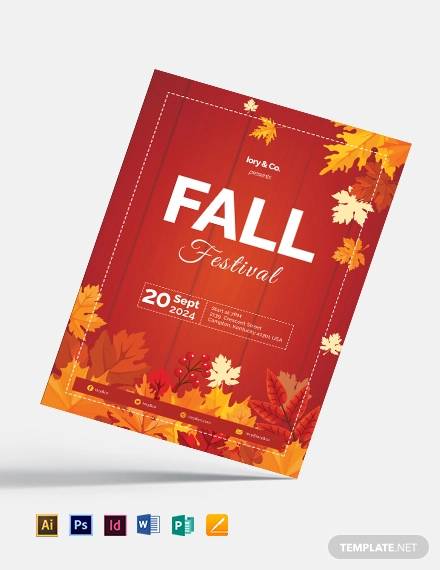 Festival Flyer Template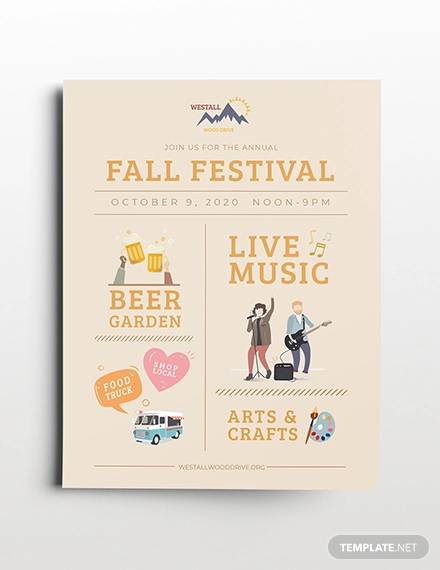 Live Music Festival Flyer Template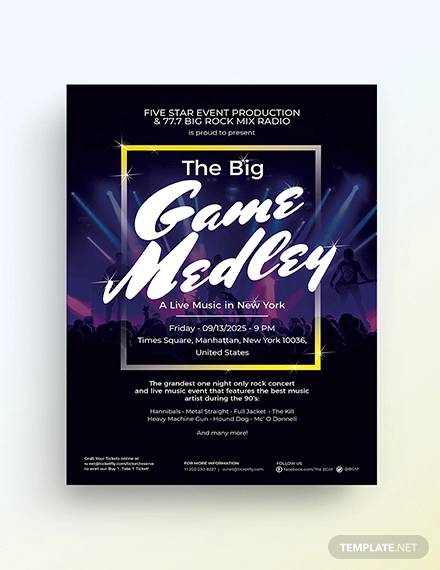 Spring Festival Flyer Template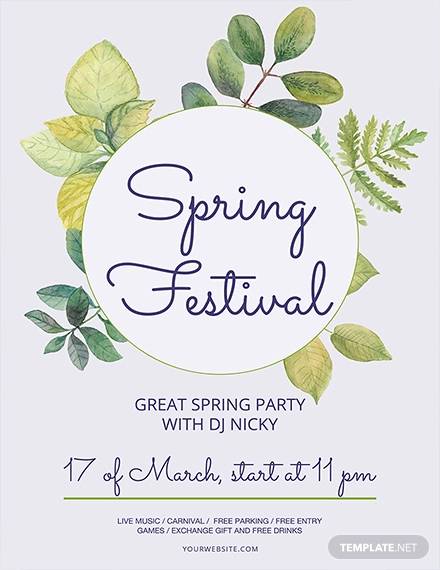 Music Festival Flyer Template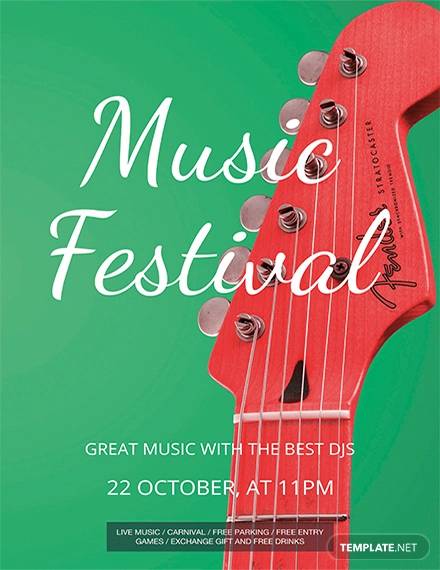 Spring Party Flyer Template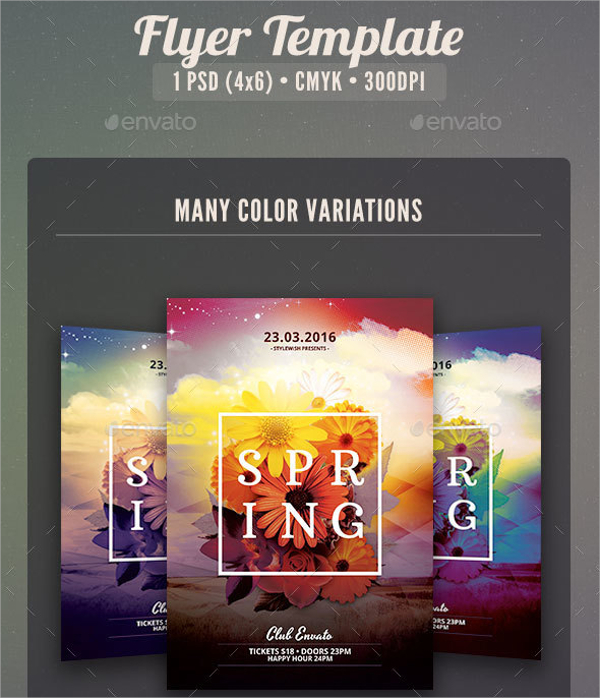 The bright and beautiful template has a nice and simple design with possibly all colors which spring really brings. The template is easily editable, and clean layered with PSD, and comes in a ready to print version.
Spring Festival Party Flyer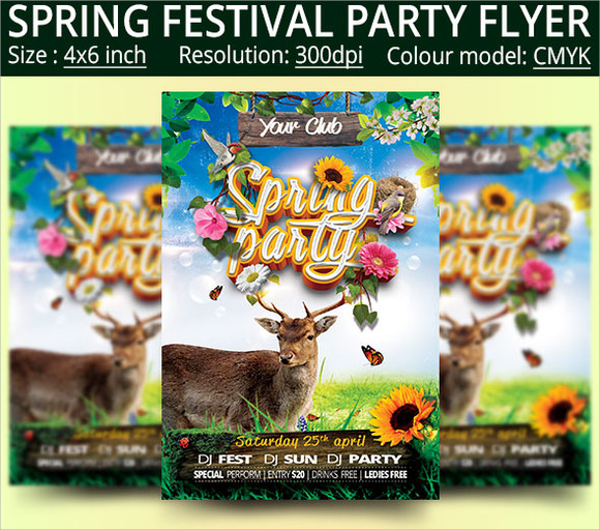 The 4×6 inch and 300 dpi vibrant and colorful flier is designed in CMYK color, and this easily editable design sets a happy and colorful mood for the spring party.
Vector Spring Party Flyer Template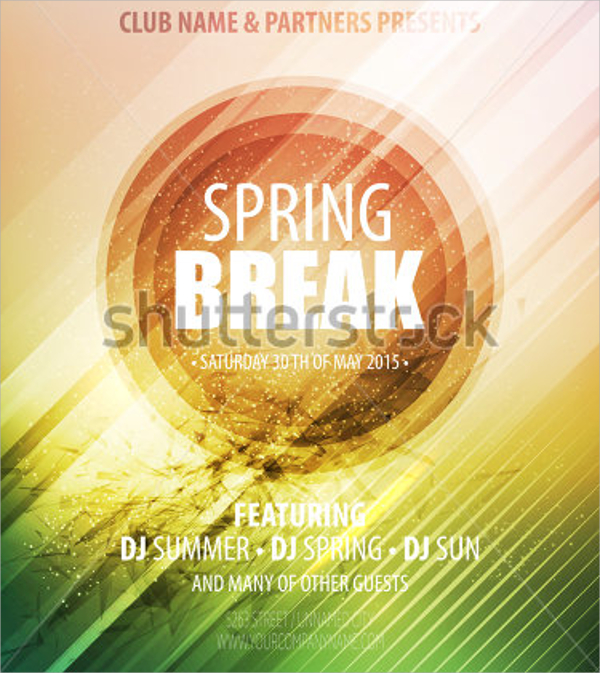 The theme symbolizes the spring light, and has more of light on it than colors. The subtly bright and lighted theme is vector based, and hence would fit into any size.
Sensual Spring Party Flyer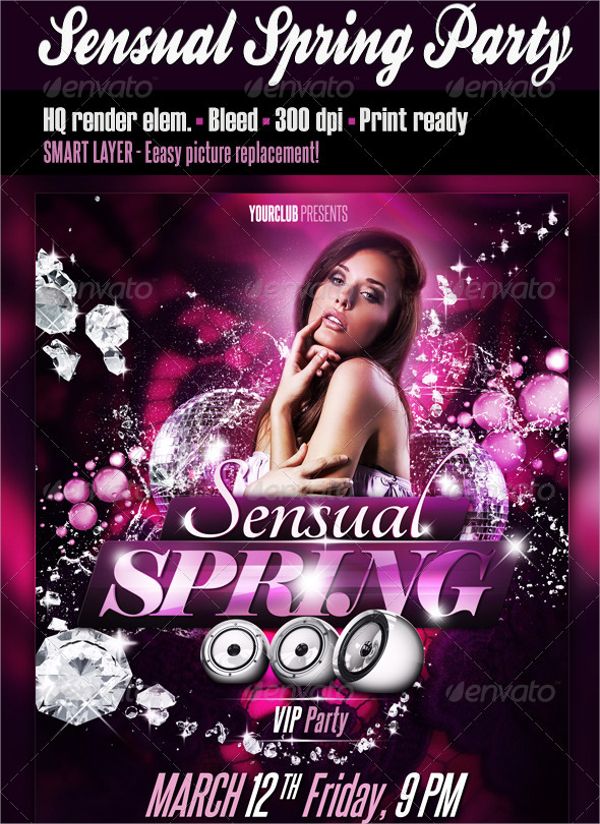 The flier is based on spring parties which are to set a sensuous mood. The purple colored theme is available in 2 versions, and the picture can be replaced with some other sensuous image.
Spring Break Party Flyer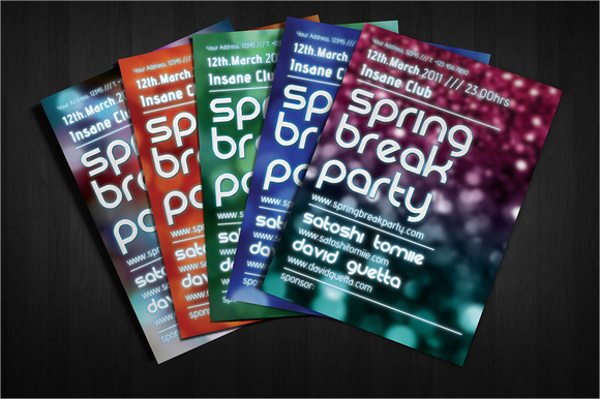 10 different color variations in one creative and simple to edit template is what you get in this PSD file template. The flier is 300 dpi and A4 sized with bleeds.
Spring Dance Party Flyer Template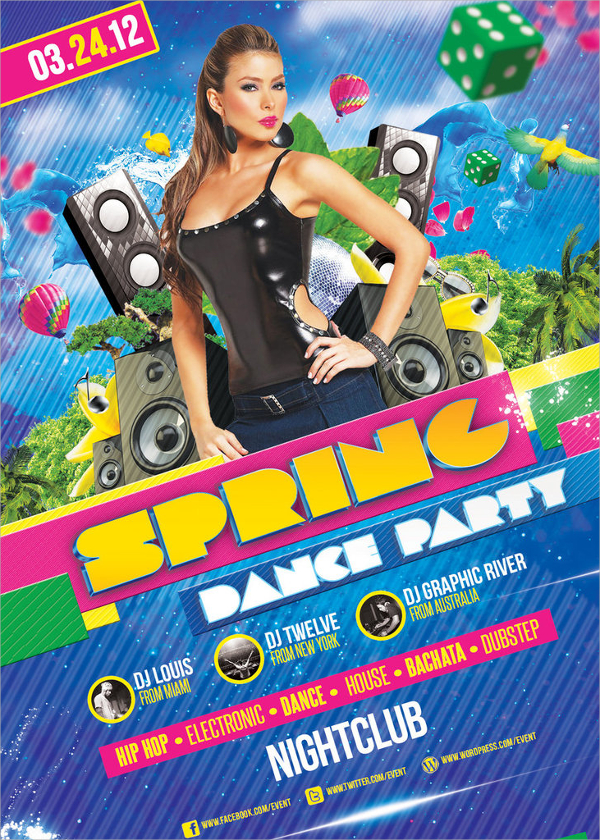 The dance party flier is a smart and sizzling design, which has a bright blue theme. The file is designed in PSD, and you can edit every part of the flier.
Amazing Spring Party Flyer Template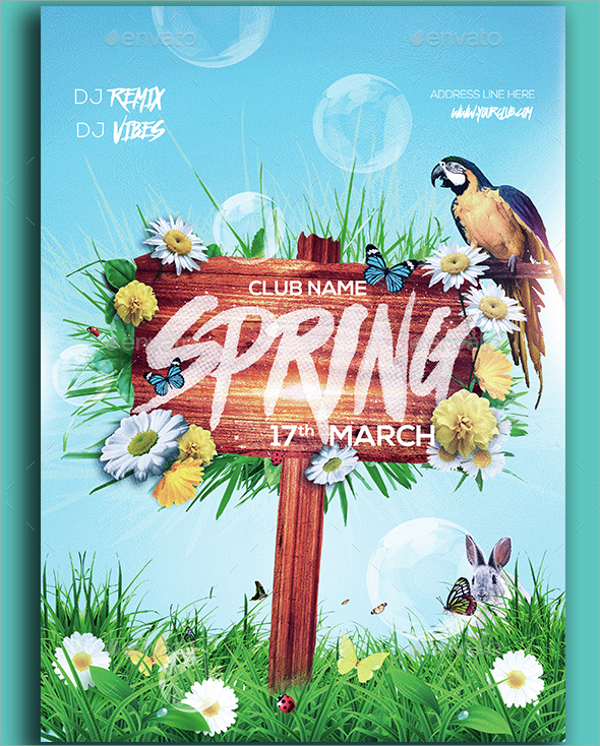 The spring party flier template is available in 2 sizes, which are 4.25×6.25 inches, and 8.5×11.93 inches. You can edit every part of the nice and fun designed flier.
PSD Spring Party Flyer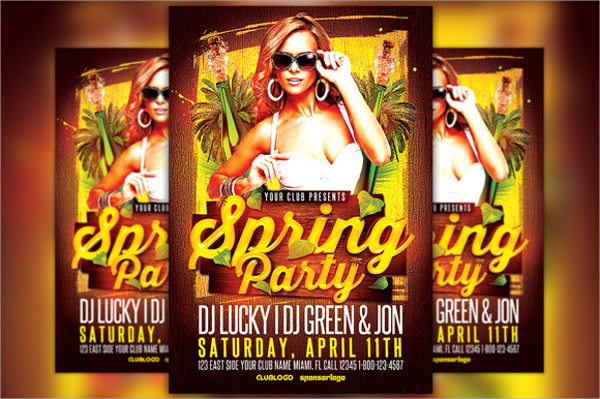 The 4.25×6.26 inch flier comes with a 300 dpi design, which is mostly yellow color based with a bright and beautiful sensuous image. The editable flier can be used in any spring party or club event.
Abstract Spring Party Flyer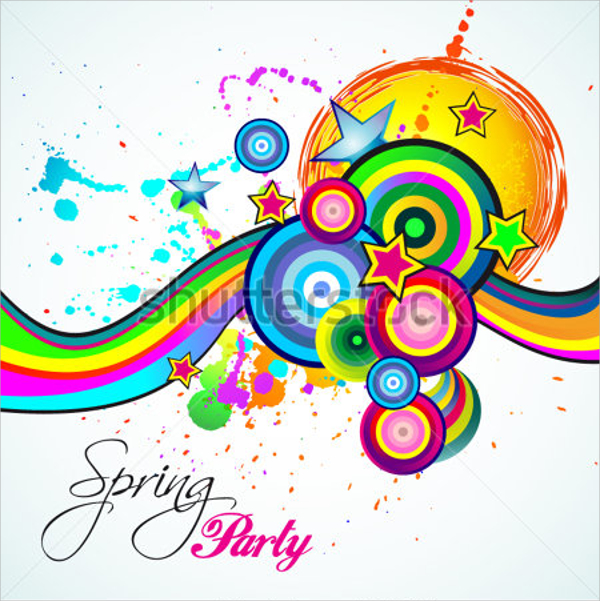 The party flier is designed for kid's birthday party, and theme is simple, colorful and bright with an abstract art design. It's a vector image which can fit any size and resolution.
Wonderful Spring Party Flyer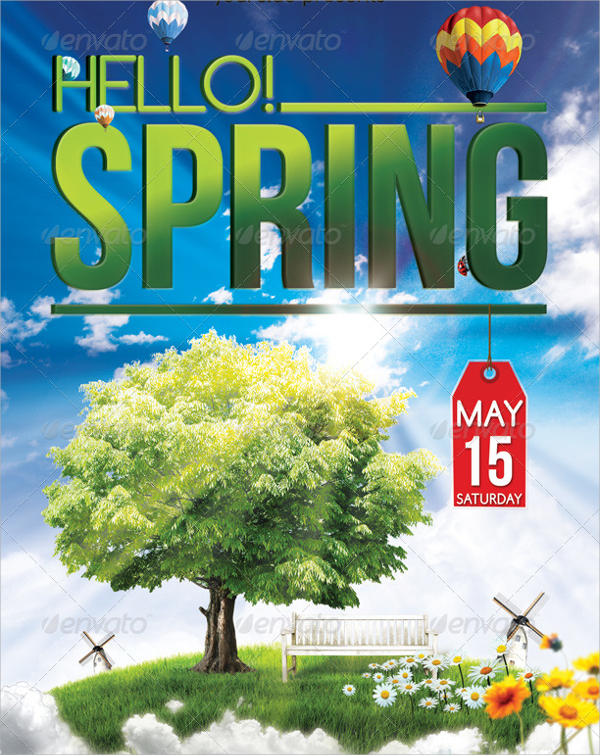 The flier symbolizes partying for spring, and partying amidst nature, and that's why is made of cool colors and a nice and soothing visual. The 300dpi design is CMYK colored and 6×4 inches.
Fabulous Spring Party Flyer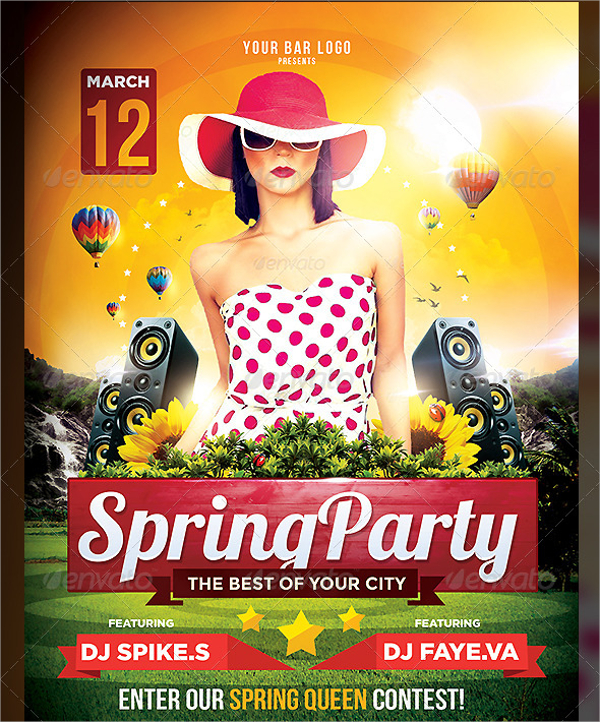 Creative Spring Party Flyer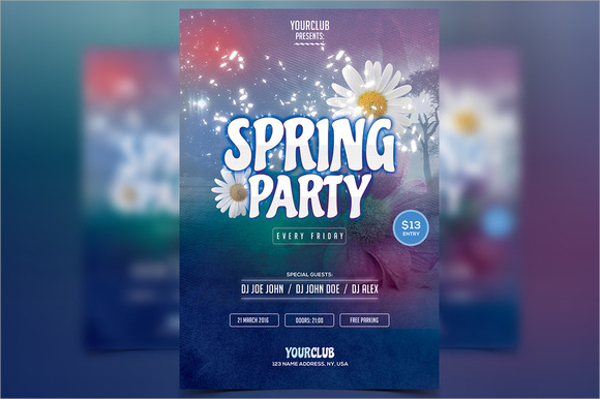 Attractive Spring Party Flyer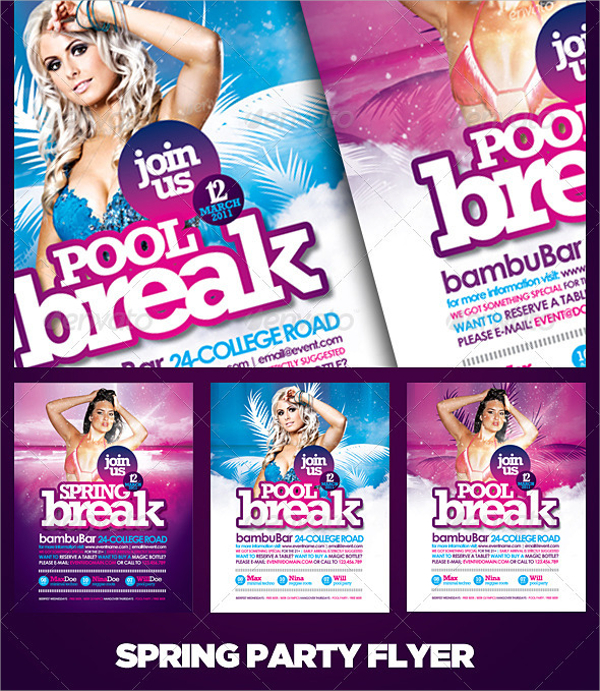 Wondrous Spring Party Flyer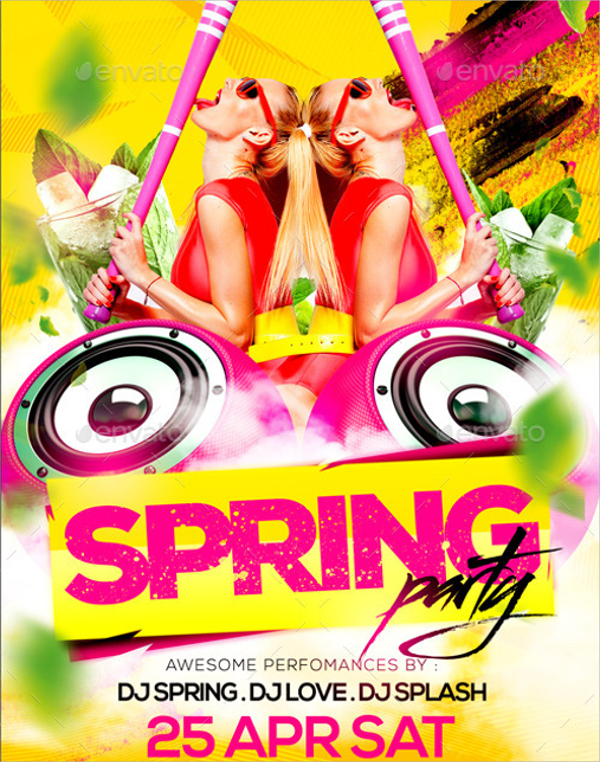 Summer Spring Party Flyer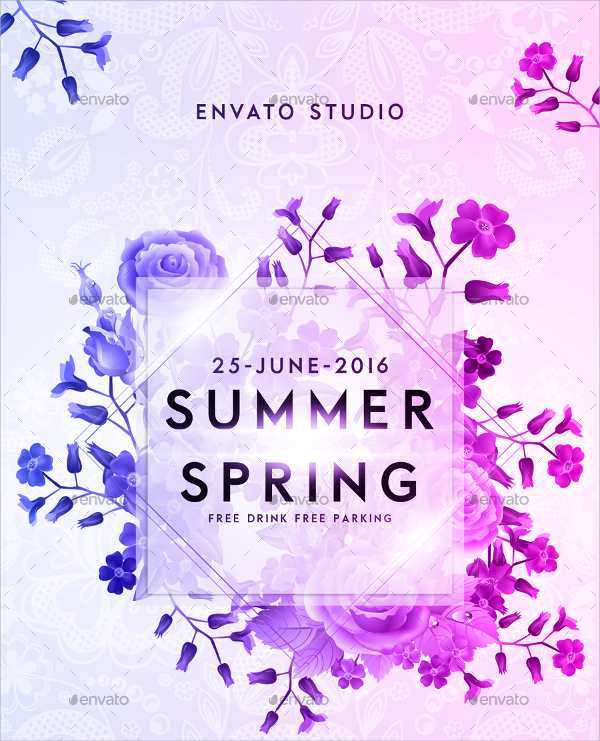 Dazzling Spring Party Flyer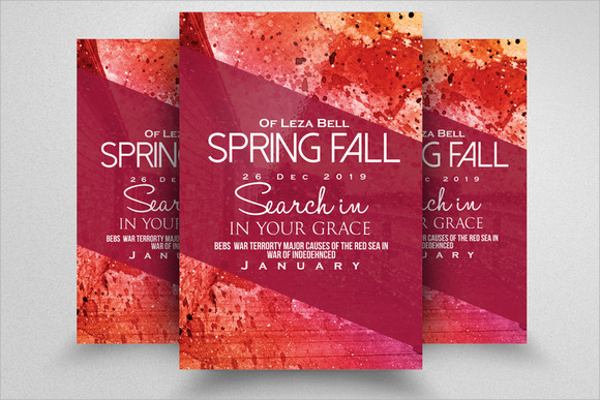 Beautiful Spring Party Flyer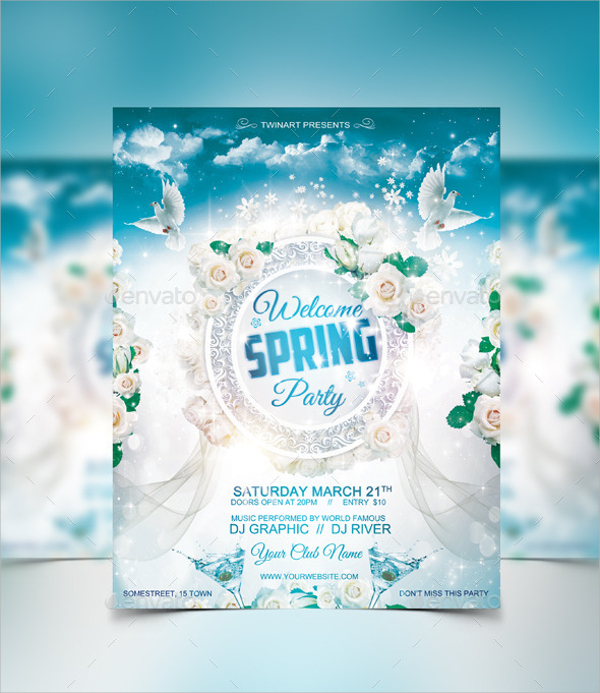 Spectacular Spring Party Flyer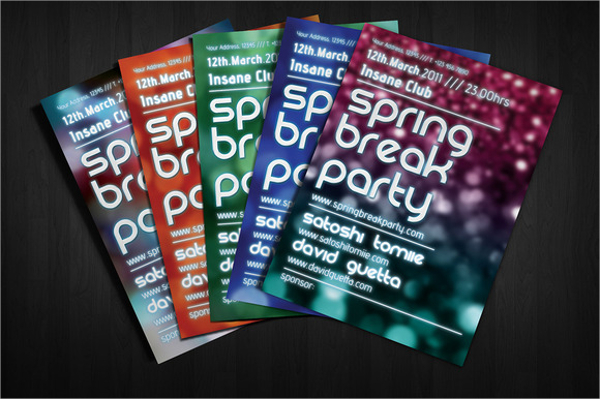 Marvelous Spring Party Flyer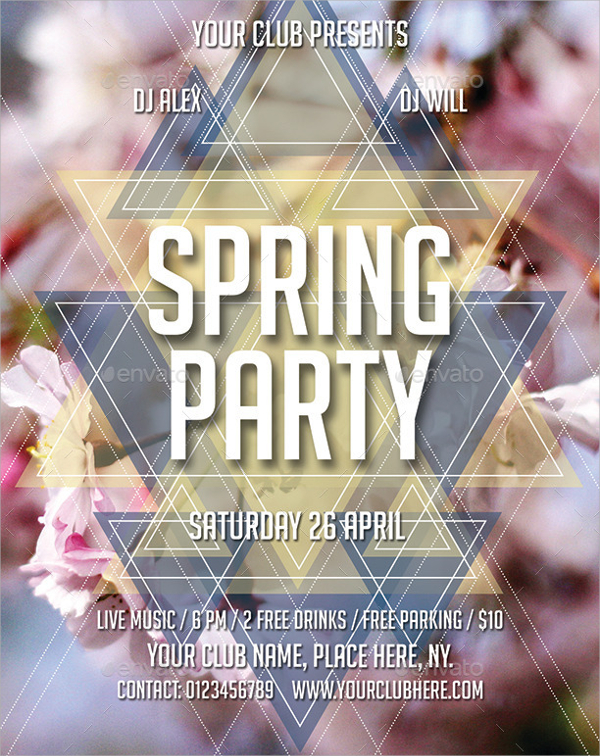 Elegant Spring Party Flyer
You would find some of the designs really a perfect fit for your event style and mood, and can use the flier by varying texts and colors. Texts and customization is totally under control when you use one of these fliers. For fixed sizes you may use the PSD fliers, and for lager posters you may use the vector images.