Car shows are highly expensive events organized to bring out the popular, latest, available, user friendly cars in the market. The show includes a wide range of cars, starting from old cars to vintage cars, sports cars to luxury cars, etc. The purpose is to reveal the available brands in the market among cars, the features of different car, an open comparative ground for buyers, price comparison, features and car specification comparison to decide the best buy. Car For Sale Flyer Templates provide a comprehensive package of a well designed textually sheet flyer layout which is ready to print at different budget range.
Car Show Flyer Template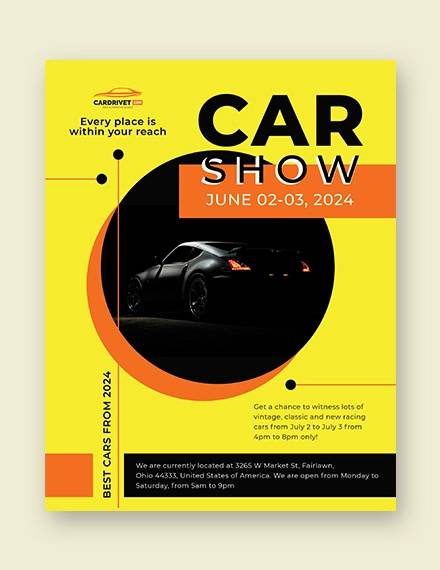 Vintage Car Show Flyer Template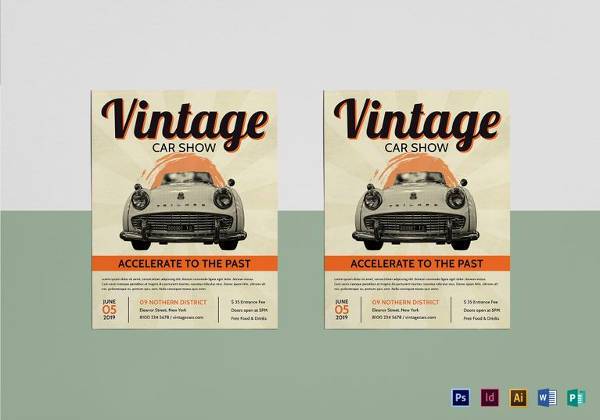 Free Car Show Flyer Template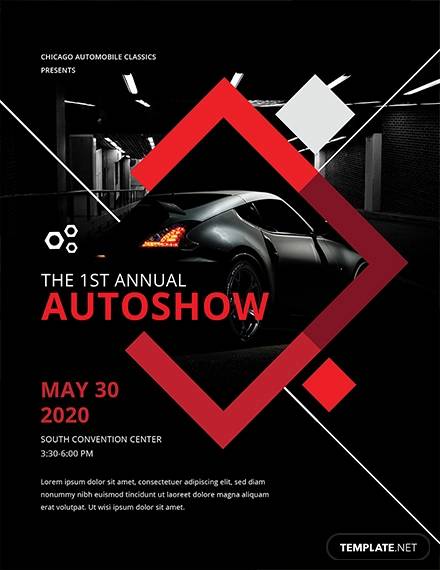 Vintage Car Show Flyer Template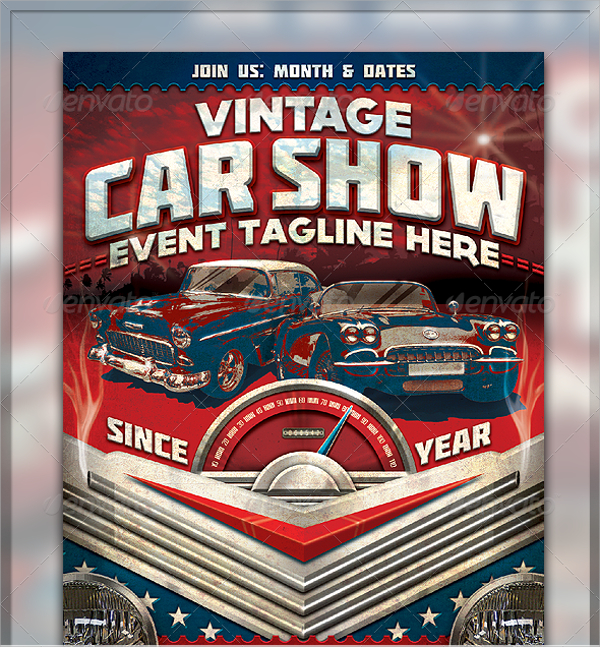 An attractive layout of rusty background, revealing the glory of classic vintage cars, these flyer templates portrays in Molot, Tall dark and handsome and Dock11 fonts in A4 size Photoshop designed prints.
International Car Show Flyer Template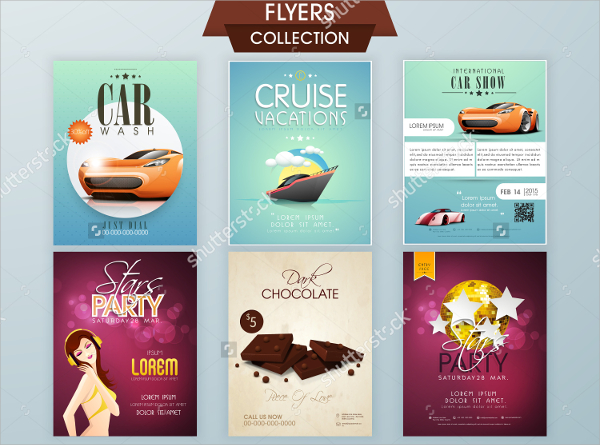 An exclusive manifestation of international destinations where the car show is being held, with 300dpi JPEG images, gaudy colors, bold fonts, these templates are apt to capture classic buyers.
Premium Car Show Flyer Template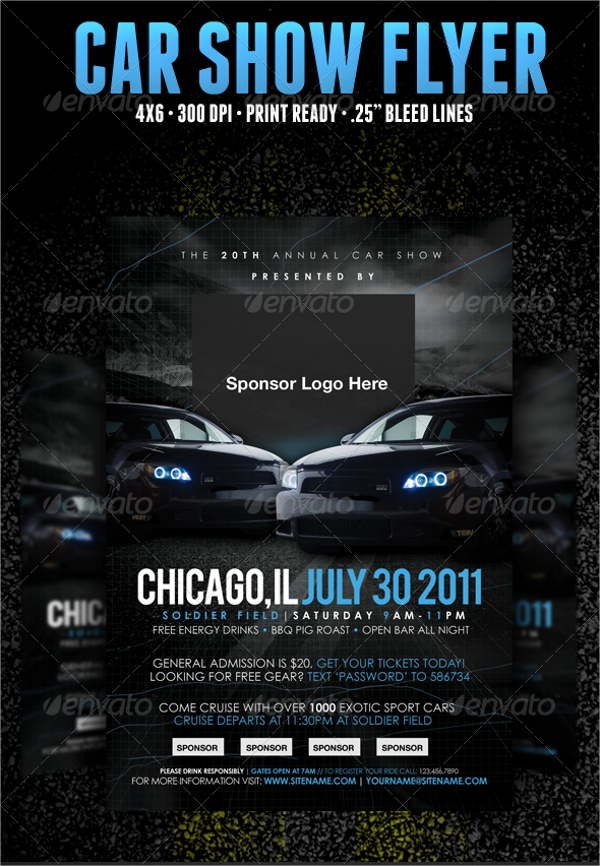 Premium car show means show dealing exclusively with high budget, luxury, sports or vintage cars. Therefore, these templates are embedded with over the edge graphic layout and schematic presentation.
Classic Car Show Flyer Template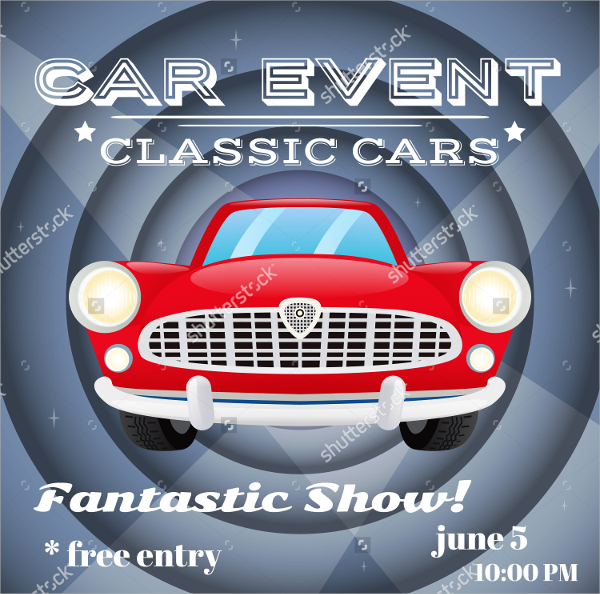 Abstract and retro style PSD designs, A4 layout, impressive 300 dpi color resolution, bold and effective font layout are specially incorporated into these templates to magnetize visitors to the car shows.
Muscle Car Show Flyer Template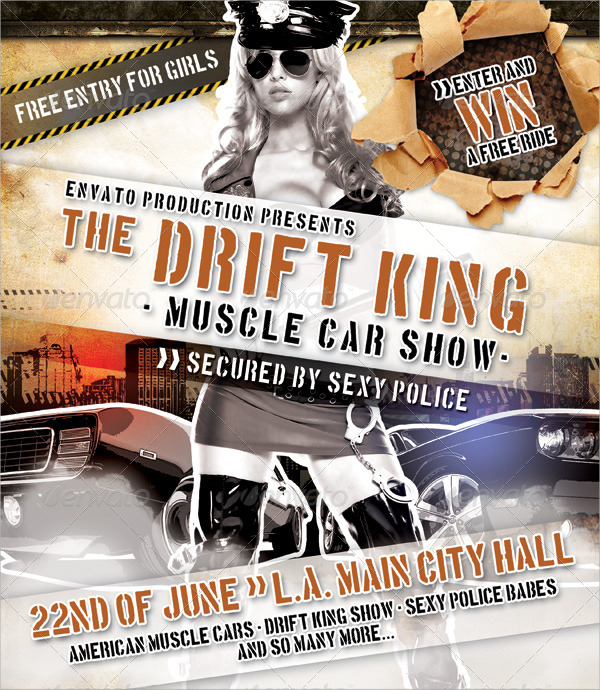 Ultra CMYK color, layout, 0.25 bleed, these templates portrays different layers organized in different folders, making customization and editing ever easy, with 100% print ready total outline design.
Car Show Event Flyer Template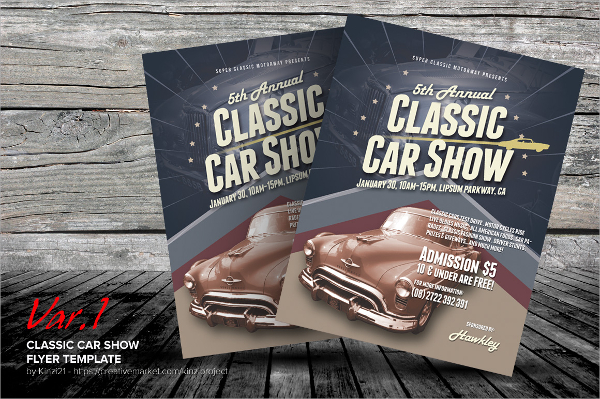 Bebas Neue, Franchise and Harlow bold, italic fonts to capture every eye, 300dpi JPEG image usage makes these templates highly preferable for making a car show event successful popular among the mass.
Car Show Flyer Design Template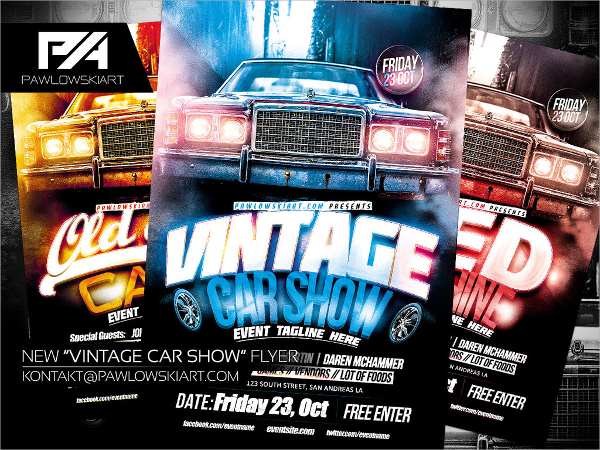 Affluent textual design, classic style images of luxury and vintage cars or sports car in 300 dpi resolution and effective Photoshop PSD designs provide the best car show templates to engage a crowd at once.
Grunge Car Show Flyer Template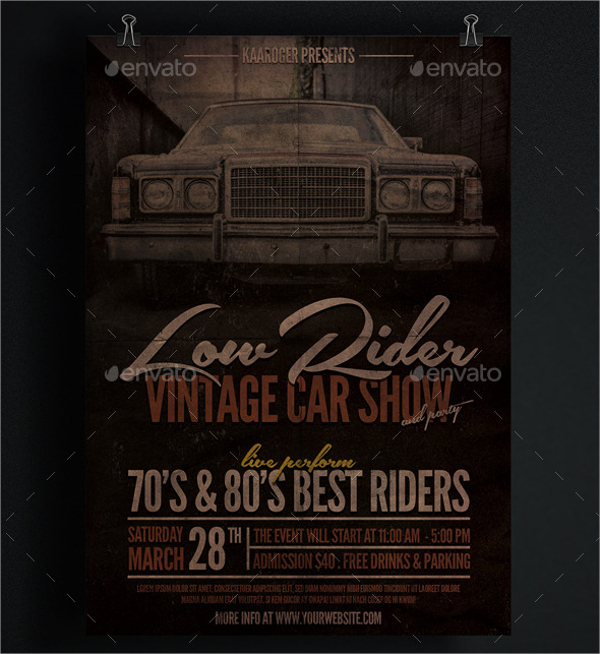 League Gothic or popular Southern Air font style provides a gorgeous classic grungy template to promote vintage or classic car shows with impressive images and color theme.
Amazing Car Show Flyer Template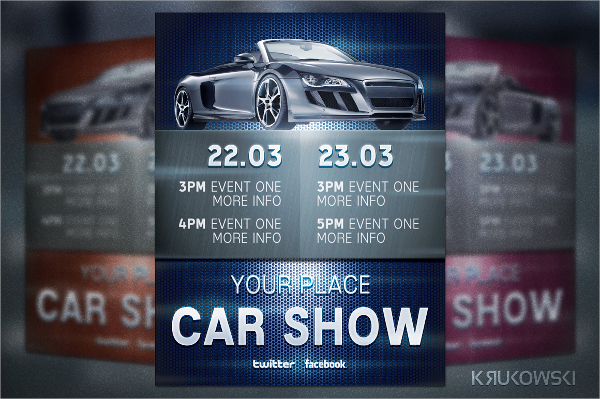 Photoshop PSD Car Show Flyer Template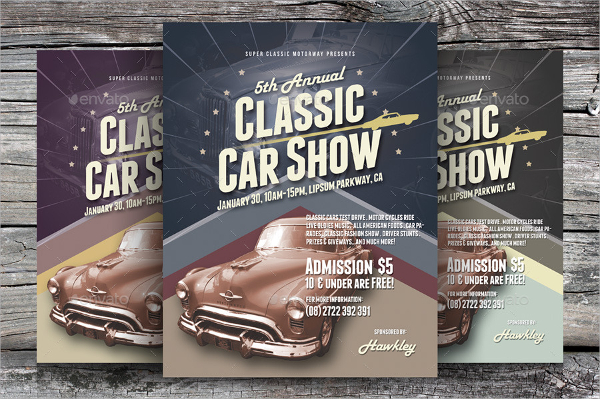 PSD Format Car Show Flyer Template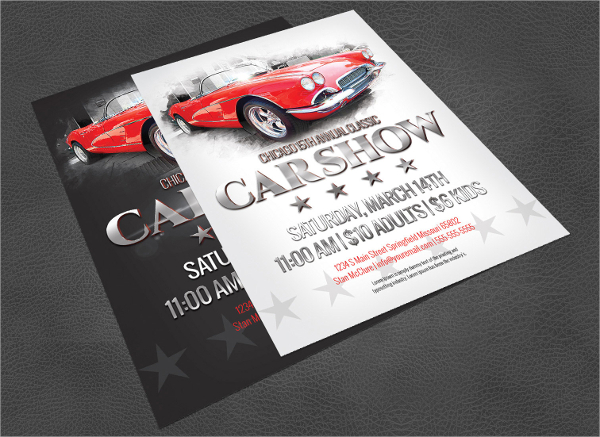 Spring Car Show Flyer Template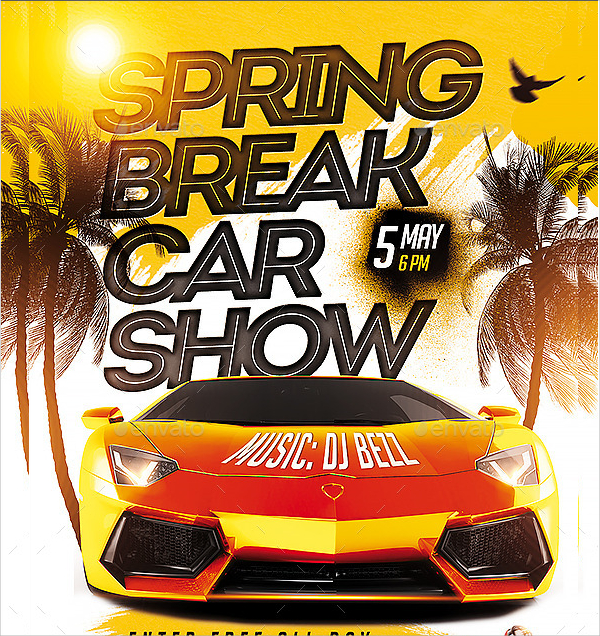 PSD File Format Car Show Flyer Template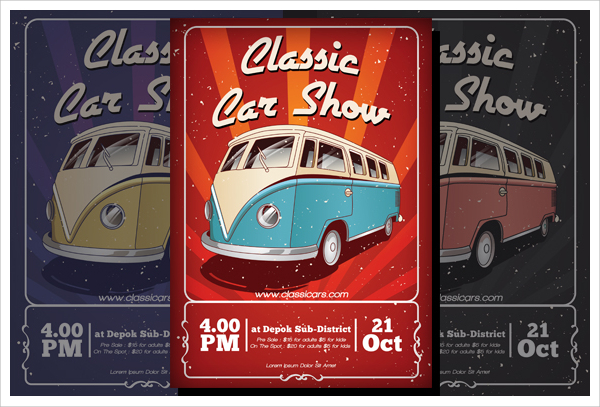 Attracting Car Show Flyer Template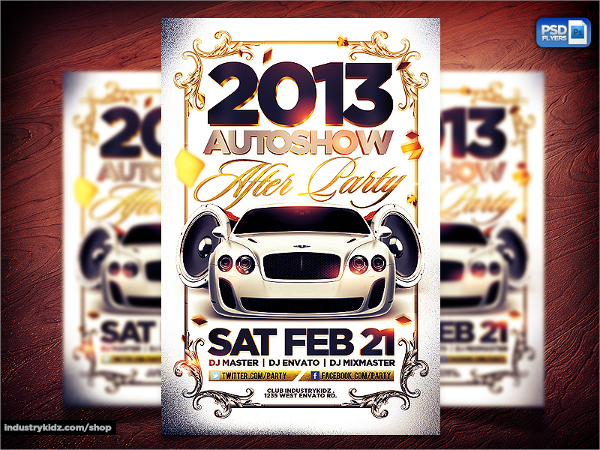 Dazzling Car Show Flyer Template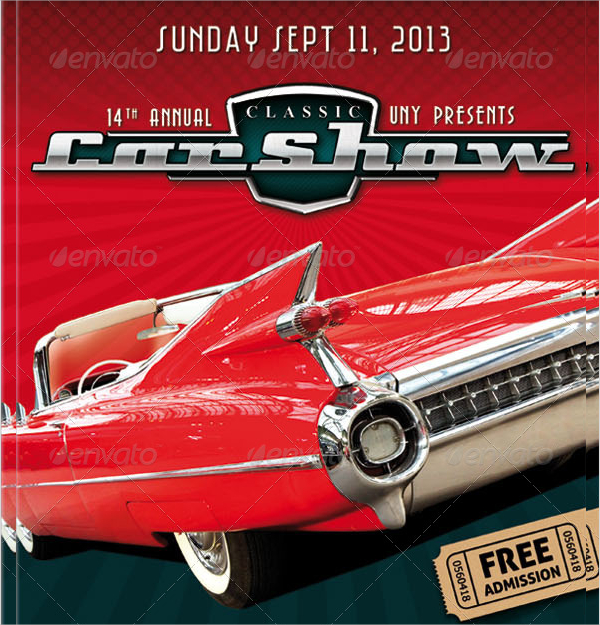 Car shows are grand events therefore to promote such classic shows the templates used should also be imposed. High quality prints, flexible customization options, PSD format, effective print layout are the basic attractions of these event templates. Thus, sketch out an attractive flyer for your car event.
If you have any DMCA issues on this post, please contact us!