A thermometer chart helps you to track or monitor your financial goal. That financial goal can be set for a whole business association or just individually. Companies that have these kinds of charts stick them on the walls of their working station for all employees to be ware and motivated. Examples of popular goals entities work for are sale goals, number of client goals and others. Examples of individual goals people work are weight loss, property deposits and others. Thermometer charts can be made in PowerPoint format or excel format. The measurements of the thermometer are usually mostly in percentage. You may also see Celsius to Fahrenheit Charts
Goal Thermometer Template
The template can assist either individuals or business entities. When using excel it should first have an overall goal, a measure date, an exact figure of the current sales, the total remaining sales, and the sales above the goal if any. After all that is listed there, the thermometer chart should have the thermometer bulb as the last thing, it can be constructed by inserting shapes from excel.
Fundraising Thermometer Template
It is created by having two columns in an excel file, one indicating the months of the year (if the fundraising goals are for the whole year), the other showing the exact funds raised in the months and the target in the bottom rows. Then, through the shapes you can come up with a thermometer bulb. This template is designed to particularly help nonprofit making business entities to at least start increasing their funds. Most entities have a fundraising thermometer template stuck to their walls to unite and motivate employees towards attaining a main goal.
United Way Thermometer Template
It is a thermometer chart constructed from the coming together of many, like a society, hoping to attain something specific that will change their living standards significantly. Near the thermometer bulb, there is always a dialogue box for entering a comments or the collective goal if it is for many.
Feelings Thermometer Template
This template lists the feelings one could have in a hierarchy. The feeling in the lowest scale of the thermometer tube is happy; being happy makes one feel satisfied, generally okay and calm. The second last feeling is being upset, which causes one to have anxiety and nervousness. The other feeling is just sadness which causes frustrations and confusion. The second worst feeling is that of being mad and the most awful is being uncontrollably mad. Which one are you at?
Thermometer Poster Template
Sample Goal Thermometer Template
Printable Paper Thermometer Template
Blank Thermometer Template
Free Thermometer Template Format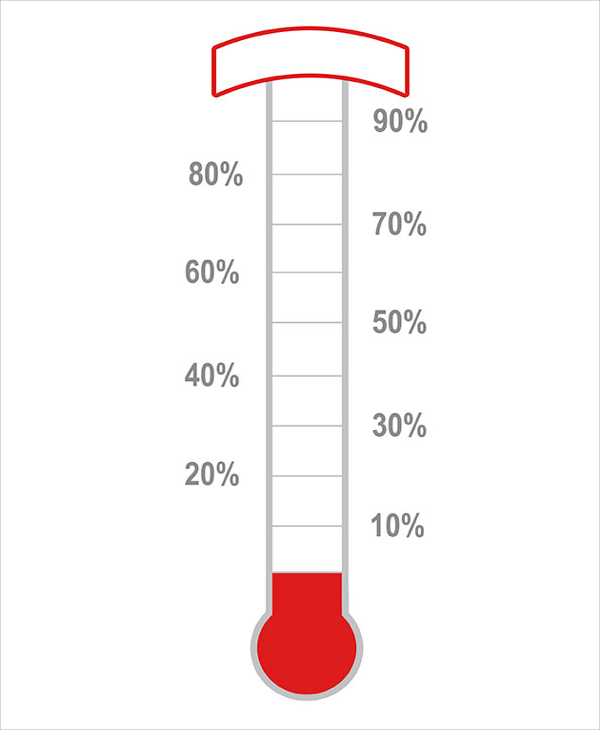 Thermometer Worksheet Template for Kids
When do You Need a Thermometer Template?
Have a fundraising? Saving for school fee? Need to finish a debt in time? These are the best times to get a thermometer template. Why? Because you have a ready goal to attain in a stipulated time frame. Thermometer template are best applicable when a need a rises, it will keep you on track by constantly being a reminder to what is expected of you. Not to limit, it is also applicable when you want to note your general financial growth, and doesn't really need to be under pressure. It's good to know how you are progressing overtime.
What is the Expected Achievement of a Thermometer Template? How Will it be Effective for me?
A thermometer templates is alike an adrenaline thump. Having it will show you exactly how you are progressing with your goal both positive steps and negative. Since we all want to achieve all goals we may have, this templates will push you to it. Place it on the work place with a reach goal and employees will work harder to achieve it hence business growth. Or in your room and you will find you are more inclined to attain the amount you intended. Whether it's an organization or an individual attaining a goal is one of the best rewards you can award yourself.
What is the Importance of Having a Thermometer Template?
A thermometer templates is a morale and confidence booster for either an enterprise or an individual. People prefer working towards something it keeps them focused. This template will help in monitoring general performance and keeps you on track. A thermometer template will not only help you in achieving your desired financial goals but will present you or your business as a focused enterprise, which knows what they want , and where they want to get to and in what time duration. This is actually a plus for you before an interested investor. You may also Sample Goal Tracking Templates
Growth is essential for all and sometimes it's very hard to note what direction you are heading to without having a progress check. Apply our customizable, ready and affordable templates and experience growth! Our templates are cross browser friendly and are adaptable with earlier versions as well.