7+ Residential Roofing Estimate Samples
If you're well on your way to building your new home, there are many terms in construction that might confuse you. For instance, residential roofing. Residential roofing is an umbrella word covering roofing services that apply to structures meant for people to live in, such as homes. If you're a homeowner wishing to maintain or repair your home's roof, or if you want a new roof installed, you should choose a residential roofing contractor rather than a commercial one. Like with any construction project, it could cost you money. As such, whether your the contractor or the homeowner, you would need to set an estimate with your residential roofing. If you need some help with this, you've come to the right place! In this article, we provide you with free and ready-made samples of Residential Roofing Estimates in PDF and DOC formats that you could use for your benefit. Keep on reading to find out more!
1. Residential Roofing Estimate Template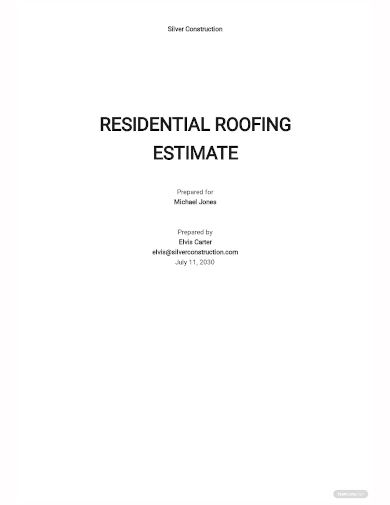 2. Residential Roofing Estimate
3. Residential Construction Roofing Estimate
4. Residential Roofing Cost Estimate
5. Annual Residential Roofing Estimate
6. Residential Roofing Pricing Estimate
7. Residential Roofing Area Estimate
8. Residential Roofing Contract Estimate
What Is a Residential Roofing Estimate?
Because each residential building is unique, it's critical to understand the various residential roofing systems, their characteristics, and which would be the best fit for your home. Free estimates are available from many roofing contractors. A roofing estimate outlines the materials that a contractor plans to utilize for your job in general. Additionally, it lays out basic project completion and cleanup schedules, describes the contractor's obligations, and specifies what the contractor's installation warranty covers. A last step is to get an estimate to clarify the specifics and pricing of any prospective add-ons you're thinking about.
How to Make a Residential Roofing Estimate
A roofing estimate is a short and easy procedure that gives you an idea of what the service can involve. A Residential Roofing Estimate Template can  help provide you with the framework you need to ensure that you have a well-researched quote for your project on hand. To do so, you can choose one of our excellent templates listed above. If you want to write it yourself, follow these steps below to guide you:
1. Begin by considering labor expenses.
Labor is included in every line item in your estimate. The cost of the material and the labor required to install a shingle, for example, will be included in your proposal's pricing. The labor prices of each contractor will change, but the materials will be the same in any given location.
2. To reassure your clients, include a property protection clause.
Protecting your property is one of your contractor's key responsibilities. Your contractor should include a line item breakdown of what they'll use and how much it'll cost to safeguard your property in your roof estimate. Take for instance, if you have a swimming pool, the estimate should contain anything on there regarding covering the pool with a new tarp that's fresh out of the wrapper.
3. Specify how (what method) your roof will be installed.
It's important to mention the technique of installation, the amount of nails, and the number of nails used per shingle in an estimate. If your contractor does not provide the hand nailing method, the installation method line item may not be included in your quote.
4. Determine your roof project's warranty options.
It's critical to understand your warranty choices before investing in a roof replacement. What sort of warranties you'll get with your roof replacement should be included in your quote. It should state what kind of material warranty you have.
FAQ
How long does it take to get a roof estimate?
The real estimate will take anything from 30 minutes to an hour on average. You are not have to be there, but it is recommended in the event that the roofing contractor wants to inspect the house for a leak.
Do I need to get a roof estimate?
Request an on-site quote from various roofers. Call them during the off-season, which is generally winter, if at all feasible.
The cost of a roofing contractor's work should be shown.
Whether or not you should show a roofing contractor your estimate is simple: yes. You can get a check from the insurance adjuster, cash it, and use it to pay for repairs.
All in all, remember that it's critical that the estimate be as clear as possible so you realize why your residential roof would cost so much. To help you get started, download our easily customizable and comprehensive samples of Residential Roofing Estimate today!