The smarter way to pledge an asset to a third party is through the simple and formal escrow Agency Agreement Templates. The template is a tool giving permission to the escrow agent to further deliver it to another party. The sample will encompass all the terms and conditions required to be met.
Avail the example for free online.  The escrow agreement acts as a bridge between a software owner, the receiver and the escrow agent. This is a confidential deposit with the objective of the maintenance of the software. The specimens are available in word and excel format. Just download and print to get these self-made contracts. You may like Settlement Agreement Templates.
Escrow Agreement Template
Source Code Escrow Agreement Template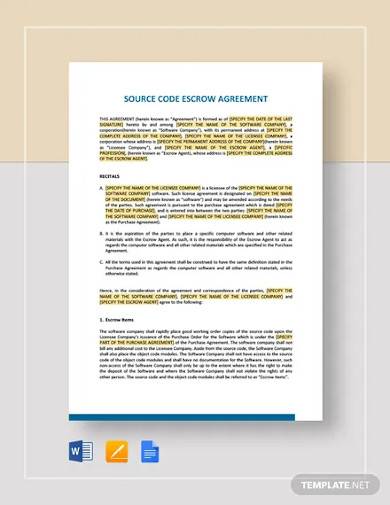 Real Estate Escrow Agreement Template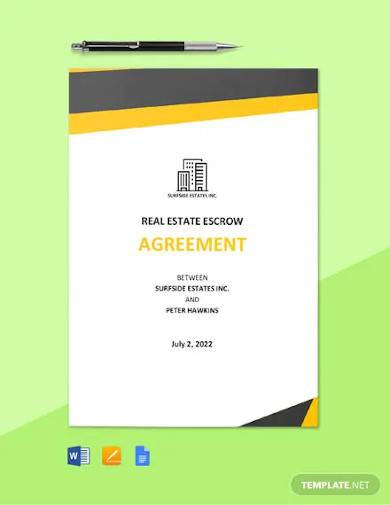 Real Estate Escrow Agreement Template
Like construction, real estate dealings involve hefty amounts of money. Such transactions should always be supported with escrow agreements. If you are entering into such an agreement for the first time, then this Real Estate Escrow Agreement Template will help you immensely. Just try!
Software Escrow Agreement Template
A Software Escrow Agreement Template comes handy when two or more parties are involved in a negotiation of software license. Entering an escrow agreement is indispensible if the parties involved wish to mitigate risks of any kind. For great results, opt for this amazing template.
Simple Escrow Agreement Template
Anyone, who is an lover of simplicity, will be heavily impressed by this Simple Escrow Agreement Template. The design is superb yet subtle and the content is more than cent percent intelligible. Go for this amazing template for a secure escrow agreement.
Construction Escrow Agreement Template
A Construction Escrow Agreement Template is involved when there is a construction dealing. Construction projects, in general, involve a lot of money and that is why the owner as well as the contractor, seeks escrow protection. You can opt for this template for out-and-out convenience.
Escrow Agreement Form
Escrow Agreement Example
Free Escrow Agreement Template
Sample Escrow Agreement Form
Escrow Agreement Format
Escrow Agreement Template
What is an Escrow Agreement?
Escrow agreement is nothing but an arrangement in which a party hands over an asset to another party through a third party known as the escrow agent. This third party delivers the asset to the second party only when the conditions of the transaction have been fulfilled. You may also like Business Agency Agreements.
Importance of an Escrow Agreement
No matter what kind of a transaction it is which you are involved with, you need protection against fraudulence. Escrow agreements offer you that much needed sense of security when it comes to a transaction. It's common in many freelance job sites. You can also see Lease Agreements.
Significance of an Escrow Agreement Template
All escrow agreements must be documented. The details are written down on an escrow agreement form. For people, who haven't ever come across an escrow agreement form can benefit from a template. Time-pressed people can also use such a template directly for an escrow agreement. You may also like Standard Confidentiality Agreements.
Where to look for Escrow Agreement Templates
Templates are abundantly available over the internet. There are so many varieties available that you sure will get blinded. Never allow an unreliable template source to take advantage of you. Be sure the website you have chosen for your templates is popular, authentic and trustworthy.
If you have any DMCA issues on this post, please contact us!