Anyone who has ever organized a workshop knows how difficult it is. And are you making a good one? That, on the other hand, necessitates organization, focus, and a great deal of creativity. So, how do you plan a workshop that is both relevant and productive, as well as memorable? Some people despise attending workshops. They can be a huge waste of time and money if done incorrectly. However, if properly planned, they can be extremely beneficial to all parties involved. Workshops are excellent for brainstorming, interactive learning, developing relationships, and solving problems. This is why forethought is essential.
10+ Workshop Planning Checklist Samples
Every workshop must have a goal, a set of objectives, and a set of expected outcomes. Many workshops lose focus due to a lack of a clear purpose, in my experience as both a workshop leader and a participant. Workshop leaders must determine why the workshop is being held and what they want participants to learn, understand, and do as a result of it. The goal does not have to be complicated or detailed, but rather should be extremely straightforward. It's helpful to consider your why, what is the reason for, and/or the need for this when establishing a purpose.
1. Workshop Planning Checklist Template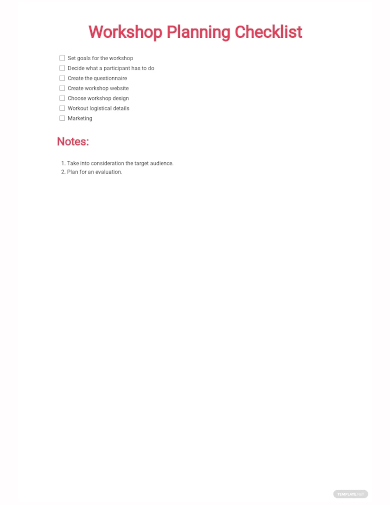 2. Sample Workshop Planning Checklist Template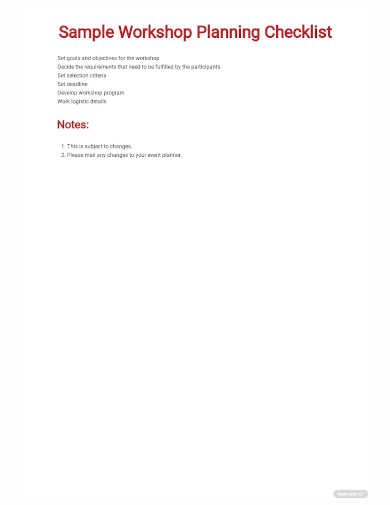 3. Workshop Planning Checklist
4. Training Workshop Planning Checklist
5. Financial Workshop Planning Checklist
6. Client Workshop Planning Checklist
7. Standard Workshop Planning Checklist
8. Workshop Project Planning Checklist
9. Workshop Tour Planning Checklist
10. Professional Workshop Planning Checklist
11. Teachers Workshop Planning Checklist
Workshop Planning Checklist
Every workshop should have a specific goal in mind. Do you need to improve the hiring procedures at your company? Do you want to show managers how to organize better? Do you have a newly formed team that requires some team building? Many workshops are a waste of time because the discussion isn't focused on a clear goal. There's no point in bringing people together unless they have a clear goal in mind.
Knowing who will attend has a direct bearing on your goal. If the goal of your workshop is to develop a detailed solution to a problem, for example, you should aim for 10 or fewer key attendees. If your goal is to educate people, a much larger group that divides into smaller groups for discussion may be sufficient.
When choosing a location for your workshop, consider the logistics and practical details. Will your visual aids be visible to everyone? Will the location be able to accommodate a specific technology, such as teleconferencing? Is there a suitable location for breakout sessions? Is everyone going to be able to get to the venue? Will you need to arrange for people who are traveling from afar to stay with you? And what kind of catering options does the venue have?
You can begin to outline how you'll achieve the workshop's goal now that you know your primary goal and who will attend.
Only an effective follow-up plan will reveal whether or not your workshop was a success. Make a questionnaire for all attendees to fill out at the end of the event, and give them plenty of chances to express their thoughts on how well it went. Although it may be frightening, it is the only way to learn – and improve – for the future.
FAQs
Why do you have to put an emphasis on the type of audience you want?
Different people learn in different ways; some prefer to learn through discussion, group exercises, or using pictures, while others prefer to be lectured at or given information to read for themselves. Most people fall somewhere in the middle of this spectrum, making it easier to combine different learning styles.
What is the final part of the planning process?
This is the last step in the planning process, so consider what you'll need for the workshop. Prepare a variety of activities to capture the attention of different participants while accommodating all learning styles. This could include preparing resources and equipment, preparing questions and discussion topics to check learning and understanding, and so on. Prepare a variety of examples and activities, allowing time for extended explanations or discussions, but be ready to move on sooner than anticipated.
A workshop plan does not have to be a lengthy exercise or document to be effective. What's most important is your thinking about the workshop's purpose, its participants, the location where the workshop will be held, the presentation or demonstrations you'll give, the type of participation that will take place, and the preparations that will be required.