If you are a part of the logistics or mass transportation business industry, then you might already know a thing or two about what a fleet is. A fleet in business terms is a group of vehicles that operate under a single company and is used for business. Carpools, school bus, ambulance, other emergency vehicles, trucks, and the like. Essentially, a group of vehicles that operate under the same company with more or less the same purpose or business, is a fleet. And since the main purpose of a fleet vehicle is for business, business owners and management tend to give massive importance to the maintenance and making sure that each vehicle in the fleet is in tiptop shape.
Of course, when you operate heavily with motor vehicles, you don't want any of the units that you are using to break down and impede the services that you are trying to provide. Like every motor vehicle anywhere around the world, a well maintained vehicle ensures that you don't waste any more money than you should have for even bigger repairs, helps avoid the risk of ending up with a vehicle that's going to leave you stranded, and more importantly, keeps your business always up and running. Most of the time, people tend to go to their local mechanics to have their vehicles checked and maintained, and though there's inherently nothing wrong with that, it would still help if you yourself, as the owner or operator of a fleet of vehicles, were knowledgeable enough to identify and make some small repairs on your own. It should save you quite a bit of money from having a mechanic deal with a problem that you could've fixed if only you tried. If getting your hands dirty with taking care of your fleet on your own sounds good, then take a look at these fleet vehicle inspection checklist samples that we have provided below. If you're already quite well informed about motor vehicles and would want to write your own checklist, you can use these as a guide or even as a template for your own design.
3+ Fleet Vehicle Inspection Checklist Samples
1. Fleet Vehicle Inspection Checklist Sample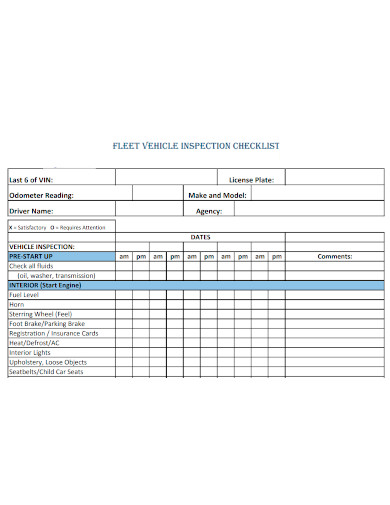 fleet.wv.gov
2. Pre-Trip Fleet Vehicle Inspection Checklist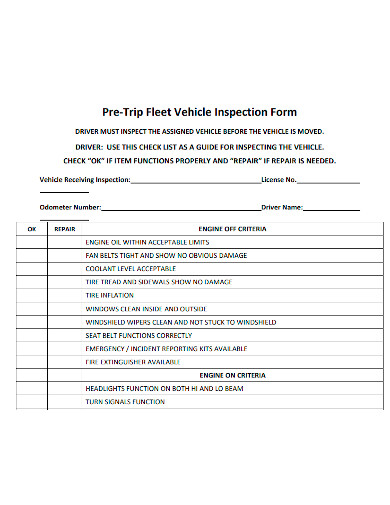 mjai.com
3. Pre-Trip Fleet Vehicle Inspection Checklist Form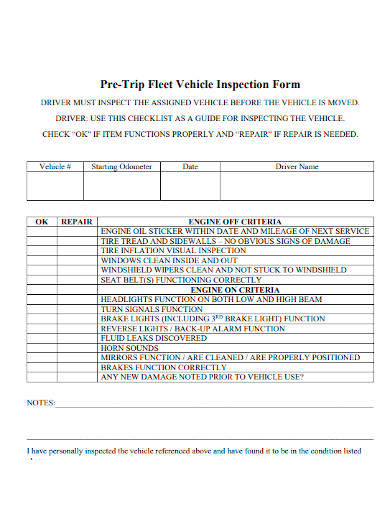 nola.gov
4. Weekly Pre-Trip Fleet Vehicle Inspection Checklist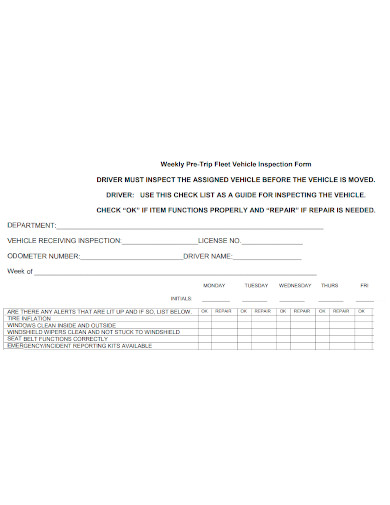 dawsoncountymontana.com
What Is a Fleet Vehicle Inspection Checklist?
Vehicle inspection checklists are documents that enable you to assess the condition and maintain the motor vehicle on your own. It helps you identify mechanical flaws or problems by providing the optimal performance description of a specific part of the vehicle and how to repair it. You can then use the listed descriptions and steps to perform basic check and maintenance of said component. And just like that, you've conducted basic troubleshooting of your vehicle. If you are unable to fix it with the basic troubleshooting, or you are having trouble with fixing it in general, you can then have your local mechanic take care of that. Professional mechanic also use vehicle checklists like these. To have a guideline set of what the proper optimization is for every vehicle. All in all, it is a very essential too in keeping your vehicle in proper shape. An unmaintained vehicle could lead to bigger problems in the future, and when worst comes to worst, may even cause fatal accidents to the operators of your fleet.
How to Create a Fleet Vehicle Inspection Checklist?
When creating your own vehicle inspection checklist, more often than not it means that you have to have a quite extensive knowledge of your fleet vehicle or just all vehicles in general. If you don't have that kind of extensive knowledge, it's fine, I don't blame you, we can't expect everyone to know everything. So I suggest you use one or several of our templates listed above, it should be more than enough to be able to help you. Otherwise, stick around, we'll provide some pointers and key components that you have to remember to include in your fleet vehicle inspection checklist.
Contact details and information
Always remember to include the contact information of whoever is conducting the inspection, may it be yourself or your local  mechanic. Details such as name, contact information, and signature to top it all off.
Identification
Reflect any identification of either you or the mechanic, whoever will do the inspection. Driver's license, valid ID, car registration, the works.
Specify the vehicle's details
There are a ton of different vehicle models out there. Consequently, every different model, has different parts and components. So it's important to specify what vehicle or model of vehicle you are working with to match the parts or components that have to be replaced.
Inspection
This is the most important part of your document since technically this is the main part of it. This is the checklist itself. Here are some of the more basic inspection procedures that your checklist should specify.

Engine oil check
Battery check
Headlight and turn signals
Tire treads check
Windshield wipers
Belts in and around the hood of the vehicle
Review the auto emission sticker to make sure that everything is up to date
Brake and rearview lights
Brake test
And that should be able to cover just about everything. If there are any more specifications then that would entirely depend on the model and type of the vehicles in your fleet. Speaking of fleet, you will have to make several copies for each corresponding vehicle under your management. Please don't use the same checklist for several vehicles. Each checklist should be exclusive to one unit.
FAQs
How many cars is considered a fleet?
The definition of a fleet is pretty simple, if a company has more than one vehicles to operate, then they have a fleet.
Who has the largest fleet of trucks in the world?
AT&T with a whopping 67,000 trucks!
What is a daily routine check?
Daily routine checks include inspecting the fluid levels of a vehicle such as engine oils, brakes, clutch, steering, and transmission.
Operating and maintaining a single car is already a lot of responsibility, what more an entire fleet. Making sure that your vehicles are in tiptop shape is the perfect way to avoid any sort of internal delays and company mismanagement that could cost you your services.