Owning several properties and assets is lot of work. Aside from the paperwork and other responsibilities, there is this need to protect it from entities who might want to claim it for their own gain. Of course, you won't live forever and you can't bring all of your assets to death. So while you're still alive, you better start working on a trust agreement. It is the best type of protection for your properties and assets. Learn about trust agreements in this article, and get hold of the free samples below.
FREE 16+ Trust Agreement Samples
1. Sample Trust Agreement Template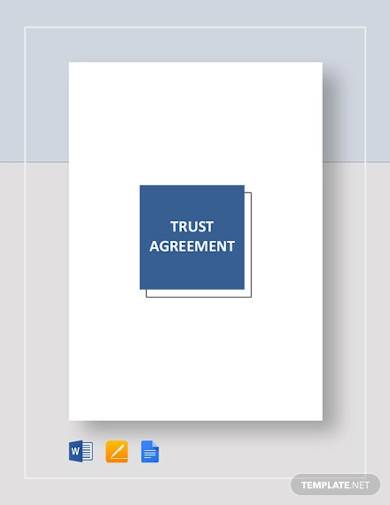 2. Source Code Trust Agreement Template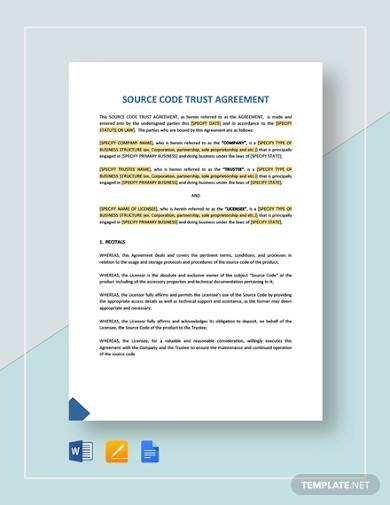 3. Source Code Trust Agreement Licensed Program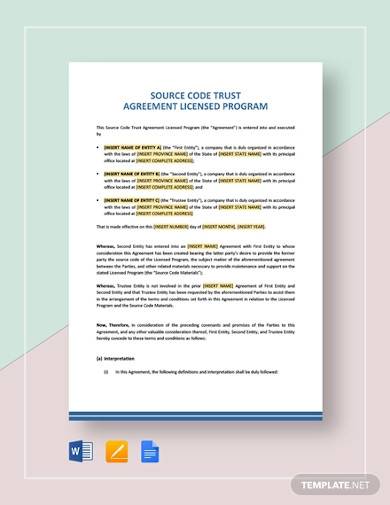 4. Source Code Trust Agreement Development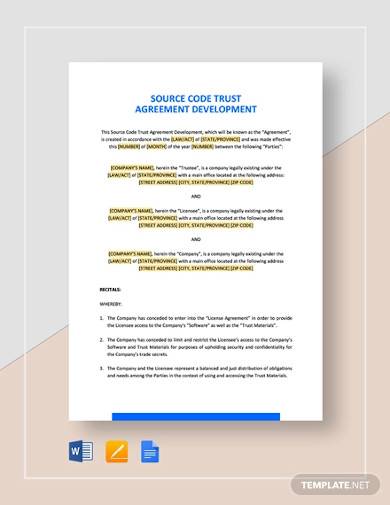 5. Voting Trust Agreement Sample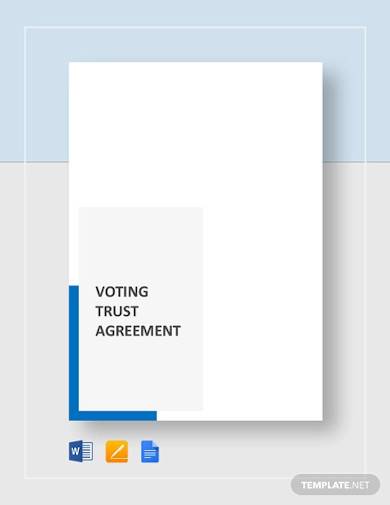 6. Assignment of Deed of Trust Template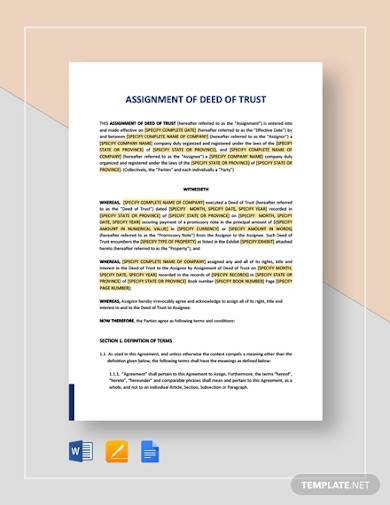 7. Sample Deed of Trust Template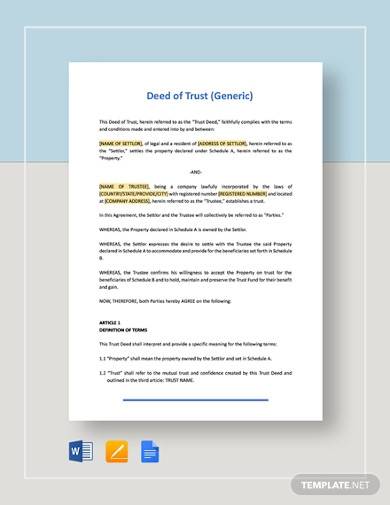 8. Declaration of Trust Template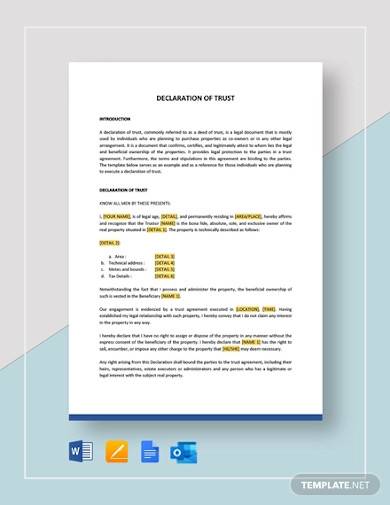 9. Sample Trust Agreement Format
10. Special Needs Trust Agreement
11. Sample Agreement of Transfer of Trust
12. Trust Agreement Form Template
13. Sample Master Trust Agreement
14. Standard Trust Agreement Template
15. Sample Decommissioning Trust Agreement
16. Simple Trust Agreement Template
17. Sample Certification of Trust Agreement
What Is a Trust Agreement?
A trust agreement allows you to transfer your properties and assets to your identified beneficiaries. In this legally binding document, you can assign a trustee to control your properties and assets. Beneficiaries and trustees can be any individual or organization of your choice. The trust agreement template will include specific rules or wishes that your beneficiaries must follow or fulfill to get their share of the inheritance. It's a complex type of agreement, so you'll need to understand how it works before making one.
How to Make a Trust Agreement
Before you start writing your trust, you'll first need to prepare a couple of important information. Here's what you'll need to do before you get started.
1. List Down All of Your Assets
A to-do-list or a checklist template would be the perfect tool for this step. You'd want a ready-made material for this, especially if you have a lot of assets and properties to take note of. Making a list of all your assets ensures that you get them included in your trust agreement.
2. Gather Asset Titles/paperwork
You'll need deeds, titles, insurance policies, certificates of stocks, etc. prepared for your living trust. These documents will prove your ownership of the assets and properties found on your trust agreement. The list you've made will help you look for what documents you need for each asset.
3. Name Your Beneficiaries
Aside from the list of assets, you'll also need to make a list of your beneficiaries. Make sure that you get their names right in the document. Also, include what assets you plan to give them and the conditions to claim it.
4. Choose a Successor Trustee
While you're alive, you will be the trustee of your living trust. But you won't live forever, so you'll need a successor to manage all your assets once you're gone. This successor will also be responsible for handling all of your affairs if you get incapacitated, so it's wise to choose someone you trust.
FAQs
What are the Basic Ingredients of a Trust Agreement?
Everything in a trust agreement is equally important. So if you want to get the best template, be sure to look for the following basic ingredients:
Trustor/seller/grantor (the person who is setting up the trust)
Specific objective of the trust
Type of trust
Trust property
Beneficiary or list of beneficiaries
Trustee (the person in charge of the trust)
Rules followed in a trust agreement (trust receipt, partnership, revocation, termination, deed)
What is the difference between a Trust and a Will?
Both trust and will are documents used in the legal management of assets, such as a real estate property. The main difference between the two documents is the time when they take effect. As you have seen in the movies, a will takes effect only upon the owner's death. So the beneficiary cannot claim ownership to any inherited assets while the trustee is alive. A trust agreement, on the other hand, kicks in immediately while the grantor is still alive.
What are the advantages of a trust agreement?
Between a trust agreement vs. a will, a lot of professionals would prefer the former. That is because a trust agreement has more advantages over a traditional will. Here are the reasons why:
It's the perfect probate avoidance tool.
Keeps private affairs out of public records so your beneficiaries creditors won't go after the properties you put under the trust.
Distributing your assets in a family trust agreement helps reduce or minimize real estate taxes.
The owner can continue managing their assets and make changes as they see fit.
Using a trust to administer assets to minor beneficiaries ensures that the court does not get involved in the process.
Specific types are available to the trustor, such as a financial trust agreement and a family trust agreement.
Can I set up a DIY trust?
A DIY living trust can be done. It does not require a lawyer, and it usually utilizes downloadable templates. You will have to do everything on your own. You'll have to choose a trustee, beneficiaries, successor, and alternate successor.
If you want to have control over your assets and, at the same time, ensure that they are passed on to future generations, a trust agreement is the document that you need. Write the initial draft of your agreement using the samples above. They will surely help you get started.