Disputes, unforeseen events, and ambiguous agreements are some of the leading causes for a lawsuit to arise. But does every issue need to be settled in court? Obviously no. Resolving disputes in court is the right choice for a specific situation, but why give yourself the hassle when you can have a quicker, simpler, and more private solution? There is a reason why release agreements are created, and that is to solve disputes and prevent lawsuits from happening.
Sample Release Agreement
Your goal is to protect your business or your institution's welfare, and negotiation is the key to end the conflict. Obtaining yourself an excellent release agreement is essential to save yourself from possible lawsuits.
Listed below are a few samples of release agreements that are useful for business owners like you who wishes to solve a conflict in exchange for compensation.
1. Sample Release Agreement
Gymnastics, cheer-leading, and acrobatics are one of the most popular sports played around the world. For kids and teens who have a knack for bending their bodies and performing different stunts, these are the sports that best suit their talents. If your school is into these kinds of sport, allow your students to enter a release agreement. This will serve as a liability waiver stating their clear understanding of the possible risk in entering such sport and are liable for any injuries that may occur during practices and tournaments.
2. Sample of a General Release and Settlement Agreement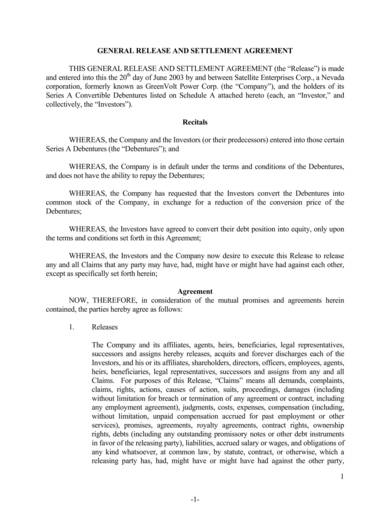 Some large companies use debentures in developing their businesses because they are convenient to use. But what if they can no longer repay the borrowed amount? Keep in mind that debentures are not the most secured loan because they are not backed with an agreement of collateral. To assume that your debtor is trustworthy does not suffice the idea of getting your money back. Thus, to resolve the problem, you can negotiate and agree upon a solution and then create a release and settlement agreement to close the case.
3. Sample Settlement Agreement and General Release Agreement
Mass media keeps people around the world connected and updated on what is happening every day. It helps advertise a business, spread art, and culture, and can even serve as a voice to the voiceless. Yet with all these advantages it also has its disadvantages. Privacy invasion is one of the problems some people experience with the media, and usually, this leads to lawsuits. To avoid such a process, some companies offer consideration to the affected party to settle and release them from further liability on the case.
4. Sample of an Employment Release and Separation Agreement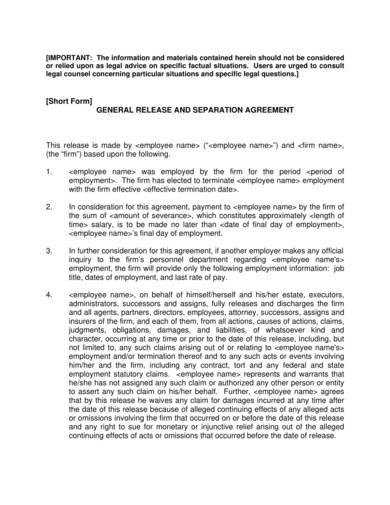 Terminating an employee may be caused by several reasons. It could be their unethical conduct, their numerous amount of late and absences, their poor performance, or their violation of the company policy. Whatever the reason may be, terminating their employment is a tedious task that requires a lot of paperwork to avoid lawsuits. This sample employment release and separation agreement is perfect in documenting the necessary information for the termination of the employee's employment, along with the necessary considerations for his or her separation.
5. Sample of a General Release Agreement
Accidents can happen at any time and anywhere when you don't expect them the most. According to statistics, there is an average number of 6 million car accidents that occur in the U.S. each year, and 3 million of them experience injuries. Accidents are costly, and if you do not wish to undergo a lawsuit, you can always negotiate and compensate the other party involved. This sample general release agreement can serve as a receipt of their acknowledgment of your compensation on behalf of the damage or injuries you have inflicted on them.
6. Sample Termination and Release Agreement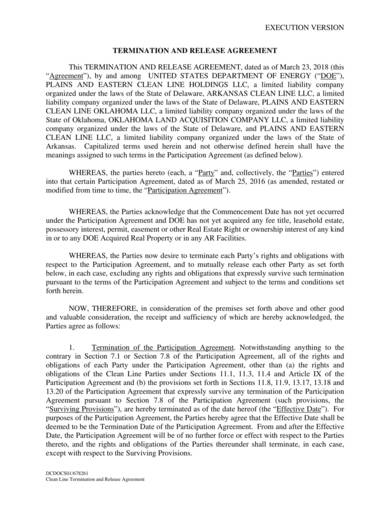 They say "two heads are better than one," which is why some businesses collaborate with another company to hasten their growth and profit. But what if things don't work out according to plan? Maybe it's time to terminate your partnership and release both yourselves from any liabilities from each other. This sample termination and release agreement are perfect when both parties mutually wish and agree to terminate their rights and obligations with respect to their partnership agreement.
7. Sample Settlement Agreement and Mutual Release
The construction industry is booming nowadays as people are trying to urbanize suburban and rural areas to keep up with the pace of development. In each construction site, involves a number of people doing the labor. And since there are many parties involved, even a well-planned project can run into problems. This sample settlement agreement and mutual release specify information in cases that may relate to delays and payment problems during the construction project and how to compensate the affected party.
8. Sample Termination, Settlement and Release Agreement
Contractors are beneficial when your company needs someone in providing materials, labor, equipment, and services to construct and finish a specific project. Once their contract terminates on the effective date of termination along with the completion of the project, they shall be compensated accordingly with the negotiated amount of payment. As acknowledgment, they are to sign a release agreement to complete the transaction.
9. Sample Separation Agreement and Release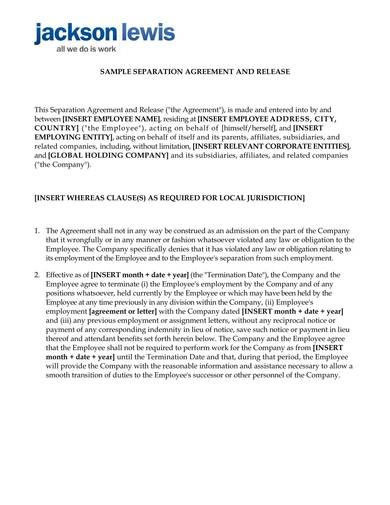 In the termination of employees, the company should create a separation agreement and release to inform them about their termination and considerations after their separation. Allowing them to fully understand and acknowledge that the company is no longer liable for anything they do after their separation. The document includes their responsibilities to return all company possessions to the company and to keep confidential matters related to the company to themselves.
10. Sample Tenant Release Agreement
11. Release Agreement in MS Word
There are advantages to renting rather than buying a house. It's cheap, and it doesn't need much maintenance. Doing a rental business is also beneficial for landowners like yourself because this provides you a direct income from your renters. But in some cases, you will encounter tenants who are late payers. Hard as it may seem for both of you, you are left with no choice but to exercise lawful tenant eviction This sample tenant release agreement is perfect for settling cases that involve late payments to release them from their tenancy in your property.